L'occitane Immortelle Precious Cleansing Foam Review
I love treating my skin with luxurious skin care stuff but that is not healthy for my wallet which screams out loud on the very thought of it… 😛 . L'Occitane is one such brand along with Forest essentials which my skin would love to indulge but there are times when you get a chance to try the stuff before purchase and make a wise decision. So, today I am going to review L'occitane Immortelle Precious Cleansing Foam which I received as a gift from the Brand, during L'Occitane Immortelle brightening Eye Mask launch event.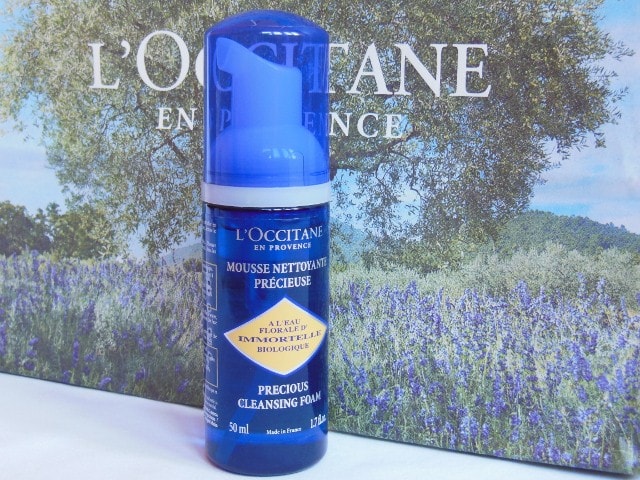 Product Claims: Immortelle Precious Cleansing Foam gently cleanses the face and eliminates impurities while preserving the freshness of young skin.
A part of our Immortelle Precious anti-aging skincare collection, this foaming cleanser helps to smooth and firm the skin. Made with organic immortelle floral water, it provides a unique moment of relaxation, leaving behind the soft floral fragrance of this golden flower.
Direction for Use:- Use the Immortelle Brightening Cleansing Foam every morning and evening on wet skin, avoiding the eye contour area. Gently massage over the face, then rinse off with water.
Ingredients:- Organic Immortal floral water, Citrus fruit extracts (grapefruit & Satsuma mandarin)
No alcohol, No animal ingredients (vegan), No BHA, No BHT, No formol or formaldehyde, No gluten, No parabens, No phenoxyethanol, No phtalates, No silicone, No SLES, No synthetic colorants, No triclosan
Tolerance dermatologically tested
Price:- Rs.1890 for 150 ml
Shelf Life:-  1 years from the Mfg date.
Packaging:- The cleanser comes in a see through dark blue colored plastic bottle type packaging with a sheer blue cap which fits snuggly with the base. It comes with a white colored pump dispenser which converts liquid to foam before dispensing, so that's how this liquid cleanser transforms to foaming face wash. The packaging is quite sturdy and travel friendly too.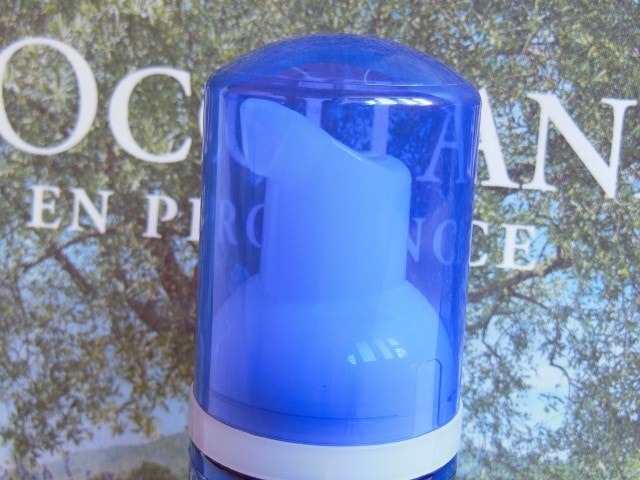 My experience with L'occitane Immortelle Precious Cleansing Foam:-
Immortelle Precious Cleansing Foam is the costliest face wash I have tried till date and when you spend so much on a skin care stuff you are bound to set your expectation high and the first one would be a lovely scent without any doubt but alas, this facial cleanser is going to disappoint you her. It has a strong herbal unlikeable sort of fragrance which doesn't give any good to my senses, though after few washes you'll get used to it.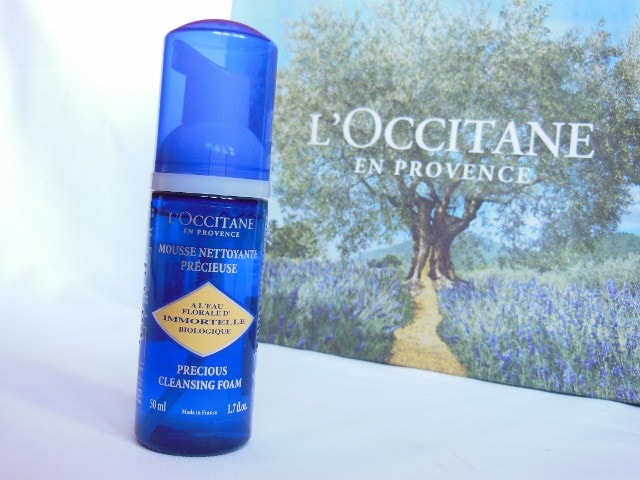 Coming to its performance, It is gentle face wash with a mild herbal formula free from most of the common found chemicals like parabens, sulphates and all. For a full dirty face and the residual makeup (after cleaning up with a makeup remover), I need at least 2-3 full pumps of this cleanser to get that squeaky clean feel. And while doing this my eyes keeps a constant track of the liquid level in the bottle which moves down with an accelerated speed… 😛 and I restrict myself to a lesser amount to make the cleanser last long. It cleanses effectively and shoo away all the oil and dirt.
Skin feels smooth and supple immediate after wash but once the water dries down on the skin it gets that uncomfortable stretchy feel which makes me run for a moisturizer.
It can prove to be a great for pick for sensitive skin because of its outstanding ingredients list but I haven't experience any miraculous difference in my skin even after weeks of usage.
Pros of L'occitane Immortelle Precious Cleansing Foam:-
Gently cleanses away the impurities
Doesn't irritate/breakout my skin
Best suited for oily skin
Easy to travel with packaging
SLES and paraben free formula
Dermatologically tested
Cons of L'occitane Immortelle Precious Cleansing Foam:-
Heavy on Pocket
Will hit the bottom soon
Doesn't lather much
Bit drying for my skin
Not so pleasing fragrance
Recommendation:- L'occitane Immortelle Precious Cleansing Foam is decent facial cleanser for oily/combi skin but considering it's price and claims it failed to impress me. It did strip my skin some of the moisture which made me rush for one immediately post wash. Also, I didn't notice any long term benefits. I would rather invest in a good skin moisturizer than to spend on this luxurious face wash. I think my pocket friendly Dove Beauty Moisture face wash did far better job on my dry skin.
Rating:- 2.5/5
Have you tried L'occitane Immortelle Precious Cleansing Foam? Which is your favorite cleanser for summers?