L'Occitane Divine Extract Ultimate Youth Serum Review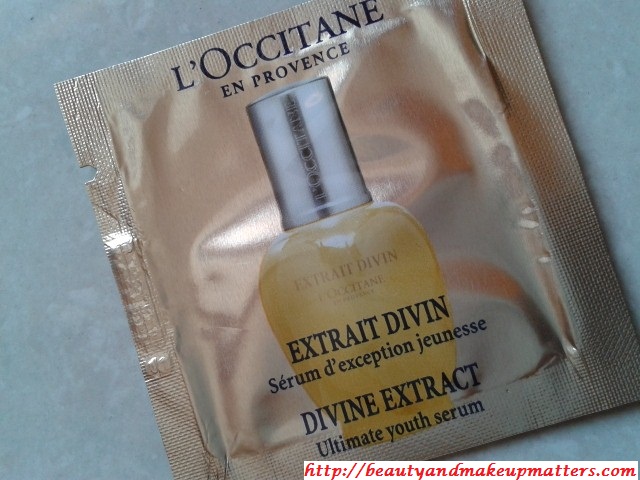 Product Claims: Divine Extract is a serum that helps to fight the signs of aging, so you can face the passing of time with absolute serenity. The divine combination of ultra concentrated organic Immortelle and Myrtle essential oils offers: 
a complete regenerating treatment – Combined action to stimulate the production of collagen* and improve skin micro-circulation* helps to reduce the appearance of damage caused by premature aging and contributes to restoring substance and vitality.
a second youth –Myrtle essential oil stimulates, at the epidermis level, the action of the SIRT-1* protein – also known as the "longevity protein" – to help increase cellular vitality and visibly preserve the skin's youthful appearance. 
The Divine Extract is the ultimate youth serum, for visibly younger skin:A fresh and velvety formula, enriched with hyaluronic acid derivative and a Vitamin C derivative, that immediately enhances the skin and visibly improves its texture and its appearance.
Divine results: From the very first use, the skin seems plumped, smooth and even toned. After 7 days, the face appears visibly younger. The skin is glowing – and the results are both instant and long-lasting.
* in vitro test
Direction for Use:- Apply morning and evening to clean face and neck, before using the Divine Cream. Avoid the eye area. Discover our application technique specially developed for the Divine Extract on the box insert.
Ingredients:-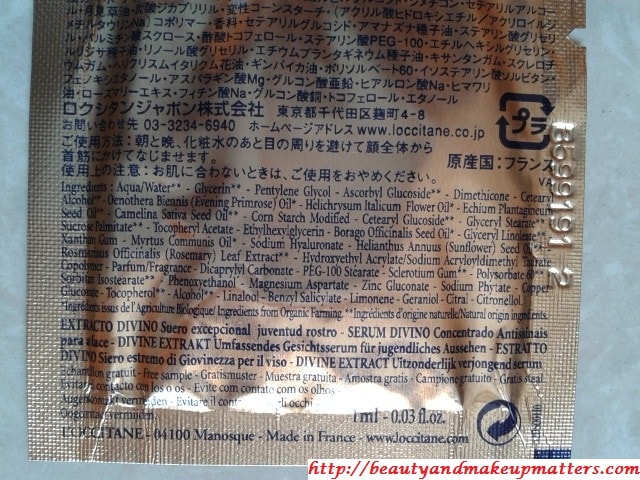 Organic Immortelle essential oil Formulated with micro-capsule delivery system  
Organic Myrtle essential oil  
Hyaluronic acid  
Vitamine C derivative and parsley  
Minerals and trace elements  
Price:- Rs. 6300 for 30ml
My experience with L'Occitane Divine Extract Ultimate Youth Serum:-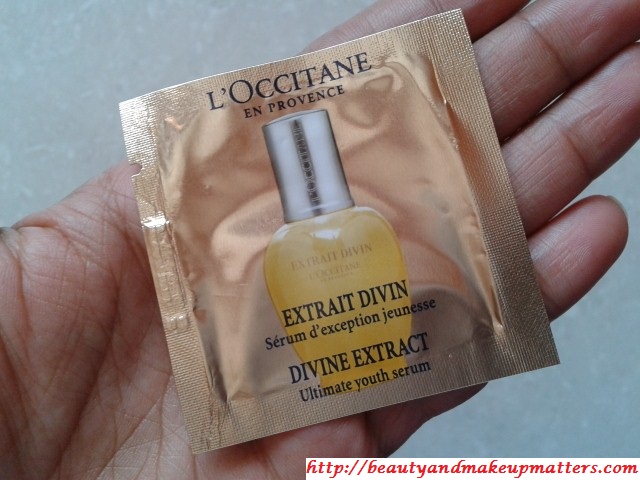 This divine serum has water-based creamy consistency towards runny. It has an overpowering smell which takes time to fade to a tolerable level. The smell reminds me of Vicks fumes which I totally dislike.
The texture is smooth which goes invisible in a single touch but it takes its own time to get absorbed completely into the skin. Also, it leaves slight sticky feel on the face which was least expected from a serum which is meant to melt into the skin quickly. The sticky feel is gone in few more minutes the as the serum gets soaked deep into the skin cells and get those lazy bums back to work. It gives a firm feel to skin instantly which will take weeks by regular creams to give this effect. The serum makes the skin feel velvety smooth by filling in the wrinkles and uneven texture. Skin appear noticeably brighter and better with the first use.  It may not be the best thing for oily skin due to initial sticky feel but works amazingly well for my dry skin.
Don't Miss to Checkout:
Pros of L'Occitane Divine Extract Ultimate Youth Serum:-
Slips nicely over face
I need only tiny amount for single application
Moisturizing to my dry skin
Starts working from day one on improving the skin texture
Makes skin velvety smooth
Skin appears firmer
Free from Parabens and other chemicals
Cons of L'Occitane Divine Extract Ultimate Youth Serum:-
Damn Expensive
Takes time to get absorbed
Strong medicinal scent can give headaches to sensitive noses
Feels sticky initially
Recommendation:- L'Occitane Divine Extract Ultimate Youth Serum has been the most effective skin care product I have used as it shows improvement in skin's texture from first application, giving an instant firm feeling to face. It slips nicely over the face but the serum takes time even more than the night cream to get absorbed which can be a drawback as serum should have penetrated faster into the skin. Also, I dislike it's strong Vicks kinds smell. Though its herbal but I like other products from this range which have mild and pleasant smell.

The serum is effective in giving an immediate plumping effect to the skin but couldn't really comment on its long term benefits on wrinkles, pigmentation and dark spots reduction as the sample gave only 5-6 applications
Rating:- 3.8/5
Have you tried L'Occitane Divine Extract Ultimate Youth Serum? Do you use any serums in your skin care regime?