L'Occitane Cherry Blossom Bath & Shower Gel Review
How much do you think is justified to spend on a bath and shower gel.. No, I am not asking you this to measure your financial strength but to see how many of you are into luxurious bath and body shopping ;). L'Occitance is one such brand which can make your budget go for a toss ( if you have any). Few months back, I received this L'Occitane Cherry Blossom Bath & Shower Gel from the brand for review purpose, so lets see if you splurge or save on this one.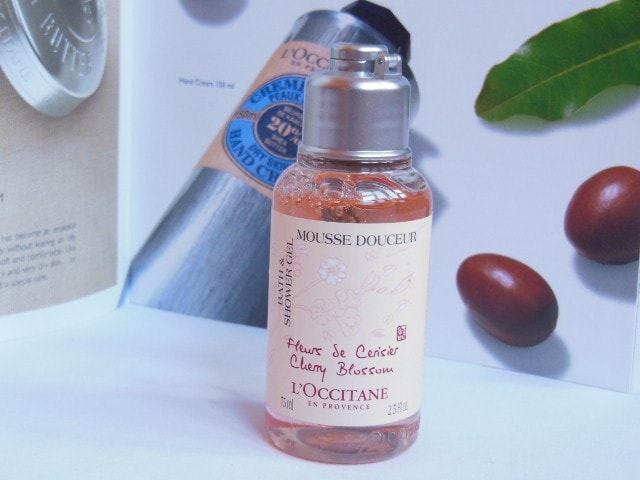 Product Claims: This gel gently cleanses the skin, leaving it delicately perfumed. Used as a foaming bath, it transforms into a rich and smooth foam, releasing the delicate and captivating Cherry Blossom fragrance. Contains a cherry extract from Luberon, France.
Direction for Use:- Apply on damp skin and then rinse.
Ingredients:
Price:- Rs.1290 for 250ml , Rs460 for 75ml
Packaging:- The shower comes in a small see through plastic bottle packaging with a sturdy silver flip top cap that shuts with a satisfactory click sound. The tiny mouth will help control the amount to be dispensed ( after all it's a luxury I cant afford to waste :P). The packaging is convenient to use and easy to carry along on trips.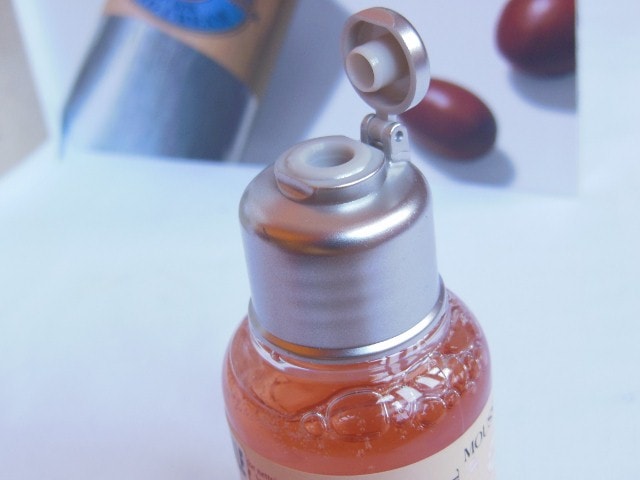 My experience with L'Occitane Cherry Blossom Bath & Shower Gel:-
L'Occitane Cherry Blossom is light peach colored liquid with a runny gel like consistency. It doesn't give a rich lather so have to use a lot of it to make it lather but that way I will end up finishing it soon. It cleanses well and leaves skin squeaky clean but is accompanied by a little drying feel which wasn't expected.
The best thing about this shower gel is its mesmerizing scent with rich cherry notes. It is a beautiful blend of floral and sweet notes which instantly lifts my mood and senses.  The fragrance is strong initially much to my liking and it fades away rapidly and within an hour post-shower it is completely gone, wish it had lasted a little longer.
The ingredients list mention less than usual chemicals but it does contain Sodium Laureth sulphate which might be responsible for its drying effect on my skin, something that I wasn't expecting from a shower gel of this price range.
If you like to build your fragrance collection and floral scents than you won't be disappointed but wouldn't you better invest in its EDT than this shower gel for that purpose.
Pros of L'Occitane Cherry Blossom Bath & Shower Gel:-
Delicate on skin
Lovely floral feminine fragrance
Contains Natural Ingredients
Pretty packaging
Paraben Free formula
Cons of L'Occitane Cherry Blossom Bath & Shower Gel:-
Doesn't lather much
Fragrance doesn't last long
Slightly drying
Burns a hole in pocket
Recommendation:- L'Occitane Cherry Blossom Bath & Shower Gel has a rich cherry fragrance which the best thing about this shower gel other than its packaging. It gently cleanses the skin while leaving it beautifully scented but sadly it doesn't last long. I can't convince myself to go and grab a bottle at its original price rather spend that much amount on skin care or makeup or go for The Body Shop Shower Gels which deliver  better results. 😉
Rating:- 3/5
Have you tried L'Occitane Cherry Blossom Bath & Shower Gel? Which is your favorite Shower Gel?