Little Mermaid: Sedona Lace Mermaids Eye Shadow Palette
Hello Gorgeous,
Let's go back to childhood and remember your favorite movie or fairly tale.. does it includes "Mermaid". Well then we are twinning, because after fairies the only thing that fancied me during those innocent years were Mermaids and yes "Ariel" was is my favorite of all time. I still believe Mermaids are real, just waiting for a real life encounter on a sea shore ;). You gotta love something that brings those beautiful memories and this time it's the Sedona Lace Mermaids Eye Shadow Palette that did this to me.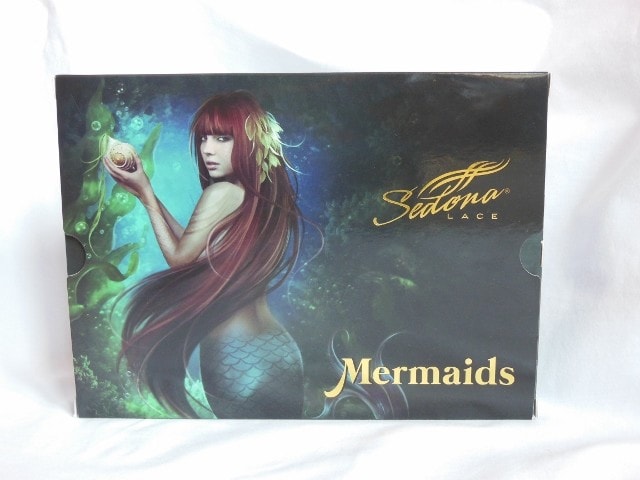 Watch the Video Tutorial using this palette..
Product Claims:
Inspiring countless myths and legends, mermaids have been a timeless favorite muse for artists throughout the centuries, renowned for their captivating beauty, hypnotic voices, and enchanting mystique.
Descendants of Atargatis, the first mermaid, they have been closely linked to Aphrodite goddess of love, beauty, sexuality, and fertility.
Having been depicted as seductive sirens, luring sailors to their unwitting demise under their spell, as well as innocent sea maiden, these eyeshadows shades have been carefully selected to represent the complex, striking dichotomy of mermaids.
Choose from ethereal shades that draw from the ocean depths and to empower your inner ocean goddess, or opt for lighter colors that enhance your natural beauty.
This 16 color palette has everything you will need to draw out the sea nymph within. This palette also includes our new dual sided EB 31 Brush. One side is our Synthetic Blender EB 13 and the other is our Flat Synthetic Shader EB 11.
Ingredients:- Talc, Mica, Mineral Oil, Kaolin, Titanium Dioxide, Magnesium, Stearate, Isopropyl Palmitate, Lanolin, Methylparaben, Propylparaben, May Contain: Mica and Titanium Dioxide, Iron Oxides, Manganese Violet(CI 77742), Ultramarine Blue(CI 77007), Hydrated Chrome Oxide Green(CI 77289), Chrome Oxide Green(CI 77288), FD&C Yellow No.5 A1 Lake (CI 19140:1), FD&C Blue No.1 A1 Lake (CI42090:2).
Price: $29.95 (Use  "beautyandmakeup" for $4 Off)
Packaging: Sedona Lace Mermaids Eye Shadow Palette comes in a super pretty cardboard box which has that dreamy image of a mermaid and has an outer cover with an identical image. The box itself is very sturdy and has a good sized mirror which is really good. The palette comes with a dual ended brush so even if you don't have many brushes you can do some basic looks using the brush provided with the packaging. Overall, I love the packaging of the palette and it is definitely one of the prettiest palette I own.. (I keep staring at that mermaid.. so pretty!!)
My experience with Sedona Lace Mermaids Eye Shadow Palette:
Sedona Lace Mermaids Eye Shadow Palette contains 16 gorgeous shades ranging from pretty peaches, deep purples, vibrant blues and vivacious pinks.
It is majorly a matte eye shadow palette where 14 shades out of 16 have matte finish while the rest 2, Nixie and Meryl which are peach and white in the palette have a slight shimmery shine to them but that is what makes them perfect for highlighting purposes.
Texture: I am really impressed with the soft texture of these eye shadows. It is hard to find a good matte eye shadow but this palette is full matte eye shadows where all of them are soft, smooth and doesn't have chalky or stiff texture unlike regular matte eye shadows. They are actually quite soft so they crumble if pressed too hard but nothing bothersome.
Pigmentation: I bet you these are one of the most pigmented matte eye shadows I have ever used. The formula is full of colored pigmented so I just need a little bit of it to show up on me. Just use them over a primer, because these are matte shades and you are good to go.
Longevity: I wasn't really expecting this but these eye shadows lasted well beyond 8 hours on me with slight fading when used over Sedona Lace Eye Shadow Primer. There was still no signs of creasing yet.. Impressed!
Other than that, because these eye shadows are so soft that they might fall out during application but if kicked off the excess from the brush I am safe. Also, the eye shadows are s upper blendable which makes it pretty easy to work with them.
The brush that comes with the palette is of decent quality and can actually be used while doing the looks.
Recommendation: Sedona Lace Mermaids Eye Shadow Palette is a beautiful combination of mermaid shades which includes oceanic blues,  feminine pinks and some purples, greens and teals for the vibrancy. The texture is soft and smooth throughout the palette with super blendable formula. Each shade is richly pigmented and they last whole day on me without any significant fading or creasing. Overall, I am really impressed with the quality of the palette and if you are like me and love playing with colors.. this palette is for you.. Highly Recommended!
Rating: 4.8/5
Have you tried Sedona Lace Mermaids Eye Shadow Palette? Which is your favorite Eye Shadow Palette?
 PS: Product sent by brand for consideration