LipIce Blueberry Lip Balm Review, Swatches
I have been staying away from normal lip balms since long and buried my lips with tinted lipbalms or glosses from brands like Maybelline, Nivea. Some times, when I feel the need to only moisturize my lips and look for a non-tinted lip balm especially at night. I was shocked to find out that I am running out of regular lip balms.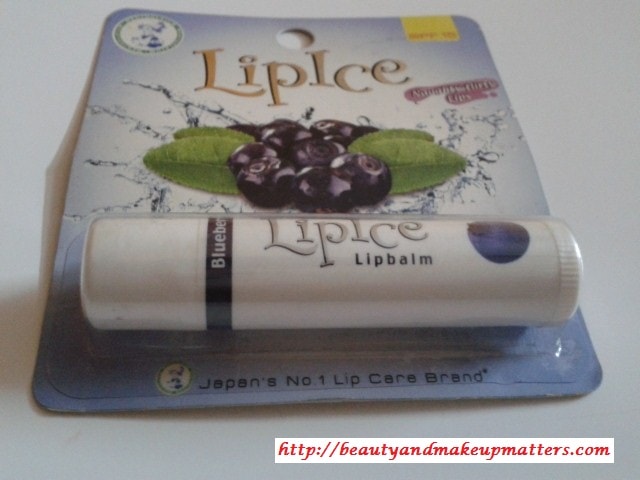 So without wasting anymore days I ordered LipIce Lip Balm in Blueberry from an Online Store. I chose Blueberry over others because I already had Nivea in Pomegranate flavor and Orange and Lemon couldn't tempt me much. Blueberry appeared to be quite different form the regular strawberry or other fruity flavors which are easily across brands.
It doesn't claim to impart any color or tint to the lips unlike it Lip Ice Sheer Color mates. This is my first stint with LipIce brands and would love to try its Sheer Color lip balms next.
Product Claims: Lips are always soft fresh and natural.
Combination of Lanolin and Mineral Oil will moisturize lips to prevent drying and chapping
SPF 15 will protect the lips against UV rays.
Direction for Use:-Apply evenly on lips everyday. Can be used as a base of lipstick to protect the lips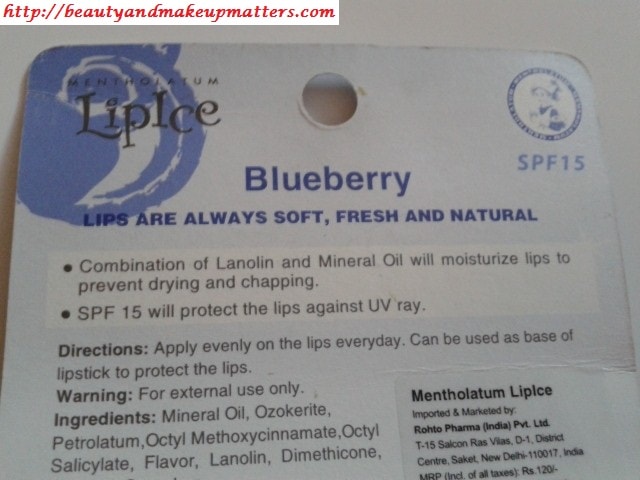 Ingredients:- Mineral Oil, Ozokerite Petrolatum, Octyl Salicylate, Flavor, Lanolin, Dimethicone, Methanol, Camphor.
Price:- Rs.120 for 4.3gm
Shelf Life:-  3 years from the Mfg date.
Packaging:- The lip balm is packaged in a transparent plastic sheet over a cardboard-paper. The paper carries picture of delicious Blueberries. The lip balm comes in a twist tube format which is white in color with a small white cap. I prefer these retractable tubes over the tubs for balms as I don't have to dip fingers every time and also tubes can be easily carried in pocket.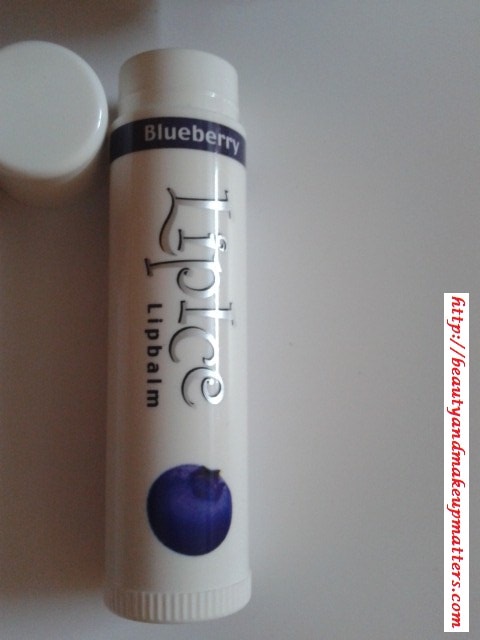 Available in 4 Flavors:-
Strawberry
Orange
Blueberry
Lemon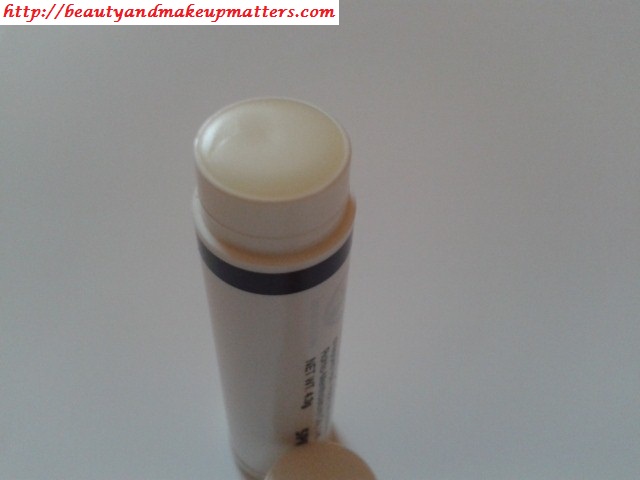 My experience with LipIce LipBalm in BlueBerry:-
Pigmentation:-I was not expecting miraculous results from this lip balm but just ample moisturization for my lips. As it is a blueberry flavor and comes in a purplish packaging, I believed it to look purple or some colored stick but defying my thought it came out to be a clear (creamy white) balm which goes clear on lips as well and doesn't give any undesired color or tint to the lips.
Texture:-The other thing that I liked about this lip balm is its texture. After reading its Ingredient list and finding Mineral Oil on the top I was quite –dishearted and took it to be some oily greasy lip-balm.
But I was happy that it proved me wrong and turned out to be a non-sticky, non-greasy lip balm. It doesn't feel heavy on the lips and neither gave any shiny or slicky look to them. No- matter how many times you swipe it over lips it never goes waxy on lips. It feels light and provides desired motorization to the lips.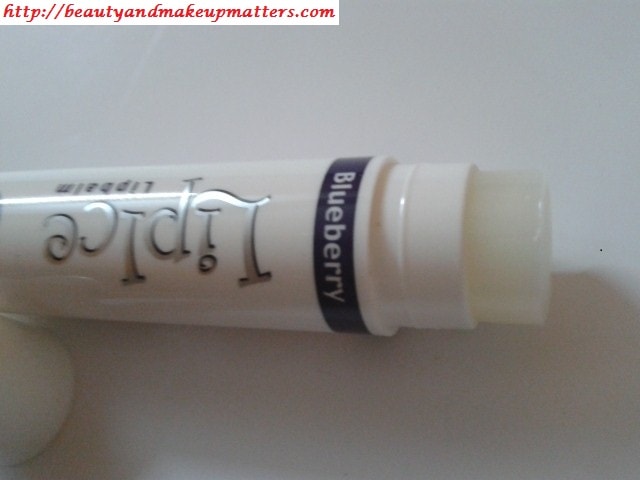 Smell:- The lipbalm is a Blueberry flavor but to my disappointment it doesn't smell like Blue Berries. It does smell sweet and fruity but the smell is mild and pleasant which doesn't bother my nose as I really don't enjoy strong fruity smell.. It has no taste or whatsoever. So don't worry about having unpleasant taste or something.
I apply a thin layer of this lip balm on my lips and leave it over-night just to find soft and smooth lips in the morning. This light lip-balm can give a break to those heavy and oily lip balms which gives a waxy coating to lips in the name of moisturization and in the end we have to dab them with a tissue to get rid of that heavy feeling.
The lip balm gives a slight cooling sensation to the lips few seconds post-application. The sensation gives a cooling or Icy effect to the lips which I Like. The sensation stays only for a minute or two so doesn't bother me much. It is a good-to go lip balm in summers for me as it has an additional feature of providing sun-protection to the lips with SPF15 in it.
Swatches:-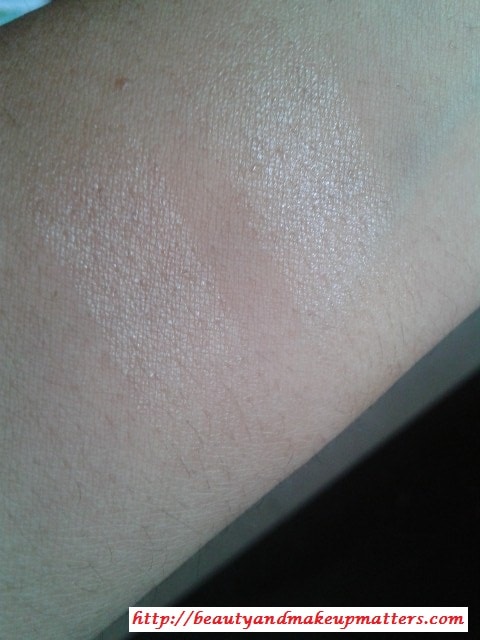 Pros of LipIce LipBalm in BlueBerry:-
Hygienic twist-tube type packaging which is easy to use and carry around
Contains SPF which provides sun-protection to lips.
Easy on pocket at just Rs.99.
Has mild fruity smell which is not overwhelming
I like the slight cooling sensation it gives for few seconds post-application due to methanol and camphor as its ingredient
Goes light on lips and doesn't feel heavy or sticky/waxy even after 4-5 swipes
Clear lip-balm with no-Tint or Color. Give a break to all those tinted lip-balms
Can also be used over/under lipsticks especially drying matte lipsticks due to its light texture and no-tint properties.
Keeps my lips moisturized for hours after application and don't need frequent re-application.
Makes my lips soft and smooth with regular use
Available in 5 different fruity flavors.
Cons of LipIce LipBalm in BlueBerry:-
Contains Mineral Oil as the main ingredient.
Doesn't smell like Blueberries (if it is really a con 😉 )
Recommendation:-I love to offer this LipIce LipBalm in BlueBerry to my hubby and he don't complain about getting his lips turned to pinky- pinky or doesn't feel as if I am fooling him by offering a lipstick rather than a balm as with the Nivea Pomegranate LipBalm case.

I totally love using this lip balm for its non-sticky and highly moisturizing properties.  It is a clear non-shiny lipbalm which makes lips soft and smooth without giving that uneasy heavy waxy coat to the lips. It comes in easy to use twistable tube form and also has SPF-15 which is normally missing in most of the lip balms. LipIce Lip Balm is definitely worth a try and I highly recommend this to everyone.
Rating:- 4/5
Have you tried LipIce Blue Berry Lip Balm? Which one is your favorite LipIce LipBalm?