Lakme True Wear Nail Color Classic-1 Sabhyasachi Review, Nail Swatches
Lakme True Wear Nail Color might be the first nail enamel range in Indian makeup industry.  This range brings out various classic shades. The wide shade range includes different hues of Maroons, Reds, Pinks, Plums and Mauves.
Today I am sharing one such classic shade from Lakme True Wear Nail Color Collection – Sabhyasachi.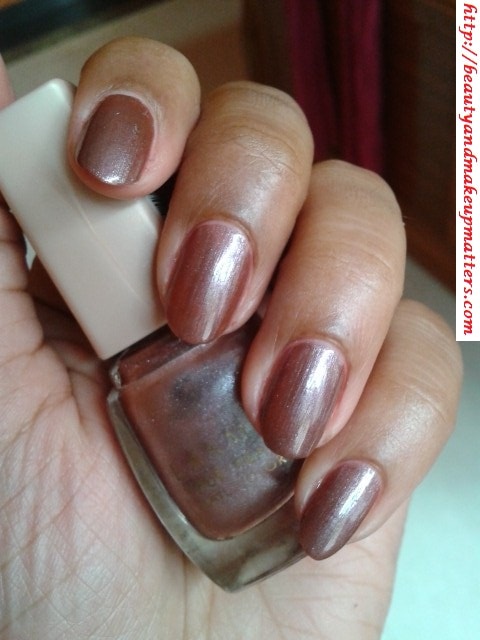 Check out the huge number of shades here:-

(Source:- 1)
Product Claims: Long-lasting, chip resistant nail enamel
Contains resins to strengthens nails and prevents breakage.
Has colour lock technology
Gives lacquer-like finish
Price:- Rs.95 for 9ml
Shelf Life:-  36 months from the Mfg date.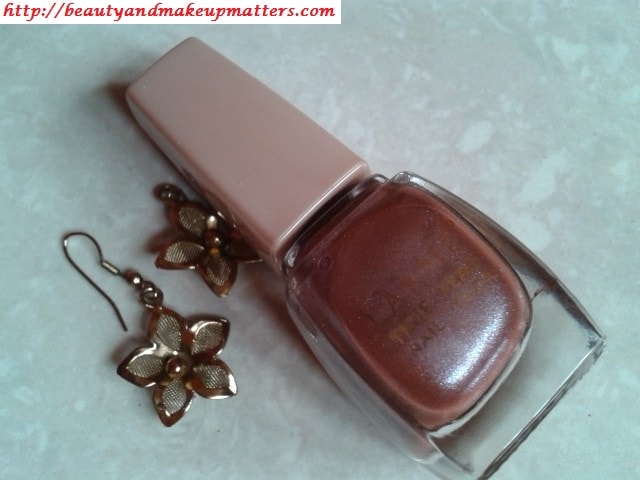 My experience with Lakme True Wear Nail Color Classic-1 Sabhyasachi :-
The nail paint comes classy or we can boring sqaurish packaging with a medium beige colored applicator. The applicator is not long like Lotus Herbals Nail Enamels but the length is apt for smooth nail enamel application. The brush however is pretty long with densely packed flat bristles to give an even finish.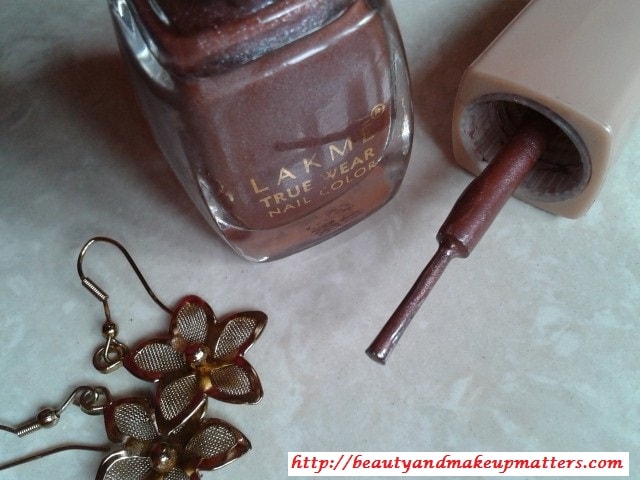 The nail enamel has a medium consistency which comes easily on the brush. The color pay off of the nail enamel is excellent and goes completely opaque in a single stroke. I was amazed to see the rich and intense color of the enamel. Two strokes increases the lasting power of the nail enamels so I go for it but one coat will be more than sufficient to get the true color on the nails.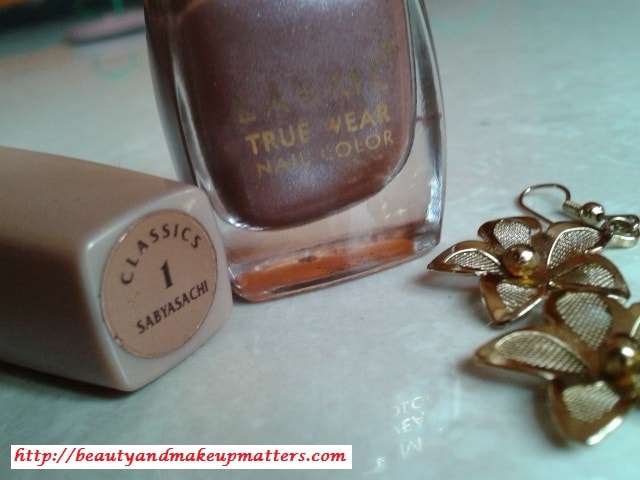 Classic-1 Sabhyasachi contains has fine green and pink colored shimmers which give a duo-chrome effect to the nail paint. The shimmers are extremely tiny and give a nice pearly finish to the nail enamel. On its own it is a nice brown nail color with strong plum undertones and reflects different colors under different light may be due to the presence of shimmers in the color.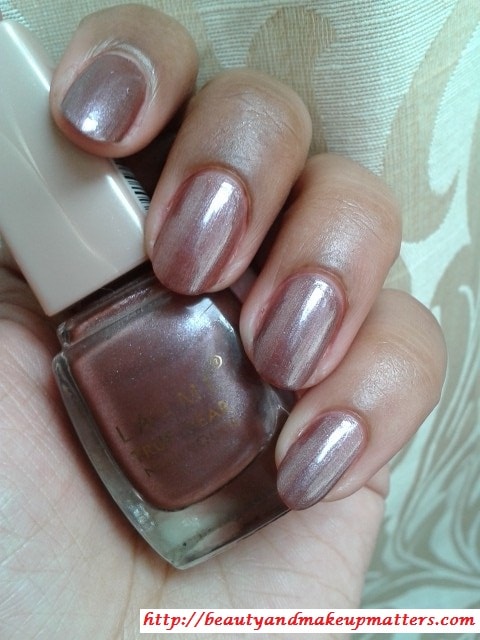 The formula of this nail enamels is good and doesn't give a patchy application even after multiple coats. The non-streaky application is another plus. Also I haven't seen any bubbles or scratches on the nail enamel while it dries.
The single coat of the nail enamel dries fast but with 2 coats it takes some time to settle. So, it's prone to give patterned nail color if you go for 2 coats. I would recommend going for a single coat if you are in a hurry. I love the ultra creamy and glossy finish of this nail enamel. It doesn't chip for 4-5 days and stayed good on me with minimal fading form the top. It's a nice classic shade that goes well with traditional outfits and looks as good on foot nail as on hands.
Don't Miss to Checkout: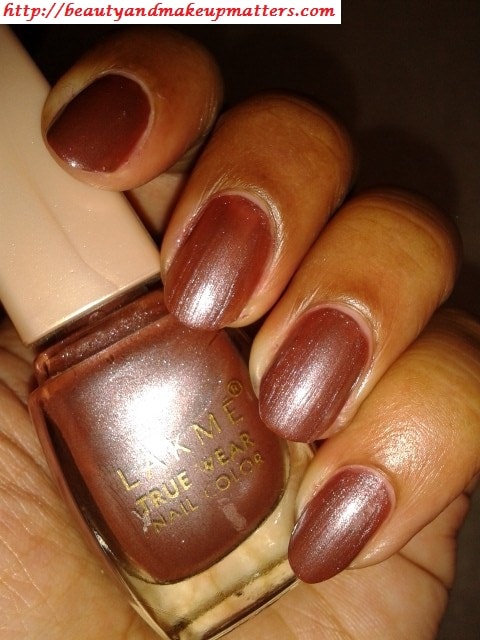 Pros of Lakme True Wear Nail Color Classic-1 Sabhyasachi :-
Classic brown shade with plum tones.
Contains fine green and pink shimmers for duo chrome effect
Long flat brush which is easy of use.
Well pigmented and goes opaque in single coat
Dries super-glossy and creamy.
Truly long wear
Huge number of shades to choose from
Affordable at Rs.90
Goes well with Indian attire
Cons of Lakme True Wear Nail Color Classic-1 Sabhyasachi .:-
Takes time to dry and settle with 2 coats
The collection doesn't have many cool, bright or pastel shades to choose from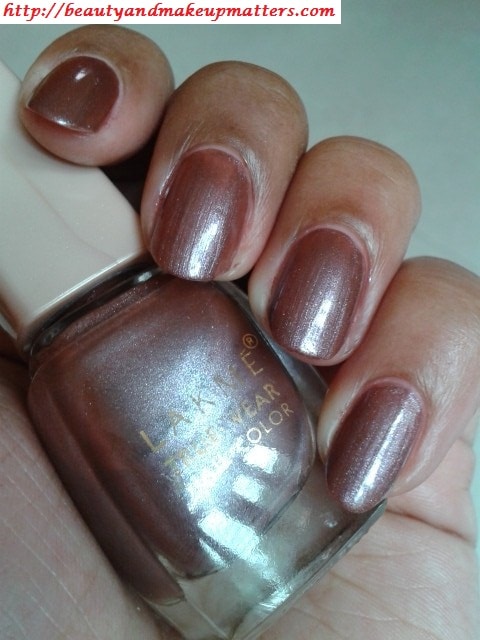 Recommendation:- Lakme True Wear Nail Color Classic-1 Sabhyasachi is a nice brownish plum shade with pearly finish shimmers. It comes in decent packaging and an excellent brush. The formula is not runny which gets applied smoothly on the nail and gives an opaque finish in single coat.  The nail enamel dries fast to a creamy finish and stays easily for 4-5 days on my nails.

It is a good shade to try also there are other classic shades in this range including both shimmery and matte finishes so you can pick one, according to your preference.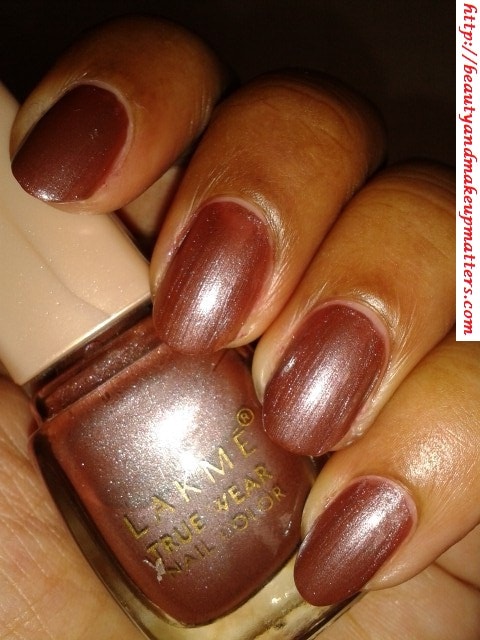 Rating:- 3.5/5
Have you tried Lakme True Wear Nail Color Classic-1 Sabhyasachi ? Do you like pearl or shimmery finish nail paints?