Lakme Perfect Radiance Multi Mineral Skin-Lightening Compact – Rose Medium Review
You might be surprised to know that I haven't used any compact as a bachelor. I know it might sound crazy but yes, I was like that. I have been a studious girl who doesn't know anything else but studies. Even during college days I used nothing more than a kajal or lip balm as makeup. Now, I feel that I have deprived myself of all the makeup and fun all those years.  🙁 . But better late than never, now I have indulged myself in all sorts of makeup and skincare and I love every bit of it.
So, today's review is on my first compact "Lakme Perfect Radiance Multi Mineral Skin-Lightening Compact – Rose Medium" which I got in my vanity in my wedding.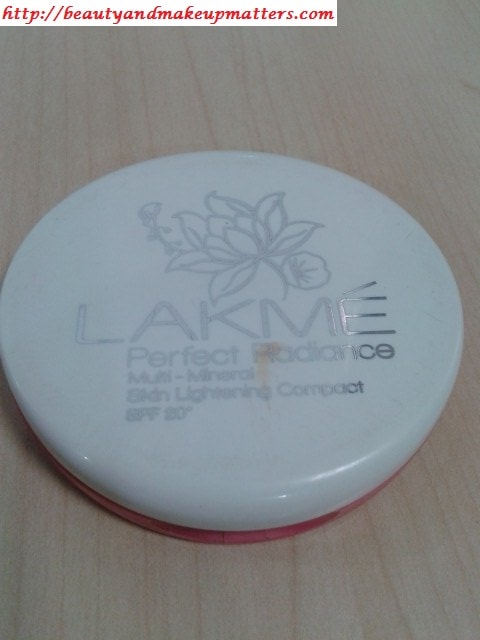 Product Claims: (From the website)
Instant fairness in your palm!
Presenting the new Multi-mineral skin lightening compact SPF 20* for a visibly fairer skin.It flawlessly blends into your skin making it look visibly fairer and translucently radiant.
And it's great for your skin with UVA/UVB filters for sun protection and the goodness of Multi-minerals.
Its unique formula contains
SPF 20*, MULTI-MINERALS, BRIGHTENING PEARLS, VITAMIN B3
Oil free  |  Light-weight  |  Suitable for everyday use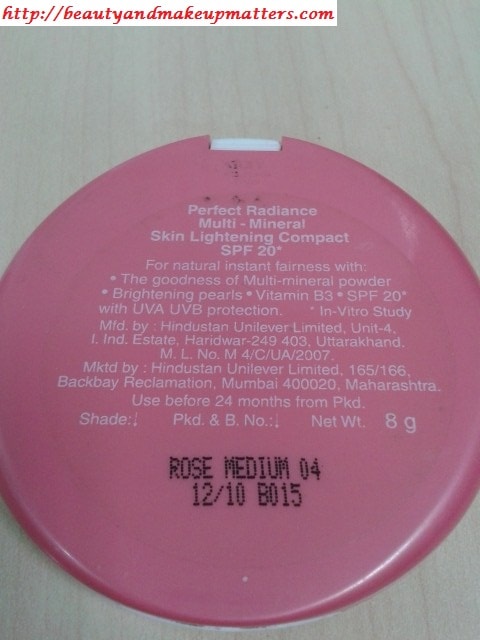 Shades Available:- 01 Ivory Fair, 02 Rose Fair, 03 Golden Medium, 04 Rose Medium, 05 Beige Honey, 06 Rose Honey

(Source:-Lakme Official Website)
Price:- Rs.150 for 8gm
Shelf Life:-  24 months from the Mfg date.
Packaging:- The compact comes packed in a square white pink cardboard box but apologies for no pictures as I have thrown that away. The compact case has a similar color combination as the box with a white lid and pink base and has a sleek round shape. There is large flower on the lid with silver detailing which looks cute. It also has a large round mirror on the inner side of the lid. A puff is also provided with the compact which can prove helpful in quick touch-ups. The name of the shade and other information about the compact is specified at the back of the case.
My experience with Lakme Perfect Radiance Mineral Skin-Lightening Compact:-
I was super-excited when I found this cute case in my vanity. The shade I got is "Rose Medium" and it has a soft powdery texture, slightly chalky but feels light and blends nicely into the skin. It doesn't provide complete coverage but when used over a foundation it gives a smooth finish. It is light weight compact and gives light to medium coverage without getting cakey and can be easily used on day–to-day basis. It hides marks and blemishes to some extent but not completely.
The compact gives a natural, radiant and fair looking skin without leaving a whitish cast. I find it easy to use this compact with a brush rather than the puff that comes with it.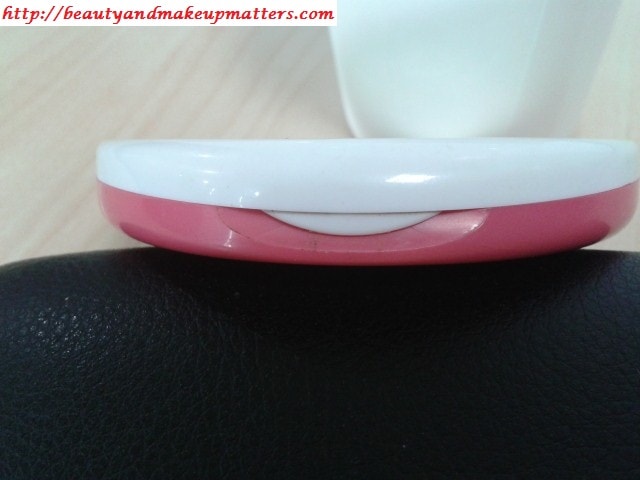 The powder puff provided with the packaging is not good enough to give a smooth application as it picks up a lot of product and is difficult to blend it in with the thin puff and if swiped too much it disturbs the base makeup on the face. But at such a price there is nothing much to complain.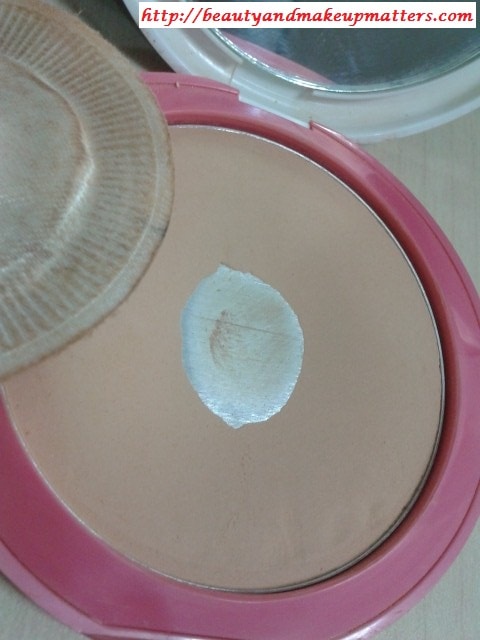 When used with a brush the compact (powder) gets loose and move everywhere round the pan. The compact has a mild fragrance which is not OTT and doesn't stay for long after application. After a year of abusive use I have hit the pan for this compact.
Don't Miss to Checkout:
Swatches:-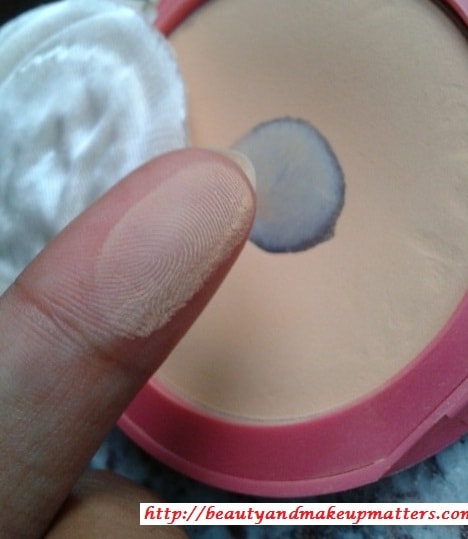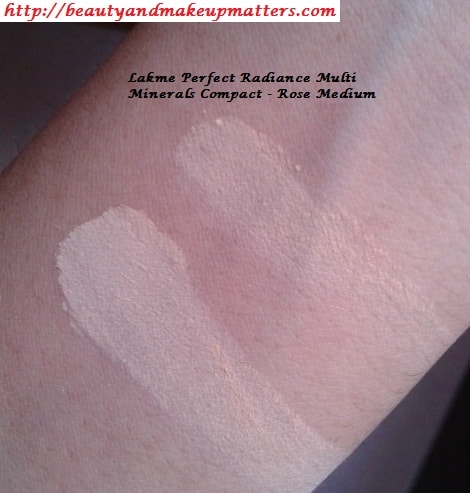 Pros of Lakme Perfect Radiance Mineral Skin-Lightening Compact:-
It is light to medium coverage compact so wont be able to hide blemishes or marks completely
Light-weight powder which blends easily on the skin
Soft, powdery texture which feels mild on skin
Provide SPF protection
Don't break me out
Pocket friendly-price
Pretty pink-white packaging and comes with a small mirror and a puff with the packaging which can be helpful in quick touchups while travelling.
Claims to contain vitamin B3 and brightening pearls that makes your skin visibly fair
Easily available everywhere and comes in 6 shades, hence you can choose the best match for you skin tone.
Cons of Lakme Perfect Radiance Mineral Skin-Lightening Compact:-
Not a long wearing compact and will need frequent re-applications, hence may work well for extremely oily skin
The puff that comes with the packaging isn't durable and wears off easily
Powder is bit chalky which will work better with a powder brush than the puff.
No mention of ingredients list
Recommendation:- The Lakme Perfect Radiance Mineral Skin-Lightening Compact has done a decent job and worked well on me. I am quite happy with my first experience with compacts. I really like its pretty girly pink–white packaging. The light texture, smooth finish at an attractive price makes it a perfect compact for everyday use.

If you are a novice to makeup than it's a great product to start with, which lighten and brighten your complexion without giving a cakey look. It is a promising product which will suit all skin tones as it is available in number of shade to choose from. On oily skin it might stay less and will require frequent re-application but it is definitely worth a try.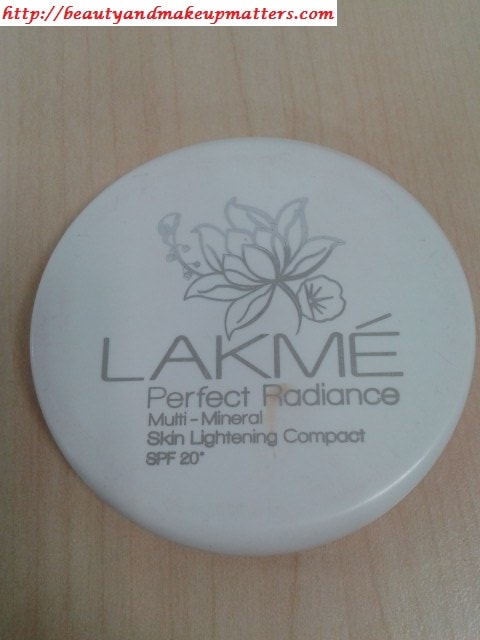 Rating:- 3.5/5
Have you tried Lakme Perfect Radiance Compact? Which is your favourite drugstore face powder/compact?