Lakme Nine To Five Nail Enamel – Lavendar Lush Review, NOTD
Today I will be reviewing Lakme 9 to 5 Nail Enamel- Lavendar Lush which I bought considering it to be a dupe or similar to Lakme True Wear N236 shade but it is much more dark and intense pink than that.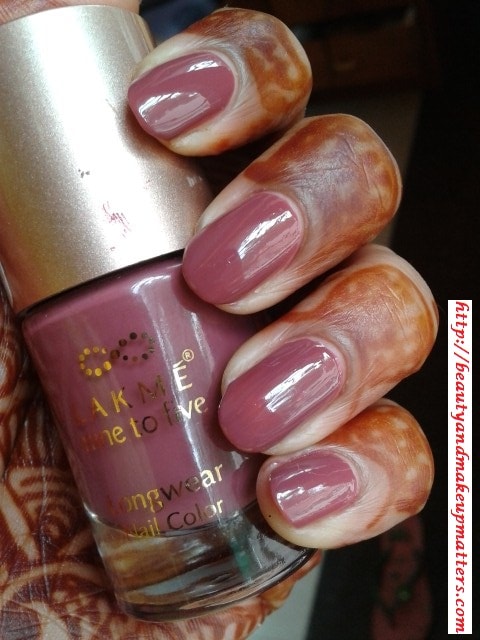 Product Claims: Nail colors that will keep up with you. Paint your nails in rich, high-shine colors. The chip-resistant formula ensures flawless results with each application. Layer with a clear top-coat to retain that freshly applied look, day after day.
Ultra-rich color in 7 new shades
Sealing shine for long- lasting wear
Perfect glide brush for smooth, hassle-free strokes
Shades:-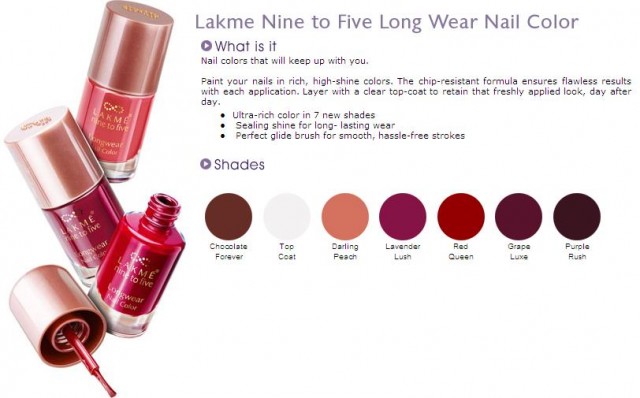 Chocolate Fever,
Top Coat,
Darling Peach,
Lavender Lush,
Red Queen,
Grape Luxe,
Purple Rush.
Direction for Use:-
Shake well before use.
Apply 2 coats and finish with a top coat for long lasting effect.
Keep away from heat  & flame
Price:- Rs.180 for 9ml
Shelf Life:-  36 months from the Mfg date.
Packaging:- It comes a big round cylindrical bottle with a similar sized round applicator. The 9 to5 collection motif is embossed on the top of applicator handle and color name is pasted on the bottom of the glass bottle.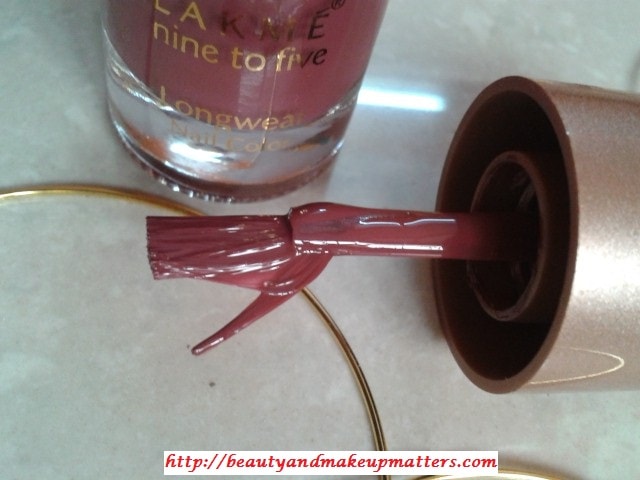 The applicator is of medium length and has long bristles but I was heart-broken to see the oversized flared bristles which might be a result of manufacturing defect in the nail enamel. The applicator base which holds the bristle was damaged that let them spread.
My experience with Lakme Nine To Five Nail Enamel- Lavender Lush:-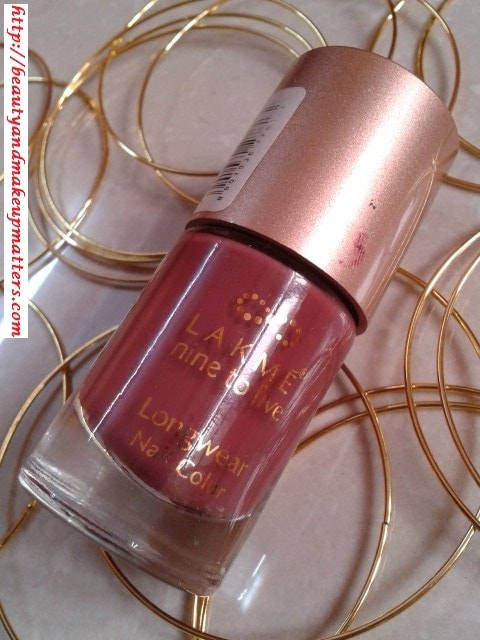 Shade : Lavender Lush is a rich plummish pink shade with slight brown undertones but absolutely no hint Lavender hue. It is a very warm and deep pinkish shade which would look flattering on fair hands.
Formula: The consistency of the nail enamel is a little thick which comes up nicely on the brush. Due to the broken applicator, the oversized bristles are larger than the nail bed and make it difficult to get a flawless application. The flat bristles of the brush do a nice job to spread the enamel evenly on the nails but it's the formula which makes it go streaky. I have tried using thin coats but every time it goes streaky so I have to apply thick coats to get a smooth coverage.
Pigmentation: The nail enamel is intensely pigmented and goes almost opaque in a single coat but I prefer to go for 2 coats. It is cream finish nail enamel and gives a hint of gloss but develops scratches on drying. Also it takes enormous amount of time to dry and set completely.
The formula is not chip–resistant and the nail enamel will start chipping within a day if you are into house hold chores.
Don't Miss to Checkout: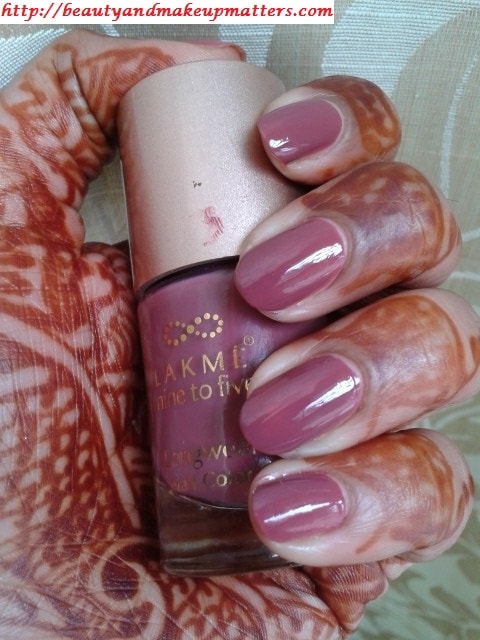 Pros of Lakme Nine To Five Nail Enamel – Lavendar Lush :-
Lovely pinkish plum shade which would look absolutely gorgeous on fair hands
Doesn't get patchy with multiple coats and maintains its original color
Highly pigmented and gives rich color in a single coat
Cream finish nail enamel but not too glossy
Very warm shade which makes it a good choice for chilly winters
 Cons of Lakme Nine To Five Nail Enamel – Lavendar Lush :-
Pricey
Incorrectly named as Lavender Lush as it doesn't have any lavender tone to it.
The bottle I got has a defected brush with flared bristles
Doesn't dry up quickly
Develops scratches on drying
Starts chipping within a day with household work.
The bottle is huge and a bit bulky to carry along
Available in only 7 shades
Recommendation:- Lakme Nine To Five Nail Enamel- Lavender Lush is a gorgeous deep plummy pink shade with cream finish. The color is richly pigmented and shows up well in a single coat but its thick consistency, streaky formula, high dry time and scratchy finish left me disappointed. The brush must have been of good-quality but sadly the one I got is broken and has bristles largely flared which make it difficult to a smooth application. The warmth of the color makes it suitable for winters. It is pretty nail color which would suit all skin tones but at such an expensive price there are better options available in the market.
Rating:- 2.8/5
Have you tried Lakme 9 to 5 Nail Enamel- Lavender Lush? Do you like such dark shades on hands or feet?