Lakme Nine to Five Forever Silk Eye Liner- Gypsy Green Review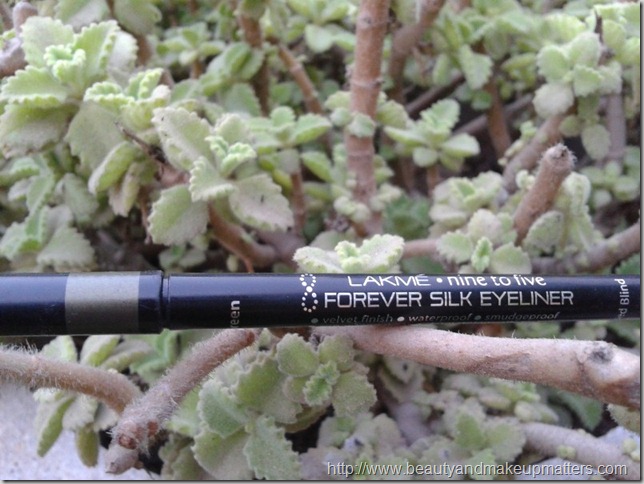 Product Claims:- Lakme Website says:- Experience the Silky touch of Metallic Color
VelvetFinish
Waterproof
SmudgeProof
Super-long wear
Dermatologically tested
Price:- Rs.395 for .28 gm
Shelf Life:- 30 months from the Mfg date.
Available in 7 shades:
Electric violet
Gypsy green
Blue cosmos
Gray matter
Earth line
Jaded mint
Black Last
Packaging:- The liner comes seal wrapped in a cellophane paper which ensures that I am getting a fresh piece. The liner has a black outer casing and the color of the liner is shown as a stripe at the cap's bottom. The liner is a twist-up mechanical pencil. I prefer mechanical (retractable) pencils but not a big fan of twist up liners. One has to be vey careful while using twist up liners because once the liner is out it won't go back.
What I liked in Lakme Nine to Five Forever Silk Eye Liner- Gypsy Green:-
The liner is quite pigmented and just a single swipe of liner gives intense color to the eyes.
It is a beautiful metallic Khakhi green color. The liner has fine golden and green shimmers. The shimmers are smooth and not gritty or OTT. I love wearing this liner both during and evening.
The liner glides smoothly on eyelids without any tugging and pulling.
It stays on my eyes for 8-9 hours (tested). My lids starts getting oily by the day but the liner stayed intact without fading or transferring to upper eye lids.
Smudge-proof.
Dermatologically tested. It doesn't irritate my eyes when used on lower lash line. I prefer not to use liners on the water line.
Easily available at Lakme counters.
Don't Miss to Checkout:
Dislikes of Lakme Nine to Five Forever Silk Eye Liner- Gypsy Green:-
I disliked its packaging completely. I prefer retractable pencils than twist up liners.
It is impossible to see the liner left in the stick. :huh:
The stupid cap loosens after sometime and when I tried to close it forcefully it cracked.
The color stripe is in the middle of the pencil instead of the ends (top or bottom). So, it's difficult to locate the liner in my liners' stash.
Price is on the higher side for the quantity you get.( Rs395 for .28 gm ) expensive than the Colorbar I glide pencils.
Recommendation:- Lakme 9 to 5 Forever Silk Eye Liner –Gypsy Green is the most beautiful green liner and my most reached out colored liner. It glides smoothly on lids, giving intense color in single swipe and staying for hours on my eyes without smudging or fading. A must have eyeliner in make up stash. Highly recommended!!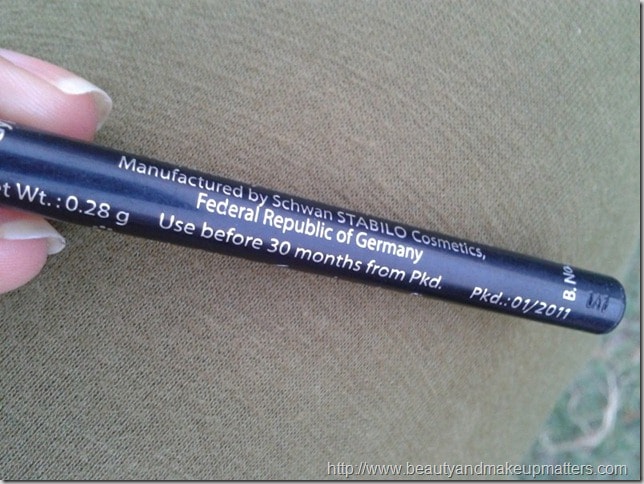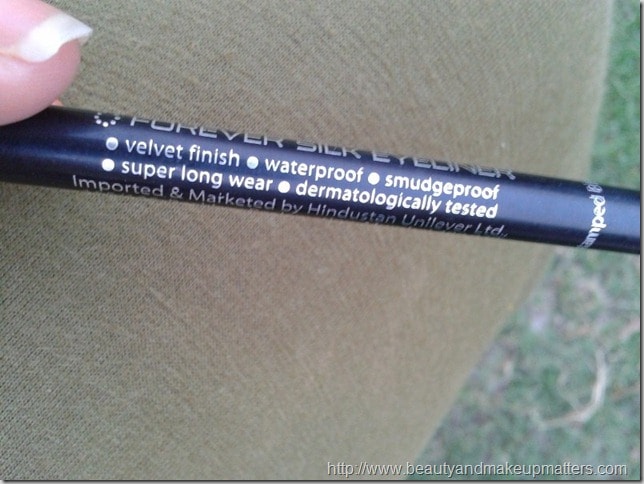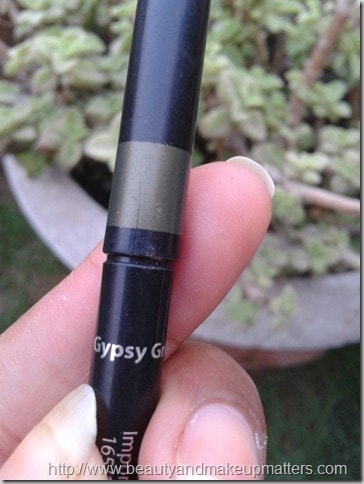 EOTD using Lakme Nine to Five Forever Silk Eye Liner- Gypsy Green:-  

Rating:- 3.9/5
Have you tried Lakme Nine to Five Forever Silk Eye Liner- Gypsy Green?