Lakme Lip Palette- Gypsy Collection Review, Swatches
Today I am going to review another product that I got in my Bridal makeup box, the "Lakme Lip Palette- Gypsy Collection".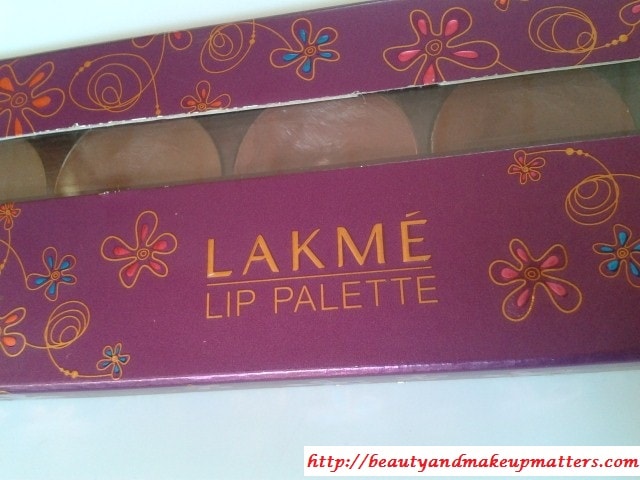 Product Claims: A wardrobe of possibilities. Wear each color on its own or mix for your perfect shade. A palette of five universally flattering shades of terracotta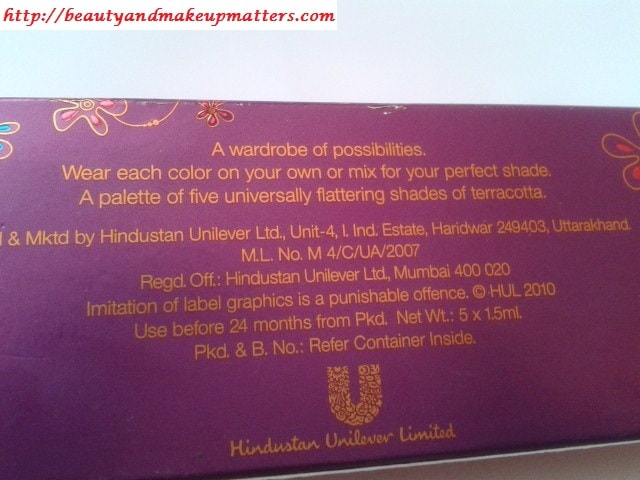 Price:- Rs.500 for 5*1.5ml
Shelf Life:-  24 months from the Mfg date.
Lip Shades:-
Earthy Brown:-It is a deep brown shade
Almond Brown:- It barely shows up on my pigmented lips.
Pinkish brown:- It is light pinkish shsde with brown undertones. Give a nice rosy pink effect to the lips.
Rusty Brown:- Has strong orange undertones
Maroonish Brown:-It has dark red and magenta undertones which makes it a good choice to pair it up with Indian wear.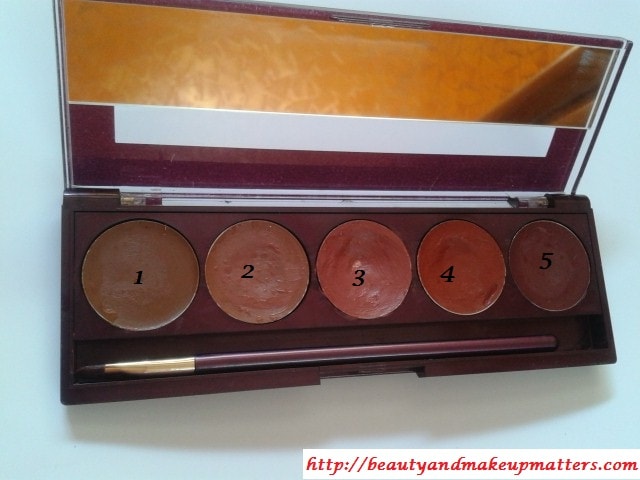 What I liked in Lakme Lip Palette:-
This is my first Lip palette and I really liked its pretty look and packaging. The palette comes with a long mirror on the inner side of the lid and a decent quality lip brush with soft bristles which applies lipsticks easily on the lips. The palette is compact, easy to use and carry around.
The palette contains 5 pans filled with different colours . All the colours are warm are belong to the brown family which would suit Indian skin tone pretty well. Those who love brown lipsticks are going to love this palette as there are so many to choose from.
The rich creamy texture feels like butter on lips. The creamy lip colours give a shiny appearance to lips which gives the illusion of a gloss. So those who are not really into lipsticks can give this palette a try for glossy and coloured lip locks .. oops looks 😉
The palette majorly contains brown lip colours but the the 3rd pot in the centre is a beautiful and the only pink which is also my favourite. It is my most used lip shade from the palette.
You can also create custom colours with palette. Mix and match the various colours from the palette to get an absolutely new and fresh colour on the lips.
Don't Miss to Checkout:
Swatches:-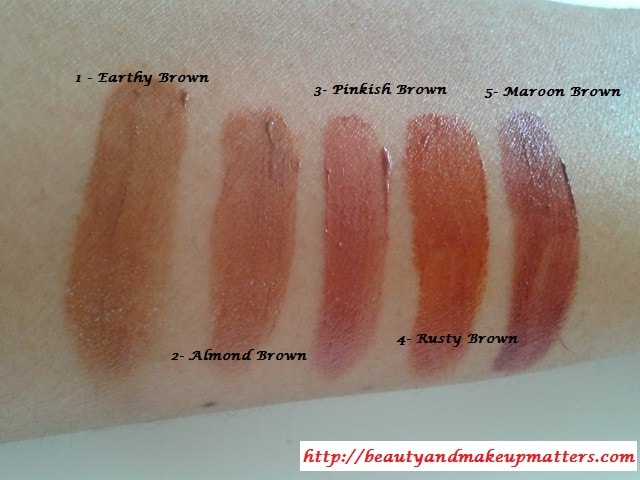 What I disliked in Lakme Lip Palette:-
The colour pay-off is not amazing and doesn't provide full coverage to the lips. The colours are sheer and light colour from the palette doesn't show properly on the pigmented lips. However, darker shades are better pigmented and give an almost opaque finish.
The staying power is poor and the colour doesn't stay for long. The lipstick stays for a max of 2 hours and leaving my lips nude without leaving any hint of color.
The palette has more or less the brown family colors and some of them are not as per my liking. I would love to see other palettes with more vibrant shades of pinks and reds.
Recommendation:- The Lakme lip palette comes handy with a mirror and a decent brush. The lip colours in the palette are soft, creamy and hence start to fade off soon and will need frequent re-applications.  Due to the slippery texture of the lip colors they have a tendency to bleed but slightly. The lip colours in the palette are various shades of brown which doesn't excite me but pretty normal everyday wearable shades.

I haven't tried any of the Lakme lipsticks yet so actually can't compare the lip palette with the actual lipsticks. If you love browns then do give this lip palette a try, rest can give this a pass easily.
Rating:-2.8 /5
Have you tried Lakme Lip Palette- Gypsy Collection? Do you prefer palette over single lipsticks?