Lakme Gloss Addict Desert Rose Lipstick Review, Swatch, LOTD
While most of the Indian women start with Lakme lipsticks, I might be the first one to buy a Lakme Lipstick so late. To tell you the truth Lakme lipsticks never caught my fancy rather Maybelline became my first lipstick brand but since the association of Kareena Kapoor with Lakme and launch of Lakme Absolute Range they are improving on their quality and variety (along with the prices :P). Lakme Absolute collection had a recent addition of Gloss Addict lipsticks few months back. Though I am  not a glossy person but the gorgeous shades all girly/pinky kinds and not boring maroons and browns tempted me, So I gave in to purchase my first ever Lakme Lipstick, Lakme Absolute Gloss Addict Desert Rose.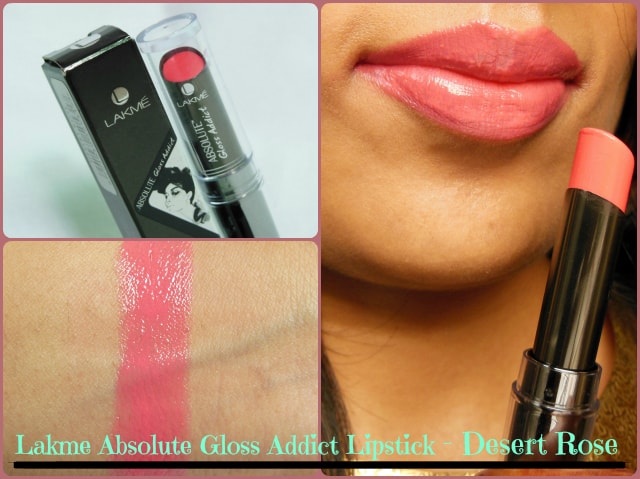 Product Claims:

Join the gloss revolution! Get addicted to the best of both worlds – Incredible hi-shine of a liquid lip gloss & one stroke application of a lipstick.
Introducing Lakmé Absolute Gloss Addict: Created by backstage Experts at Lakmé Fashion Week for Runway-Ready  lips.
Price: Rs 800 for 5 ml
My Experience with Lakme Gloss Addict Desert Rose Lipstick: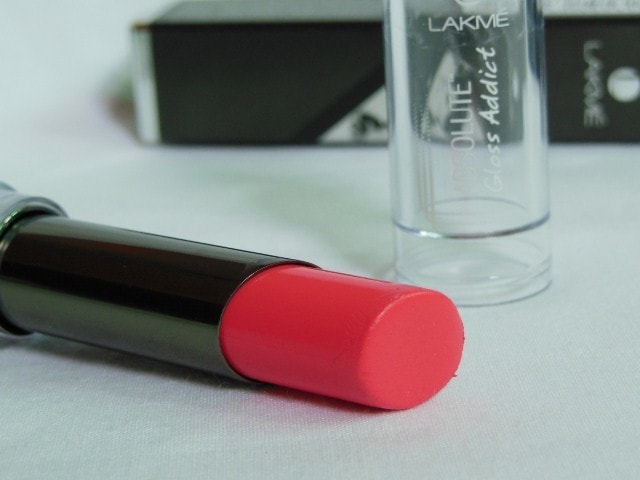 Shade: Desert Rose is a pretty bright medium rosy pink shade without any cool blue undertones.It is one of those pretty pinks that suits medium Indian skin fairly well with a little dose of makeup. It won't work for darker divas but would flatter light-medium toned ladies.
Formula: Lakme Gloss addict has a buttery smooth texture that slips beautifully on lips. As the name suggest, It is super glossy and imparts a lip gloss like shine to lips, minus the stickiness common with lip glosses. It feels like a colored lip balm as it feels intensely hydrating to lips and wears comfortably but here is a catch ( the spoiler) the formula requires me to have super smooth and well prepped lips else it will stick to the flakes, giving a streaky application much to my dislike
Pigmentation: Being a Glossy creme lipstick, the pigmentation is just average and has buildable coverage. It gives a sheer pink color in a single swipe and I need at least 3-4 good swipes for the color to cover my lip pigmentation. It doesnt provide that absolute opaque color my lips and I could see my natural lip color peeking through the lipstick. also, with the multiple swipes it starts getting uneven giving slightly splotchy application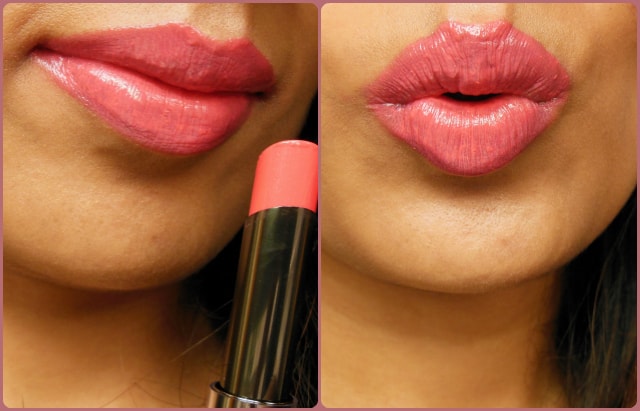 Staying Power: That magnificent glossy shine doesn't last long and fades as soon as in an hour of application leaving behind a satiny pink stain on lips which was quite surprising as I was not expecting the formula to leave any stain behind. The stain last lasts for another 4-5 hours and pretty much survives the meals, though it fades considerably by that time.
Pros of Lakme Absolute Gloss Addict Lipstick:
Buttery smooth texture
Glides easily on lips
Imparts gloss like shine to lips
Buildable coverage
Keeps lips nourished whole day
Lasts for 5-6 hours on me
Leaves a pinkish stain on lips
Sleek packaging
Great summer lipstick
Available in 15 shades
Cons of Lakme Absolute Gloss Addict Lipstick:
Expensive for a drugstore lipstick
Doesn't provide opaque coverage
Gets a little splotchy and uneven with multiple swipes
Best applied on prepped lips
Recommendation: Lakme Absolute Gloss Addict Desert Rose is a super glossy rosy pink colored lipstick with buildable coverage. Its super smooth texture and hydrating formula is great for dry lips but it sticks to lip flakes and goes uneven on chapped lips so one needs to pamper her lips well in advance. It makes a gorgeous everyday pink and a great alternative to tacky lip glosses without compromising on the shine and color but it is definitely not the best pick for pigmented lips. Also, price tag of Rs 800 can be a bummer for some. 😛
Rating: 3.2/5
Have you tried Lakme Absolute Gloss Addict Lipsticks? Do you prefer Glossy finishes over matte?