Lakme Fundamentals Deep Pore Cleanser Review
There was a time when Lakme lotions smelled heavenly but ever since they started upgrading the packagings, the formulation is altered and the wonderful scent is lost in the process. I have been keeping a safe distance from Lakme Skin Care for quite long but when I saw this Lakme Fundamentals Deep Pore Cleanser in the same old packaging, I memorized its lovely scent and added it instantly to my cart.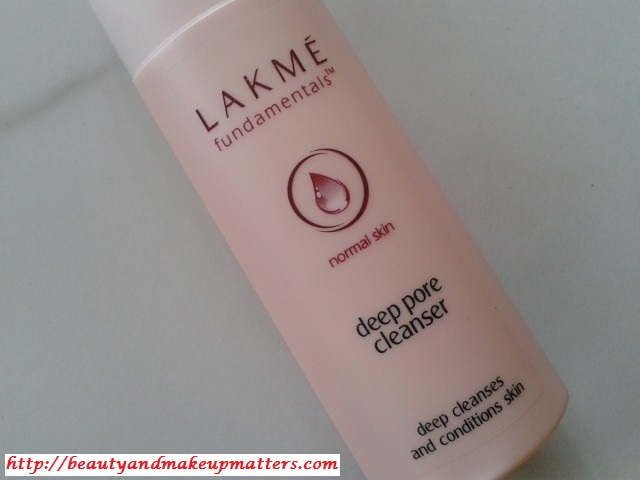 Product Claims: Formulated with natural avocado extracts, Lakme Deep Pore Cleanser gently cleans the skin of all surface impurities.
Contains anti-oxidants like Vitamin E which condition the skin. Its light moisture based formula, nourishes while it deep cleans the skin.
Direction for Use:- Suitable all year round. Apply on face and neck. Remove with damp cotton wool and rinse. For best results, follow up with peach milk moisturizer
Ingredients:- Aqua, Mineral Oil, Laureth-4, Glycerine, Stearic Acid, Cetyl Alcohol, Glycerl Stearate, PEG-100 Stearate, Perfume, Tocopheryl Acetate, Carbomer, Sodium Hydroxide, Disodium EDTA, Butylated Hydroxy Toluene, Propylene Glycol and Avocado Fruit Extract, Butyl Paraben, Ethyl Paraben, Propyl Paraben, Phenoxy Ethanol, Methyl Paraben.
Price:- Rs.99 for 120ml
Shelf Life:- 3 years from the Mfg date.
Packaging:- Lakme Deep Pore Cleanser comes peachy-pink a long plastic bottle with a flip top cap, typical old Lakme packaging which I used to like. The packaging is travel-friendly but not quite convenient to use as I need to either tap or squeeze the bottle to get the cleanser out which normally dispenses more than required amount hence wastage. Also, the opaque bottle doesn't show the amount of remaining product in it.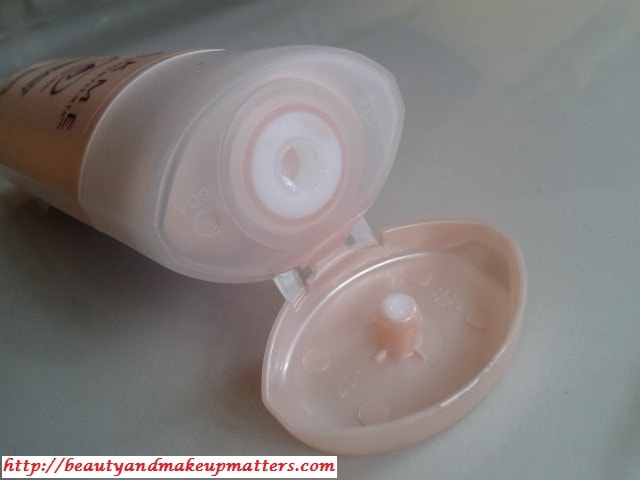 My experience with Lakme Fundamentals Deep Pore Cleanser:-
Lakme Cleanser is a white creamy liquid with slightly runny consistency.  It carries the charming signature Lakme fragrance of the good old days which is mild but somehow I didn't enjoy it much this time. :(.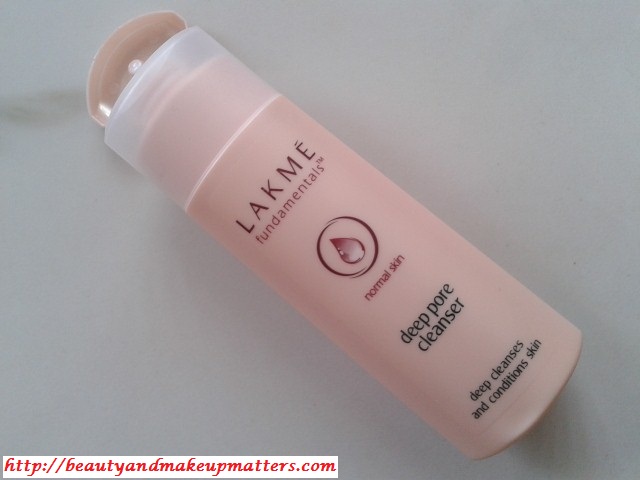 Usually, I use a makeup-remover for removing makeup and then use a creamy cleanser to pick up the residue left but for testing purpose and check its effectiveness I used this cleanser to remove all sort of makeup. Here is how it fared at the task –
I had to use a generous amount to remove full facial makeup which was much more than what I use with regular creamy cleansers like Lotus Herbals Lemon Pure Cleanser
It took me 3-4 swipes to loosen up all the makeup but the water-proof makeup was hard to remove with this
Leaves a greasy layer on skin so must be followed with a foaming face wash
Makeup at Test-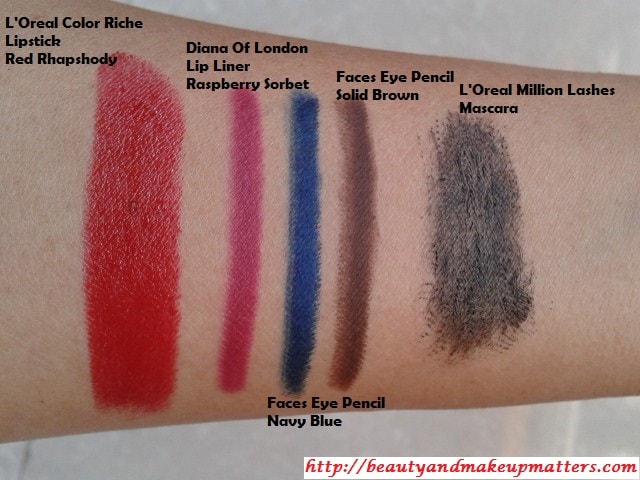 Cleanser's Performance– I used a generous amount of Cleanser and left it few seconds over the makeup swatches whcih I don't do normally. Also Swipe it really hard to get off the makeup!! An Absolute No– Nooo as Make up Remover.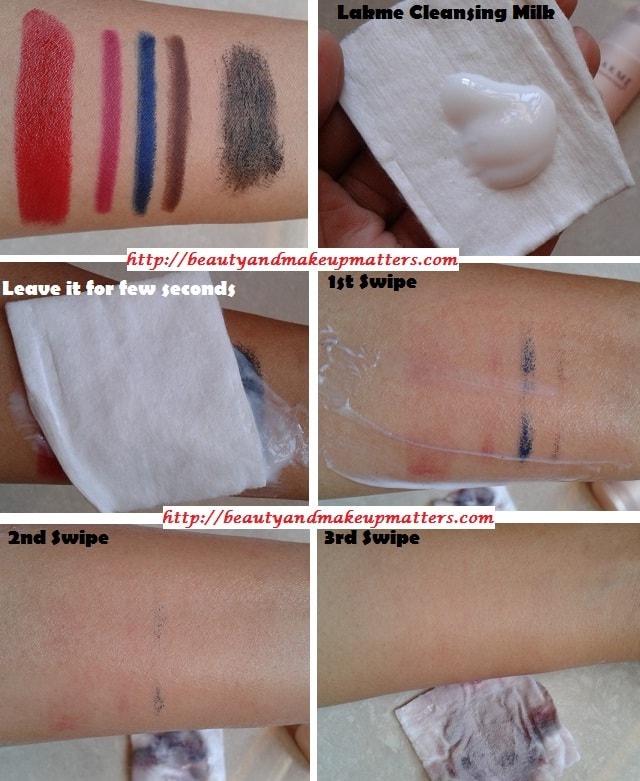 Though it failed as a Makeup Remover but its gentle formula can be used to remove surface impurities like dirt, oil and grime from the skin.
It doesn't give me any breakouts but wouldn't recommend it to others due to the presence of Mineral Oil which is a cheap ingredient and normally blocks pores which may lead to breakouts.
Don't Miss to Checkout:
Pros of Lakme Fundamentals Deep Pore Cleanser:-
Mild pleasant scent
Gently cleanses surface impurities like dirt and grime
Hygienic packaging
Affordable
Easily Available
Cons of Lakme Fundamentals Deep Pore Cleanser:-
Isn't great at removing makeup especially water-proof makeup
Requires generous amount for effective cleansing
Leaves an oily layer on skin
Contains Mineral Oil as the 2nd top most ingredient
Contains Parabens
Recommendation:- I bought this Lakme Fundamentals Deep Pore Cleanser to relive the old charm of Lakme fragrance. It smelt the same way but I detest it now and was quite disappointed to see how ineffective it is at removing makeup and doesn't work at all on water-proof makeup. So my suggestion is to remove makeup first with a remover and then use this to get rid of any residue and follow with a foaming face wash. Looking at its ingredients only make the thing worse as Mineral Oil is listed at the 2nd most position.  Not Recommended!

I have recently got its Lakme Citrus Rain Fruit Blast Face wash which also failed to impress me.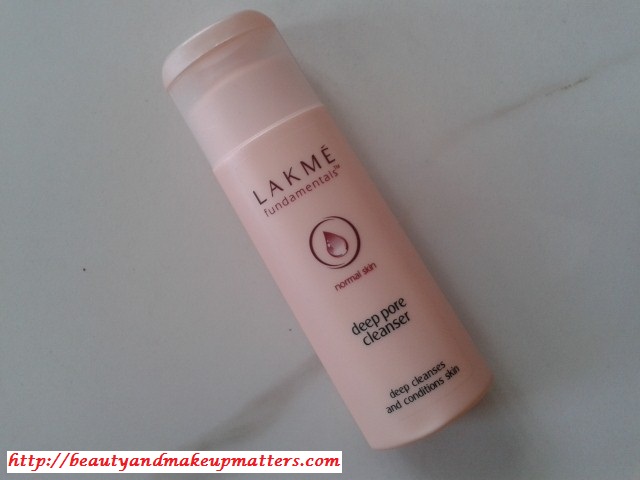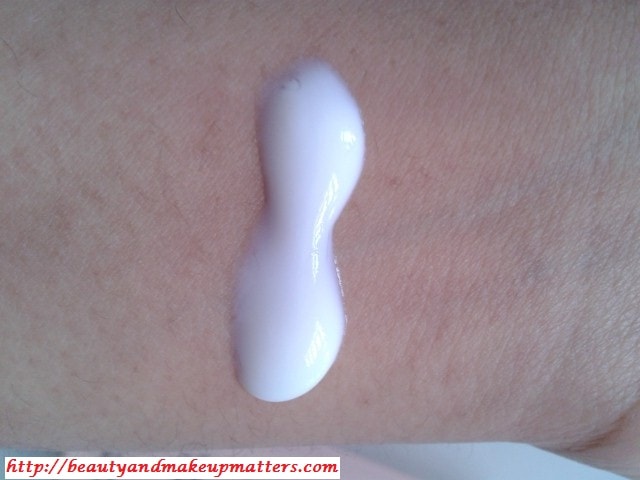 Rating:- 2/5
Have you tried Lakme Fundamentals Deep Pore Cleanser? Which is your favourite Cleanser?