Lakme Fast & Fabulous Nail Enamel-Going Green Review,NOTD
I love fun nail enamels like green, blue, orange etc. I believe these are the basic colors which everybody must have in their collection especially when you are into nail art thing.
I know, I am late on trying these but Better Late than Never. So, Today I am reviewing my first and the popular shade Lakme Fast & Fabulous Nail Enamel range -Going Green.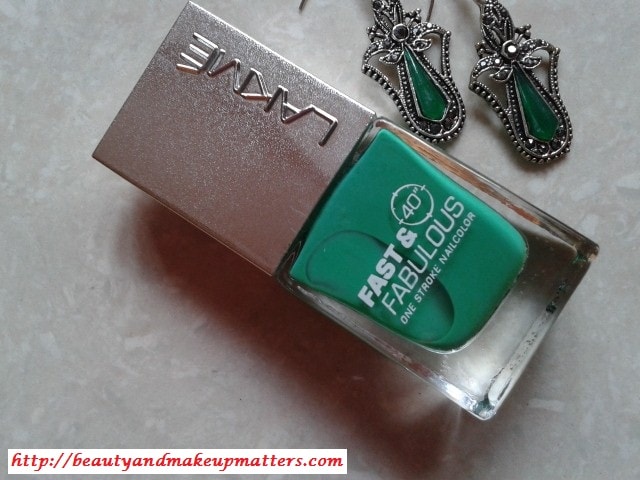 Product Claims: Go glamorous with this quick drying nail paint that sets in just 40 seconds. It comes with a unique flat brush that glides effortlessly over nails to give you an immaculate finish, in just one stroke.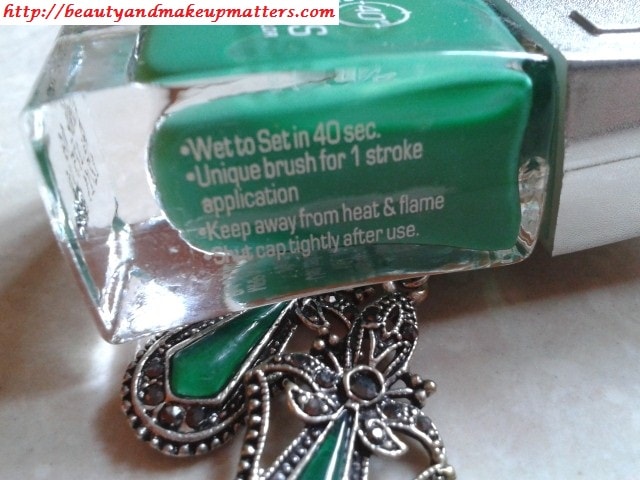 Price:- Rs.175 for 10ml
Shelf Life:-  36 months from the Mfg date.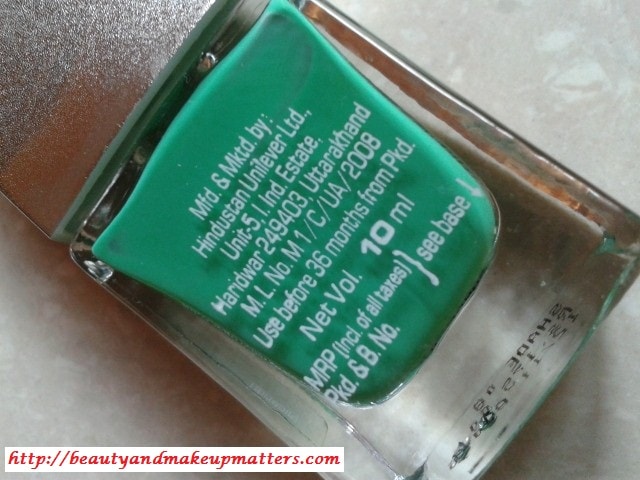 Packaging:- Lakme Fast & Fabolous Nail Enamel comes in a tall, curvy, rectangular bottle which is quite different form the regular squarish or round bottle type packagings. It has a wide silver metallic looking plastic handle which has lakme embossed on it.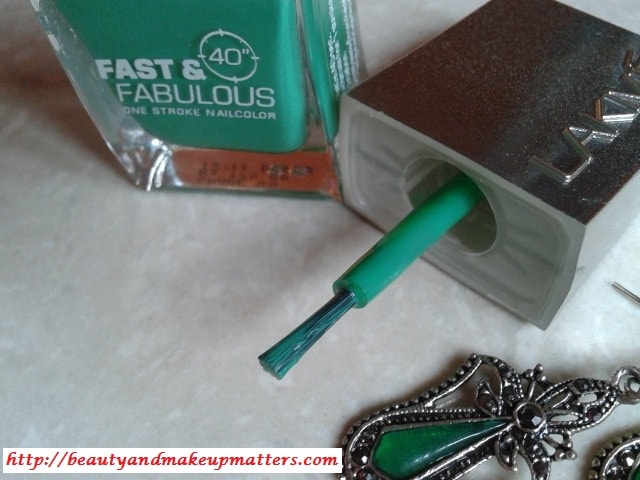 My experience with Lakme Fast & Fabulous Nail Enamel-Going Green:-
Going Green is a lovely forest green shade. It is gorgeous bright green shade that is just perfect for summers. It is a plain green matte shade free from shimmers and frost.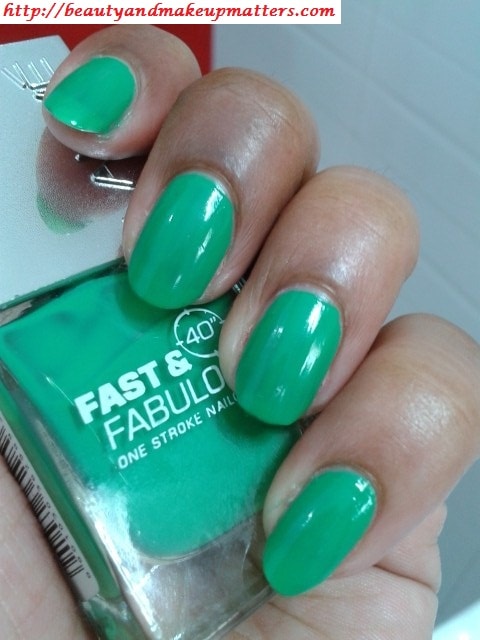 Brush:-As soon as I unscrewed the cap to get started with nail paint application, I was disappointed to see the tiny little brush. Also, the bristles in the brush were loosely packed and flared a bit. Seeing such small and loose brush, I had lost all the hope of getting a satisfactory application of the nail paint.
Texture:-Coming to the formula of the nail enamel which is fine, not runny but slightly thicker which is not difficult to work with. In the first coat, the nail enamel goes sheer and gives a streaky application. The rectangular handle added complexity to the task.
Dry Time:-The only good thing about this nail polish is that it dries quickly. I start applying nail enamel from the pinky finger and it has dried up completely till I reached the 3rd finger.
Finish/Coverage:-I was expecting to get a nice creamy glossy finish but it dried matte and gave a roadside nail enamel finish.. I had to apply 3-4 coats to get an opaque coverage on my nails and somewhat non-streaky application. I won't the say the final coat was smooth and creamy but was better than what I get in the first coat.
NOTD:-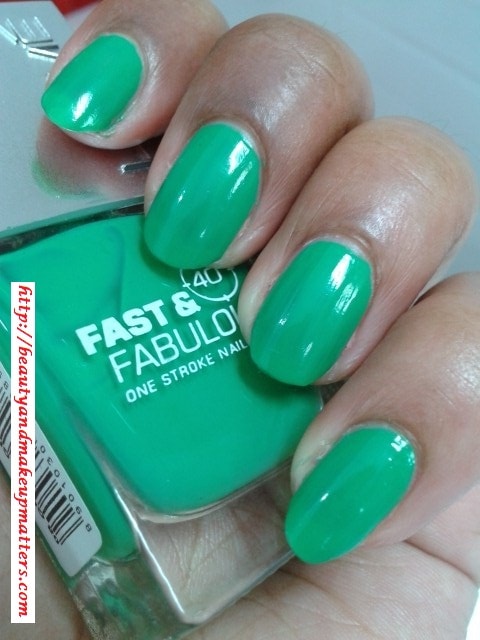 With Flash:– Show its true green color.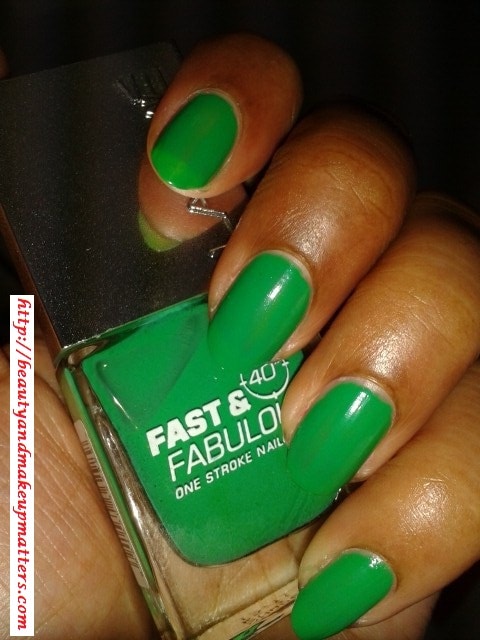 Pros of Lakme Fast & Fabulous Nail Enamel-Going Green:-
Dries up quickly.
Consistency is easy to work with.
Gives an opaque coverage in 3-4 coats.
Lakme Fast & Fabulous has number of vibrant shades available.
Cons of Lakme Fast & Fabulous Nail Enamel-Going Green:-
Expensive
Awkward rectangular applicator handle
Small and flared brush which makes nail enamel application difficult.
Starts fading and peels off from the tips next day of application.
Didn't give an even, creamy finish.
Stained my nails badly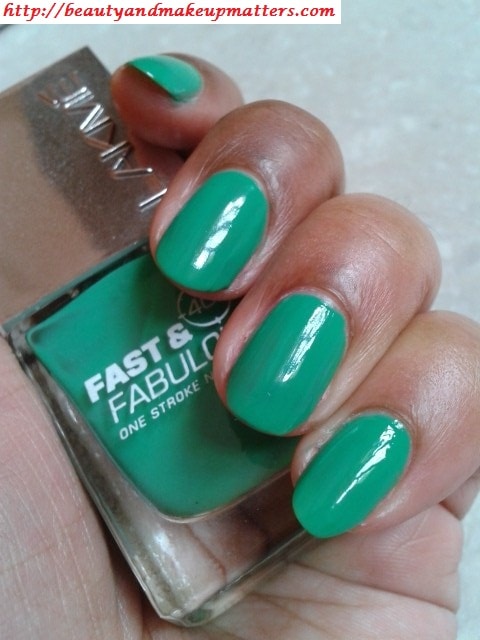 Recommendation:- Lakme has tried hard to make the packaging look uber cool and stylish but few practical aspects has been ignored. The big rectangular handle and small brush with loose bristles is difficult to work with. It costs almost twice the Lotus Herbals Color dew nail enamels which are way better than these considering the ease of application, finish and staying power.

I would not recommend this nail paint to anyone. The color is gorgeous but considering the formula, I would suggest to stay away from this and looks for its dupe in other brands.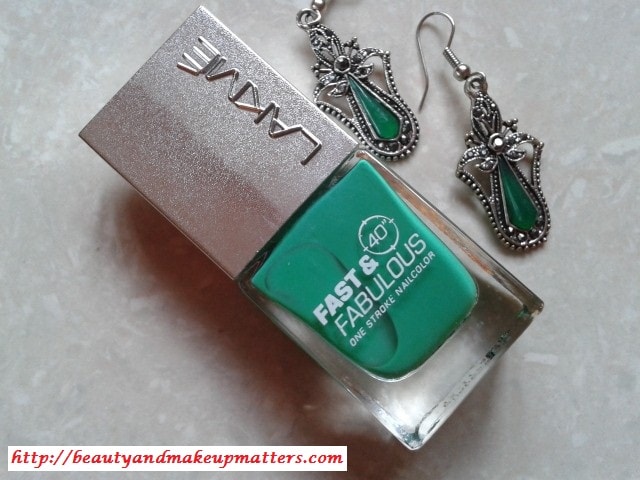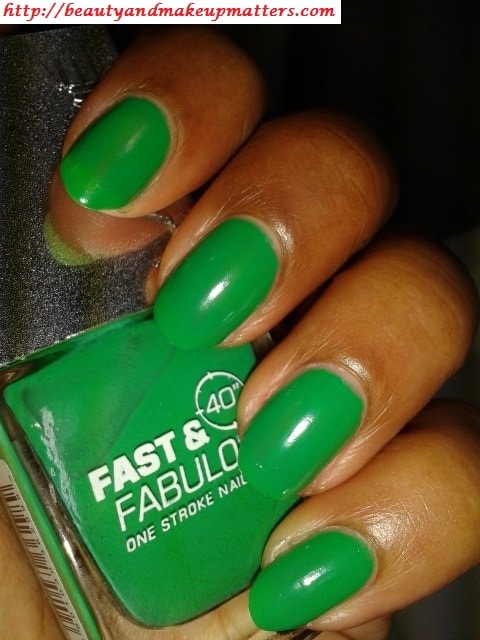 Rating:- 2.5/5
Have you tried Lakme Fast & Fabulous Nail Paint-Going Green? Which is your favorite Green nail polish?