Lakme Eyeconic Curling Mascara Royal Blue
I love playing with colors especially when it comes to eye makeup. I replace my regular my black liner with blue, green, purple and brown to define my eyes. But one thing that remained black was my mascara. Because I guess I never had an option to try colored mascaras. I saw a few colored mascaras from MAC which is way out of my budget and in NYX which is also slightly over the budget. So, I have been keeping and sitting in the corner with my black mascara wand but then Lakme shook me with their BLUE Mascara, so lets see what this Lakme Eyeconic Curling Mascara Royal Blue does to me!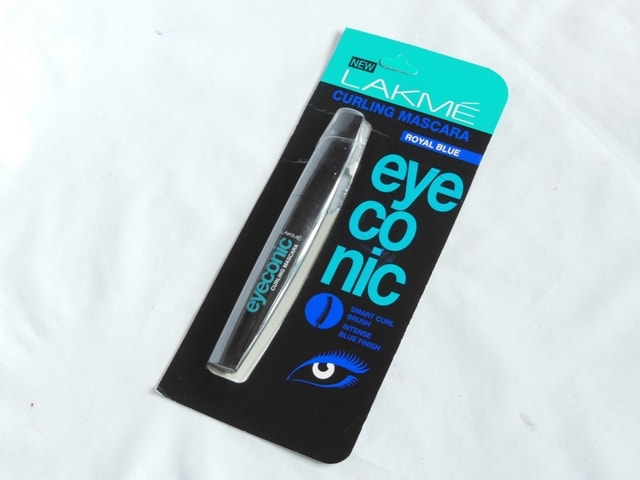 Video is now LIVE:
Product Description: Coming from the Eyeconic range is yet another product The Lakme Eyeconic Curling Mascara. The Lakme Eyeconic Curling Mascara is a unique mascara that's lets you play with dramatic eye looks, by giving you intensely curled lashes.
But if that's not enough, it now comes in the vibrant Royal Blue Shade that lights up your eyes like never before. The smart curl brush allows smooth strokes for perfectly curled lashes. The lightweight mascara with D-Panthenol keeps lashes smooth.
 The Lakme Eyeconic Curling Mascara is available in two intense shades – Black and Royal Blue to add instant drama. You can use The Lakme Eyeconic Curling Mascara every day for enhanced lashes that complement any eye make-up look.
How to apply: Begin with your upper eye lid. Wiggle the brush at the base of your lashes to separate them. Brush the underside of the lashes in smooth, upward strokes. Apply a second coat to really enhance the curl in your lashes. Next, with downward strokes, brush the upper side of the lashes of your lower eye lid.
The Lakme Eyeconic Curling Mascara goes very well with the Lakme Eyeconic Kajal which can be applied on both upper and lower eye lids. You can complete the look along with the Smokey Glam Pallet from the Lakme 9to5 Eye Quarter range.
Intense Royal Blue Shade
Smart Curl Brush
Gives volume to your lashes every day. Light and easy to remove, its moisturizer keeps lashes smooth
Smart Curl Brush
Light wear mascara with D-Panthenol Moisturizer
Smudge proof and Water Proof
Price: RS 350 for 9 ml
Packaging: Lakme Eyeconic Curling Mascara Royal Blue comes in the signature Lakme Packaging with a black cardboard paper carrying all the details about the mascara. The Mascara shade name and its feautures are highlighted in the mascara shade to give a hint of what the mascara will look like. The actual packaging of the Lakme Mascara is long, sleek, shiny black colored tube with a curvy shape, quite similar to the old eyeconic mascara one. The shade indicator is just at the bottom, so it could be hard to pick the right shade if you have the black one as well in your vanity!
My Experience with Lakme Eyeconic Curling Mascara Royal Blue:
Wand: The mascara comes with a curvy wand with small bristles packed closely on the applicator and running in a spiral shape. The wand is small enough to be used easily on the lower lash lashes. The bristles feel super soft so I feel it's perfect for sensitive eyes.
Shade: Lakme Eyeconic Curling Mascara Royal Blue is a bright blue colored mascara, almost like an Ink blue or Electric Blue. I never though it can look so amazingly bright on lashes but it did. It gave that perfect Pop of blue on the eyes. It might be so stark from a distance but I can totally notice the color on my lashes. The pigmentation is intense and in just one swipe I can see the color coming on lashes.
Texture: Lakme Eyeconic Curling Mascara has a medium creamy texture which is the best to give an even and non-clumping application. The mascara doesn't feel wet so I don't have to wait for long for it to get dry post application.
Results: The mascara separates the lashes pretty beautifully giving them a slightly longer and voluminous look with an added curl. The wand coats the lashes evenly with the mascara and is easy to work on lower lashes too. The formula gives a clump free application. With one coat it adds length and definition while with the second coat and I can see the Volume and curl.
The best part is my lashes don't feel heavy or crunchy at all. The mascara feels very comfortable on lashes.  Even with multiple coats the mascara applies well without any clumping. I wore it for almost 8-10 hours and I didn't notice any flaking or smudging!
Removal: The mascara claims to be water-proof but it comes off easily with an eye makeup remover and I don't have to rub my lashes to get it off.
Recommendation: Overall, this Lakme Eyeconic Curling Mascara Royal Blue is a great budget-friendly colored mascara  with spectacular results. If you like to play with colors try this colorful mascara and give those black mascara wands a break. The mascara not only coats the lashes perfectly but adds a decent volume, length and curl too without making them crunchy or heavy. The clump-free formula makes it even better. I am love with this mascara. It doesn't give a rich falsies effect but whatever it does for the price I am happy . Highly Recommended!
Rating: 4.5/5
Don't Miss to Checkout:
Have you tried Lakme Eyeconic Curling Mascara Royal Blue? Are you game for Colored Mascaras?