Lakme Eyeconic 22hr Kajal Black 
After Maybelline and L'Oreal, Lakme has also come up with their new Kajal, the Lakme Eyeconic 22hr Kajal Black. I am really excited to see if this Kajal actually compares to any of those Maybelline Super Black Colossal or the L'Oreal Kajal Magique Bold. Let's read on to find more about Lakme Eyeconic Kajal 22hr Black.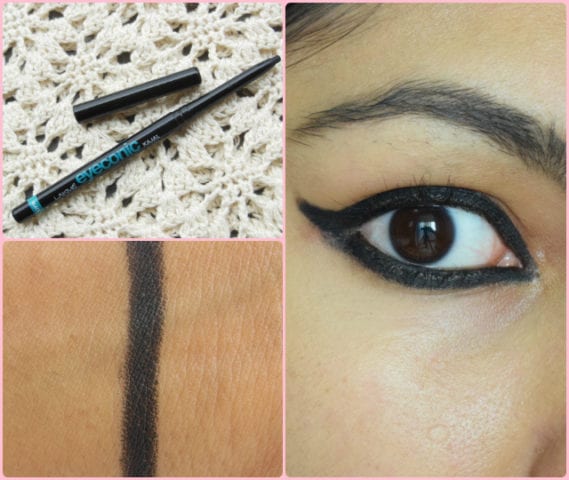 Video Review + Demo is now live:
Product Description: Lakme Eyeconic 22hr Kajal Black
No Smudge
Waterproof
Opthamologist Tested
Suitable for contact lens Users
Price: Rs 210 for 0.35 gms
Packaging: Lakme Eyeconic 22 hr kajal comes in the usual green black cardbox packaging. The kajal is housed in a retractable black colored pencil. The kajal looks very similar to the previous one with just one difference of 22hr claims. I just feel that retaractable mechanism in the packaging is a bit loose as the kajal keeps moving down during application
My Experience with Lakme Eyeconic 22 hr Kajal Black:
Lakme Eyeconic 22 hr Kajal comes in only one shade, Black. Lakme had introduced colored liners in their old Eyeconic 10hr Kajal range and I am hoping that they will also come up with the same in this new 22 hr range. Also, I don't understands the 22hr claim why dint they made it 24 hr .. I mean how much of a difference 2 hours can make after 22 hours of application.  😛
Lakme Eyeconic 22 hr Kajal is a rich jet black kajal with a beautiful satin matte finish. The formula is intensely pigmented and glides on easily.
Texture: Lakme Eyeconic has lovely creamy texture and it glides on beautifully without crumbling during application.
Pigmentation: The kajal is an intense black shade and it is definitely falls into the category of Best Black Kajals in India.
Longetivity: The formula stays put whole day. I have tested it for 10-12 hours on me and it lasted pretty well. I did notice slight fading on the waterline after 5-6 hours but the kajal was still there till the end. I like that the kajal doesn't transfer much on my lids. It just smudged a bit on my lower lash line after 5-6 hours.  It smudges when touched or rubbed but other wise it stays pretty well on lids.
I am really impressed with the formula and texture of this kajal and it actually reminds me of L'Oreal Kajal Magique bold.
The kajal is again manufactured by the same German Labs Schwan Stabilo Cosmetics, so be rest assured of the quality which is going to be top notch.
Recommendation: Lakme Eyeconic 22 hr Kajal Black is one of the richest black kajal's in India with a smudge proof, water-proof finish. I was not a fan of old Formula as it had a waxy feel and didn't apply that well on waterline. But this new 22hr Eyeconic formula has impressed me with its performance. I am absolutely loving the intense black pigmentation, smudge proof finish and the affordable price tag. I totally recommend this Kajal to everyone who is looking for a high quality kajal in budget. One of the Best Smudge-proof kajals in India. Highly Reccomended!
Don't Miss to Checkout:
Have you tried Lakme Eyeconic 22 hr Kajal? Which is your favorite Drugstore Kajal?