Lakme CC Complexion Care Cream – Bronze Review, Swatches, FOTD
Hello Everyone, Today I am going to review the much talked about CC cream from Lakme. It has created a buzz in the blogosphere, I wanted to resist my purchase as I already have few BB's yet to be finished but there was something about this cream that I had to get it.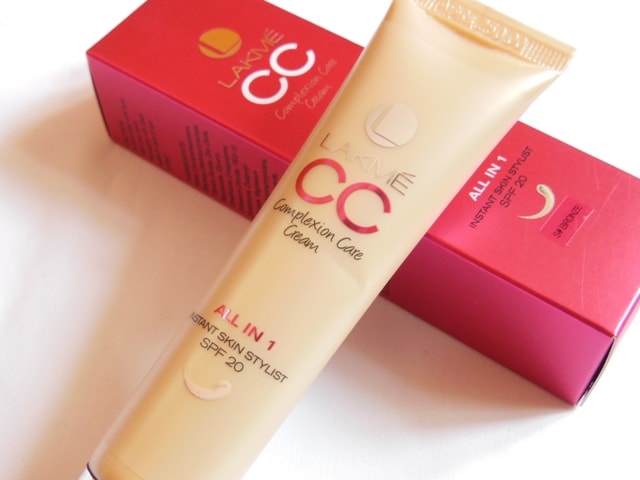 Product Claims: Lakmé CC stands for Complexion Care cream.
It combines the goodness of your daily skin cream with just the right touch of make-up to give you that perfect look in just a few minutes.
Its skin care benefits include sun protection (SPF 20), moisturizing, brightening and freshness while its make-up benefits are an even skin tone and basic coverage
CC cream takes care of your skin as it brings together the best of skin care with just the right touch of make-up to give you instantly styled skin every day. 
It Brightens, Conceals, Moisturizes, Refreshes, Evens skin tone and provides UV Protection.
Direction for Use:- For best results, dab over cleansed skin & blend in till absorbed for instant brightness & a perfect finish. Use every day
Ingredients:-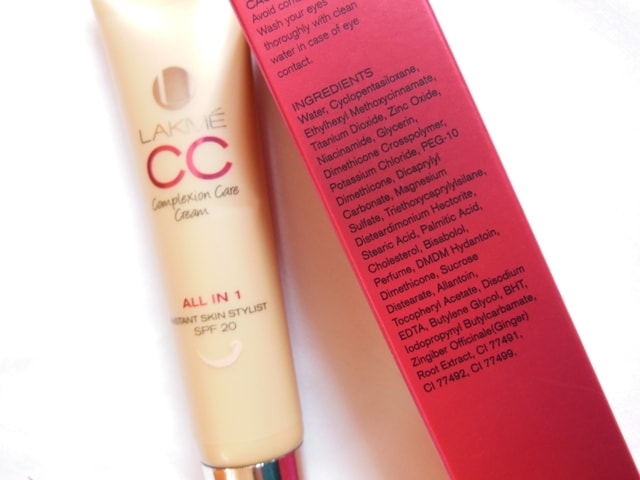 Price:- Rs.250 for 30gms
Shelf Life:- 2 years from the Mfg date.
Available in 2 shades
Beige – For Lighter skin tones
Bronze – For medium-fair skin tones
Packaging:- The CC cream is packed in a reddish-pink colored box which makes it look appealing. The cream is contained in a dull dusty beige colored squeeze tube with a shiny silver cap. It isn't the regular BB creams types broad shaped short length tube but has a round, lean body and is pretty long too. What I really liked about the packaging is the ultra thin nozzle which dispenses the product very precisely. I liked the stylish touch given to the packaging and the popping reddish-pink which made it look even more girly. It is convenient to use and can be carried around without worrying about messing in the bag.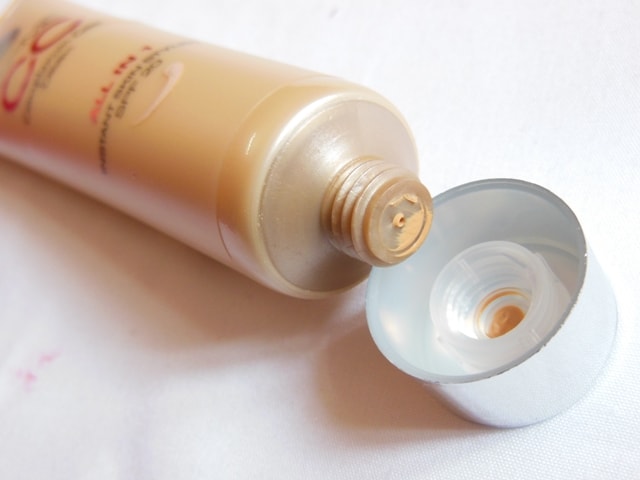 My experience with Lakme CC Complexion Care Cream – Bronze:
I thought I would be easily located but it was out of stock most of the places. After a lot of searching and hunting I finally managed to grab one at Lifestyle, Gurgaon.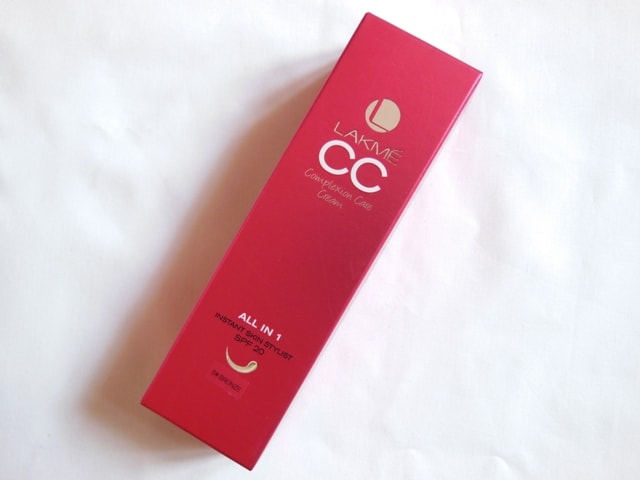 Shade – Bronze is a peachy brown shade with lots of yellow undertones. The color isn't a perfect match to my skin color may be a shade darker but it doesn't look awkward in any way and camouflage to my skin color quite well. Beige would have been much lighter so bronze is the better.
Texture – It has a slightly thick texture but that doesn't come in its way of blending. It turns to somewhat mousse cream kind of a texture when spread and vanishes into the skin. I dot it all over my face and then with patting and blending spread it all over my face. It spreads nicely and with few stroke it gets absorbed into the skin. Though it has a got a thick texture but it doesn't feel heavy at all rather extremely light. The best thing is it doesn't feel like I have applied something thick or creamy at all on my face
Finish- It gives me soft matte finish which I really like as the dewy finish of BB reams isn't what I like in hot summers.
Coverage– The coverage provided is medium-light which easily hides the uneven skin tone and light acne scars. It also adds a subtle glow to your face which makes me look fresh and brightened up. It leaves me with a natural looking smooth and even-toned skin which I like the most, nothing cakey or made-up.
Staying Power – The staying power is again awesome as it stayed there without creasing/ melting on me. I have a dry skin so it doesn't melt or gets shiny even by the end of the day also it has negligible transference. Garnier BB cream used to move to my mobile screen held close to my cheeks but I don't face anything like that with Lakme CC cream. I set it with a pressed powder and I am set for the day. It oxidises lightly on me by 6-7 hours of wears and gives me soft-tanned look by end of the day
Fragrance- It has a mild cosmetic fragrance which I have noticed in other Lakme products as well. I find it quite nice and very refreshing.
Shade selection –There are only 2 shades available but I must say that both the shades will work with most of the Indian skin tones. Dusky and fair skinned beauties may not be able to find shades closer to their skin tones but it will match most of the medium-fair and medium skin tones.
Don't Miss to Checkout:
Swatch–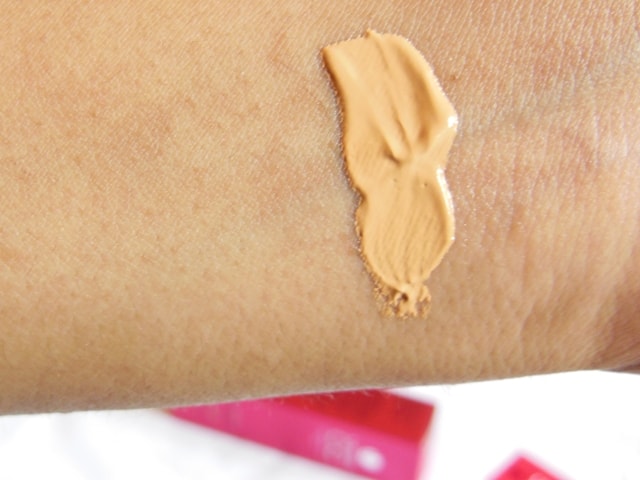 PS – For Dry skinned– It must be applied on a well-moisturized face otherwise the blending wouldn't be so smooth and so is the finish as it may look flaky but over a moisturized face it looks quite natural.
Pros of Lakme CC Complexion Care Cream – Bronze:-
Comes in an easy tube packaging.
Slightly thick texture but Spreads nicely
Effortless Blending
Doesn't feel heavy on me
Provides medium-light coverage
Evens out the skin covering mild scars too
Provides a natural-even looking skin
Makes a great substitute for your daily wear foundation
Small nozzle is easy to take out the product without wasting.
Will work for oily/combination skinned people but needs to be set with a powder.
Affordable price tag
Cons of Lakme CC Complexion Care Cream – Bronze:-
Moisturizer underneath is a must for dry skin
SPF it contains is very low for effective Sun-protection
Starts oxidizing by the end of the day
May not be a great product for oily but can be made to work by setting with loose powder
Only available in two shades
Recommendation:- Lakme CC Complexion Care Cream in Bronze has a thick texture but isn't creamy and it instantly transforms to a light-weight velvety feel which blends in smoothly into the skin. The coverage it provides is quite good, evens out the skin tone and covers minor scars and blemishes effectively giving a smooth polished look to my face. It isn't moisturising like the BB creams so and I can't afford to skip moisturizer beneath as I have a dry skin but I like the soft matte finish it provides. The shades again are limited with only two and no scope for Dusky and Fairest skin tones.

I moisturize my face with Lakme Youth Infinity serum, follow with Lakme CC cream & finally set it with a pressed powder and I am set for the day. If you are in rush and doesn't want to indulge in blending the foundation go for this CC Cream, it will make a good substitute for your daily wear foundation, Go and give it a shot but don't expect any skin care benefits as it is nothing more than a light-weight foundation.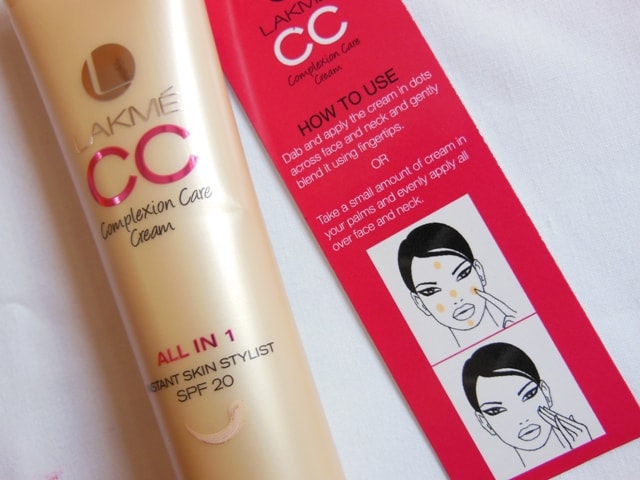 Before/After – Transformation isnt it.. Hhehe I knowingly did my hair afterwards only for a better "AFTER" effects. 😉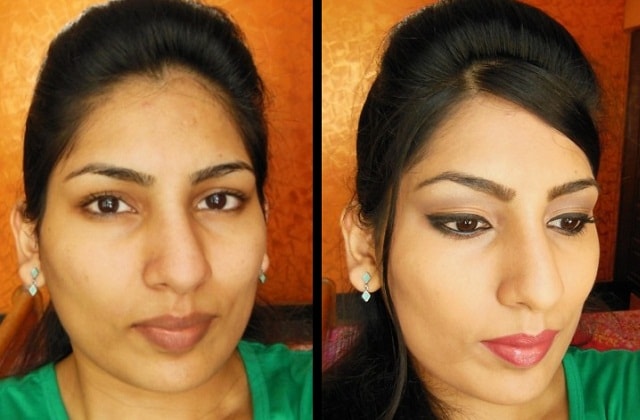 With Flash– Please forgive the naked neck as completely forgot to blend the cream there and it only after clicking pictures that I noticed it.. 😛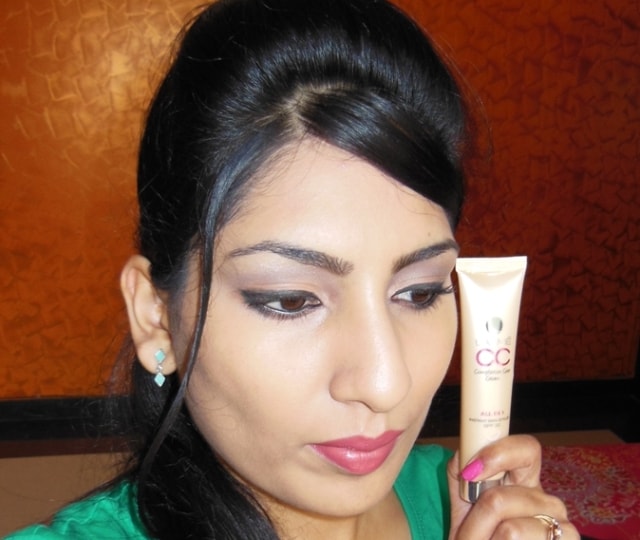 Rating:-4/5
Have you tried Lakme CC Complexion Care Cream – Bronze? Have you any other CC Cream?