Lakme Absolute Skin Gloss Gel Creme Review
Hello Everyone,
I was not very impressed with the Lakme Absolute Skin Firming range but this Skin Gloss range surely tempted me to give it a try more importantly because of the gel crème formula. This Skin gloss range includes an overnight mask and reflection serum as well. So, let's see if this Lakme Absolute Skin Gloss Crème did impress me!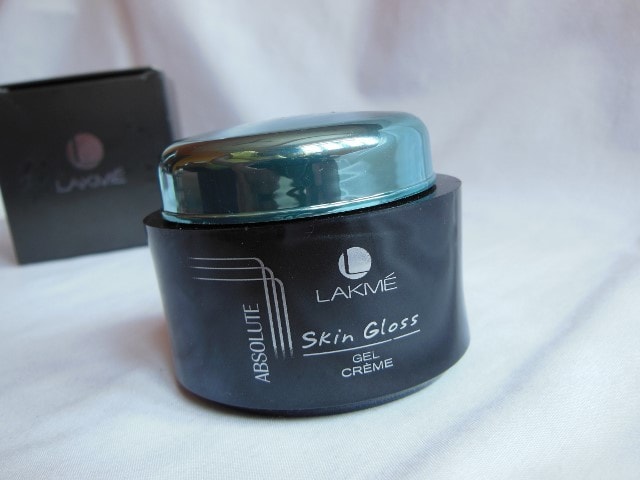 Product Claims: Didn't you always desire for a perfect combination of nourishment and shine for your skin? Well, the wait is over. The Lakmé Skin Gloss Gel Crème is enriched with minerals to hydrate your skin for a healthy glow. Along with moisture for a soft, supple texture, it gives your skin a layer of flawless luster.
A light glaze with mineral laden glacial water
Hydrates to make skin look radiant
Moisture coats your skin with gloss
Direction for Use:- Dab entire face with 5-6 dots of gel crème & gently pat till absorbed.
Price:- Rs.399 for 50gm
Shelf Life:- 18 months years from the Mfg date.
Lakme Absolute Skin Gloss Range includes:
Lakme Absolute Skin Gloss Gel Creme
Lakme Absolute Skin Gloss Reflection Serum
Lakme Absolute Skin Gloss Overnight Mask
Packaging:-  Lakme Absolute Skin Gloss Gel Crème comes in a black plastic jar type packaging with a minty metallic blue screw cap. The packaging is similar to the Lakme Absolute Skin firming range but with a different color combination. The tub is housed in a box which has all the details of the product.
My experience with Lakme Absolute Skin Gloss Gel Crème:-
Lakme Absolute Skin Gloss Gel Crème is a minty blue colored gel with medium-thin consistency. It has a light weight formula and smooth texture that applies evenly and blends beautifully into the skin. It feels like water on skin which gets absorbed with the slightest massage. It gives a mild cooling sensation while it sinks into the skin which feels wonderful in summers. It gets absorbed completely into the skin without leaving any residue behind and also doesn't have any sticky feel that is usually associated with gel based products. It has some sort of musky minty fragrance but it isn't very strong and vanish quickly post application so doesn't bother me.
I have a dry skin but it provide ample hydration and I don't feel like going back to cream based moisturizers. I just need a small amount of this gel crème and my skin stays hydrated whole day. Though it gets a bit shiny if applied in excess especially in super-hot and humid environment but otherwise it's a great pick for normal/dry skin. Not suitable for super oily skin in summers and super dry skin in winters but for rest of the combinations it will be more than enough.
Results: Lakme Absolute Skin Gloss Gel Crème makes my skin look healthy and hydrated and does add a lustrous shine instantly to the skin but not shiny/oily types. Skin feels velvety smooth, soft and a little plumped up as well but it makes my face shiny in 2-3 hours of application. It is light enough to be used as a moisturizer under makeup for dry skin but primer is a must because of the shiny thing. It is great for daily hydration the skin but there are no long term benefits of this Crème and no such improvement in skin texture.
Don't Miss to Checkout:
Pros of Lakme Absolute Skin Gloss Gel Crème:-
Light weight texture
Applies smoothly
Blends quickly
Doesn't feel sticky or oily
Doesn't clog pores
Add a dewy shine to the skin
Provides sufficient hydration the skin
Small amount is required for each application
Pocket friendly price
Suitable for most skin types
Affordably prices
Contains Mineral glacier water
Cons of Lakme Absolute Skin Gloss Gel Crème:-
Does nothing more than just hydration
Skin gets shiny after 2-3 hours
Tub packaging's are not hygienic to use
Won't be enough for dry skin in winters
Not for oily skin in summers
Recommendation:- Lakme Absolute Skin Gloss Gel Crème has a light gel like texture which gets absorbed instantly giving a slight dewy finish to the skin. It makes a great everyday moisturizer which hydrates skin without feeling heavy or oily.

I don't even recall the last time I have used a gel textured moisturizer. I have been into creams since forever though some worked for me and others just felt greasy or oily. I was really not sure whether this gel formula would actually work for my dry skin because it is so hard to quench its moisture thirst but this Lakme Gel Crème is the one ad adds just the right amount of hydration to my dull and dry skin. Recommended for dry skin!
Rating:- 3/5
Have you tried Lakme Absolute Skin Gloss Gel Crème? Which is your favourite Gel based moisturizer?