Lakme Absolute Precision Lip Brush Review
Product Claims: For perfectly precise lips. A compact lip brush with an ultra-firm tip. Add definition to lip contours or fill lip color, quickly and with ease.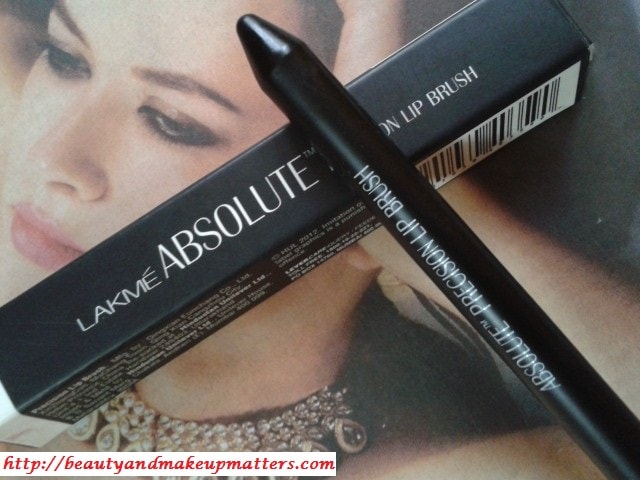 Direction for Use:-Use the brush to dab the color on your lips. Then stroke from side to side for a smooth even application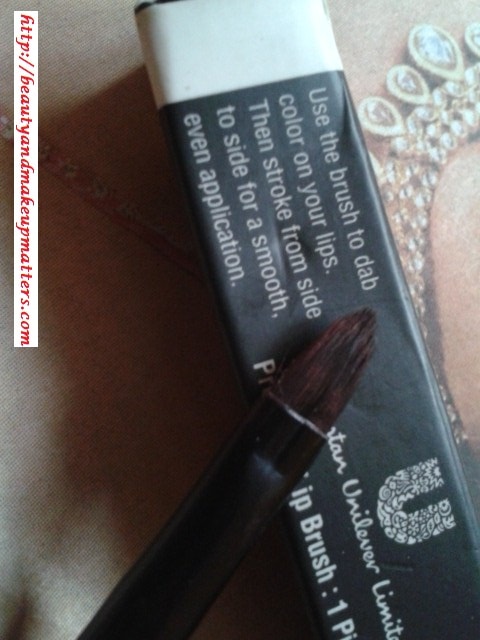 Price:- Rs.350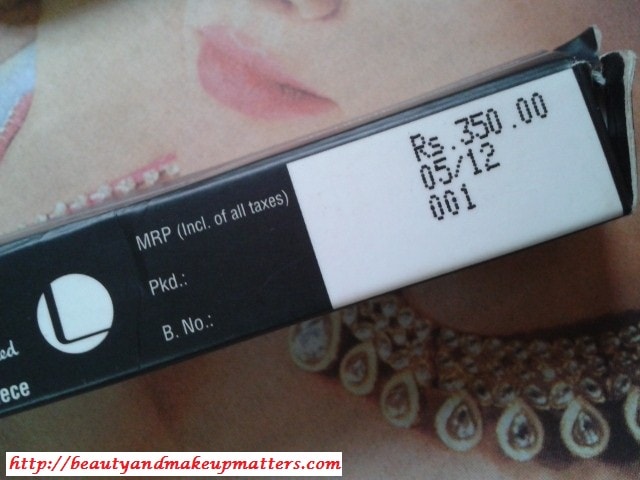 Packaging:- The lip brush is packed in a similar looking black cardbox packaging like Lakme Absolute Eye shader Brush but this brush comes with a long cap to cover the bristles.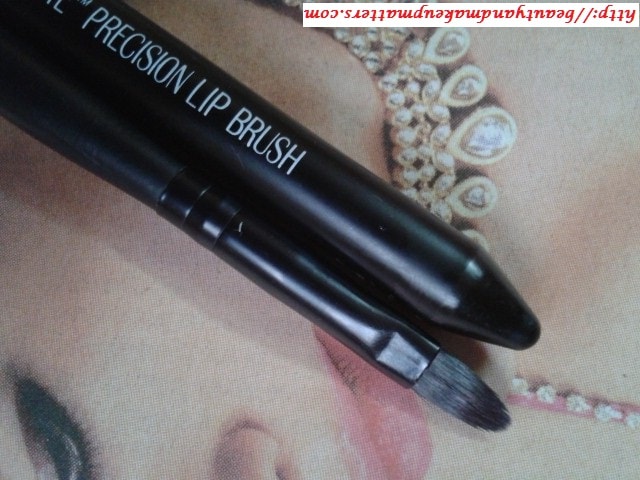 I feel it was very thoughtful of Lakme to provide the lip brush with a cap as it makes the packaging travel-friendly and I can throw it carelessly in bag. But hang on here is the catch, the cap fits loosely to the brush and gets locked properly only at a single point. So, you ought to be careful while putting the cap on the brush and thrashing it to the bag but lossely fit cap is still better than no cap hence acceptable.
My experience with Lakme Absolute Precision Lip Brush:-
I got this Lakme Absolute Precision Lip Brush to put my dark lip color to a good use specially the red ones.
My love for color red on lips is blooming and I love red lips anytime over heavily smoked eyes but getting the perfect pout is a real pain as the color has a tendency to bleed and it would look messy if not applied flawlessly. Filling up lips with the bullet is easy but when it comes to corner of the lips you are bound to go out of the lip line and then start the painful process of correcting.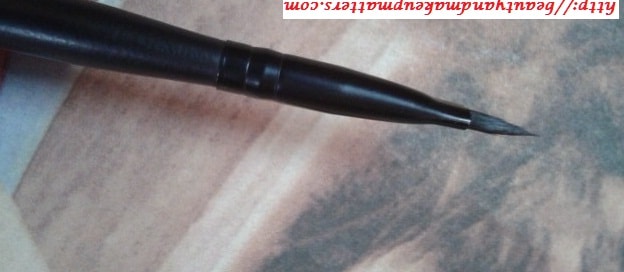 Now, you are left with 4 options:-
Sport messy lips
Use a Lip liner
Divorce from you love-(dark lip colors specifically Red)\
Use a Lip brush
Yes it's a million dollar question, so what is your answer…?? If I am allowed to use a 50-50 lifeline I will happily eliminate the option 1 and 3.
Sporting messy lips is very unlikely as we all are thriving ourselves to look our best.
Divorce from Lovely Reds- No way, I can't live without them they are a must.
Lip-liner is a feasible option but the effort it entails to find a perfectly matching lip color doesn't make it my first choice.
Now, we are only left with the last option of using a lip brush.
This Lakme Absolute Precision Lip Brush is my first lip brush and the only budget option available to Indian girls. The brush is pencil shaped and comes in a classy black matte packaging. The plastic bristles aren't tough or tightly packed but rather soft and smooth to touch. The bristles are cut slightly in U-shape to allow a better application of the lip color on the lips.
It picks up enough color in just 3-4 swipes over the lipstick and does a pretty good job at applying the lipstick only to the defined lip area. The process of picking up the lip color needs to be repeated a few times till you get the desired finish and intensity on the lips.
I love the way it gives that slightly matte finish to the lip color. I have also noticed that when a dark color is applied using a lip brush the color softens a bit which makes it more wearable. I define my lips with lip color using the lip brush before filling in the lips but if you are lucky enough to find a matching lip liner than go ahead and first define lips using the same and then use this lip brush to do the rest.
Don't Miss to Checkout: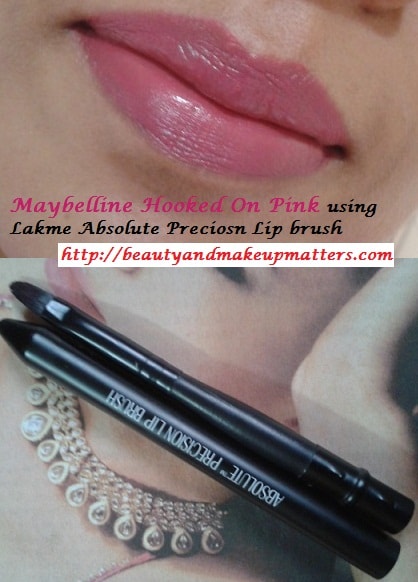 Pros of Lakme Absolute Precision Lip Brush:-
Classy black matte packaging
Smooth and soft bristles
U shaped tip for precise application
Applies the lip color nicely over lips
Easily available
Cons of Lakme Absolute Precision Lip Brush:-
Loosely fit cap.
Bit Expensive but
Recommendation:- Lakme Absolute Precision Lip Brush is a good quality brush and helps to a great extent to get a precise lip color application. It can also be used as a substitute to lip liners as now you can shape your lips with the lip color itself without much fuss about looking for a matching lip liner.

Overall it a great buy and if you didn't own a single lip brush then it's time to get one. Recommended!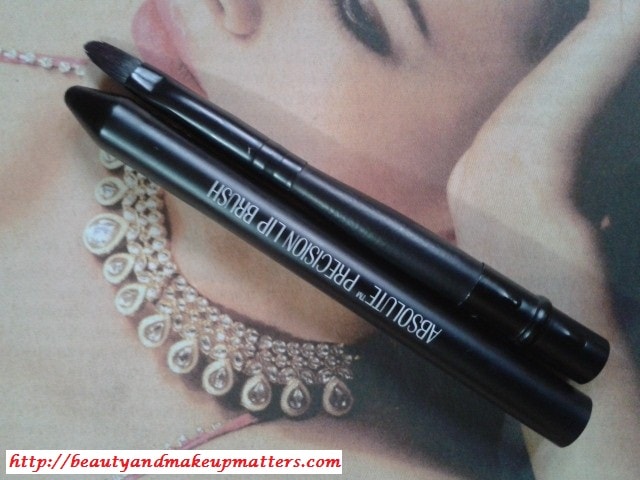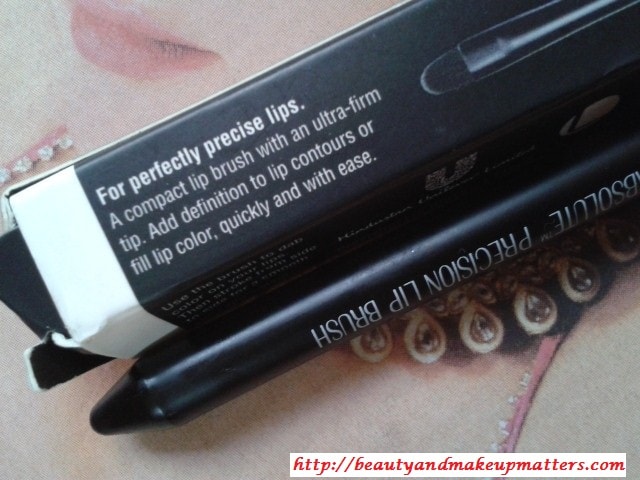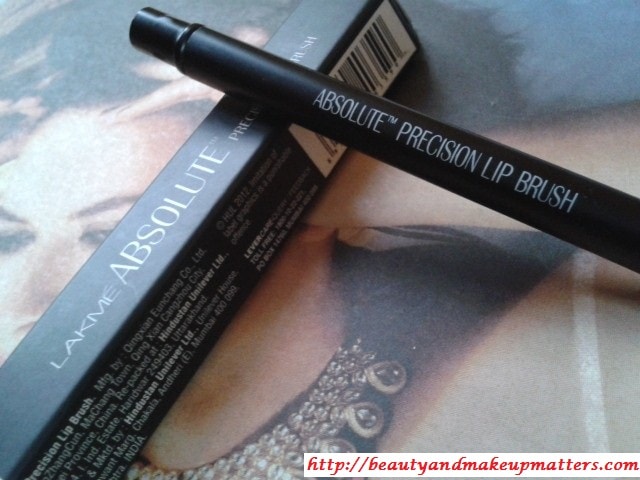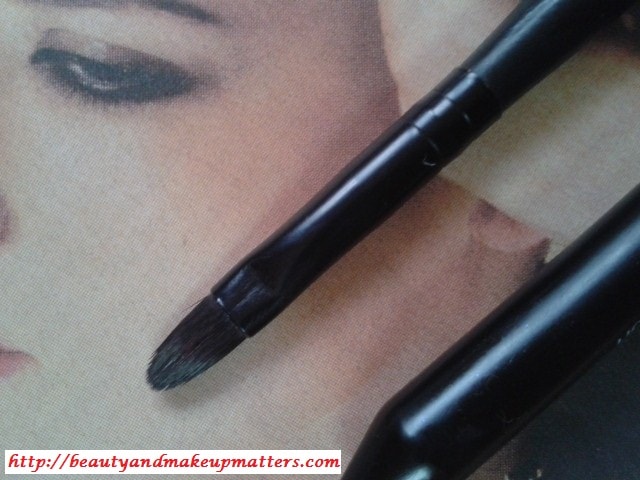 Rating:- 3.8/5
Have you tried Lakme Absolute Precision Lip Brush? Which lip brush do you use?