Lakme Absolute Gloss Stylist – Burgundy Burn Review
Hello everyone,
I am on a big task of clearing up all the review back long from 2013 . There are few more in the list actually more than a few but I have set my self tight to be on schedule of posting these. I wanted to write about my recent hauls, shopping details and some random rants but not until you are done with pending reviews. I will be doing haul post soon **Focuss** its review time.
Before i get distracted from the topic lets move on to the review. This particular shade has been all over the blogosphere and I might be the last one to review it but still would like to share my experience with this Lakme Absolute Gloss Stylist in Burgundy Burn as this is my first purchase from Lakme Absolute Range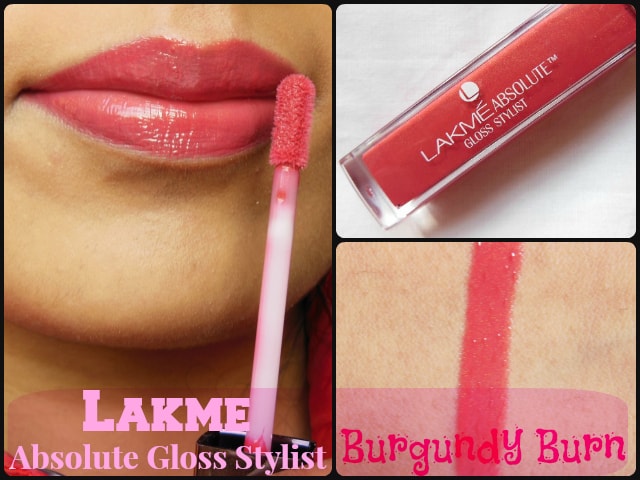 Product Claims: : Now get super luscious lips with this revolutionary gloss that gives you high shine, high coverage for a lacquered finish. Recommended by Lakme make up artists for super glossy lips.
Features :
Professional 

finish gloss

High Shine, High coverage
Lacquered finish
Recommended by Lakme'

s

 make up experts
Burgundy Burn : Add a dramatic pout to your lips with Lakmé Absolute Gloss Stylist. This burgundy shade spells flirtyness all throughout.
Price:- Rs. 700 for 5ml
Shelf Life:-  30 months from the Mfg date.
Shades Available:
Pink Pout
Burgundy Burn
Berry Cherry
Neon pink
Coral Sunset
Rust Crush
Packaging:- : The lipgloss comes in regular gloss packaging with a transparent tube and metallic cap. The shade name is printed in tiny letters on the metallic cap and is not easily spotted. The packaging is sleeker with lovely curve. It has a straight sponge tip applicator similar to Revlon Colorburst Lip glosses which picks up small amount and gives an easy application.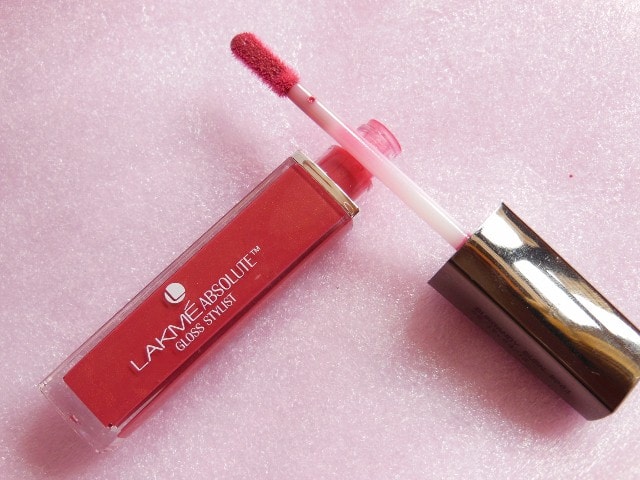 My Experience with Lakme Absolute Gloss Stylist – Burgundy Burn:-
Burgundy Burn is a dark berry pink shade with faint red undertones and slight gold shimmers. It   shade as the name might suggest ( no burgundy tones) but a gorgeous pinkish berry shade which turns out even more beautiful on lips. It is a shimmery gloss but the specks are extremely fine, in the size equivalent to shimmers found in eye shadows which doesn't feel chunky or gritty. They blended well into the formula and imparts a gleaming shine to lips without giving that sparkling glittery look.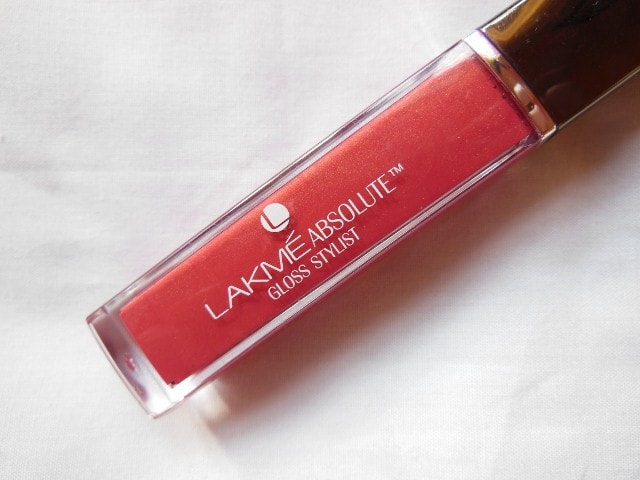 The gloss has light creamy texture which doesn't feel sticky and gets applied in a thin layer on lips. I can press my lips together and they would separate nicely, distributing the color evenly and without creating any lip lines.The formula is amazingly pigmented and gives rich color coverage in single swipe and can be built nearly opaque (90%) with 2 more swipes (not absolutely opaque but it is a lip gloss after all). Needn't worry about the gloss being turned to a gloopy hell as it wont :). The formula is nearer to a lip cream than a lip gloss and gives good enough coverage on pigmented lips too.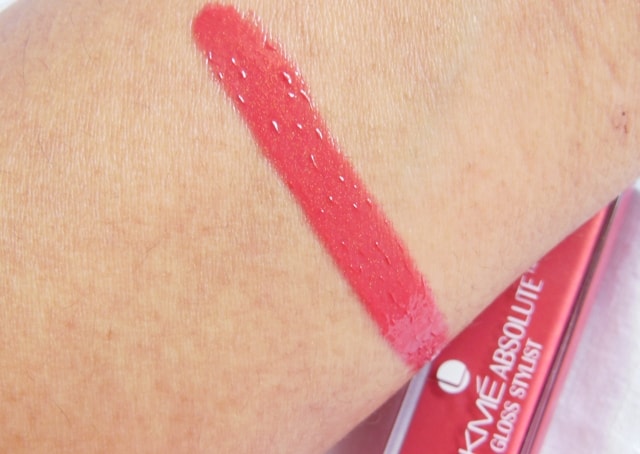 It imparts a super glossy shine to lips which lasts easily for 4-5 hours (fades slightly though but still very glossy) with snacks in between. It smears slightly around the lips but leaves a beautiful pink stain on lips after full meals, The long lasting formula, glossy shine and pink stain was quite a surprise as I didn't expected all of this from a gloss and along with all this it kept my lips decently hydrated for all the time it was on them.
Don't Miss to Checkout:
LOTD:
Pros of Lakme Absolute Gloss Stylist – Burgundy Burn:
Beautiful Berry Pink Shade
Subtle Golden shimmers doesn't look glittery
Light-weight texture
Gets applied easily
Doesn't feel sticky or Gooey
Extremely pigmented
Medium to Nearly opaque coverage
Super glossy finish
Glossy shine lasts 4-5 hours
Long lasting formula
Doesn't make lips feel dry
Survives full meals leaving behind a nice pink stain
Pretty Packaging
Cons of Lakme Absolute Gloss Stylist – Burgundy Burn:
Bit pricey but the quality is great too
Smears slightly post meals
Recommendation: Lakme Absolute Gloss Stylist in Burgundy Burn is a beautiful berry pink shade with finely milled golden shimmers for dazzling glossy shine. It has non-sticky texture, with supremely glossy shine and richly pigmented formula which gives almost opaque coverage. I was super happy happy with its long lasting formula and the hydration it provided to my lips. The flat sponged tip applicators offers easy application and I can apply layers of it and still wouldn't feel heavy on lips. It leaves a pink stain behind which doesn't gives me that "it's completely gone" feel. It will suit almost all skin tones alike, might look a bit pinker on fairer skin tones but you are definitely on the frequency of receiving compliments with this on (yeah its The Secret effect).
Overall, I am happy that tried this lip gloss but would have loved it even more if it had been priced affordably and I didn't had to think twice before investing. Highly Recommended for all the gloss lovers out there.
Rating: 4.7/5
Have you tried Lakme Absolute Gloss Stylist Burgundy Burn?Which is your favorite Shade? Which is your favorite brand for lip glosses?