Lakme Absolute Eye Shader Brush Review
Today I will be reviewing my latest love the Lakme Absolute Eye Shader Brush. Lakme's Absolute has been launched months back but recently it has introduced some makeup brushes too in this range. Brushes are scarcely available in the market and this new launch gives us some hope.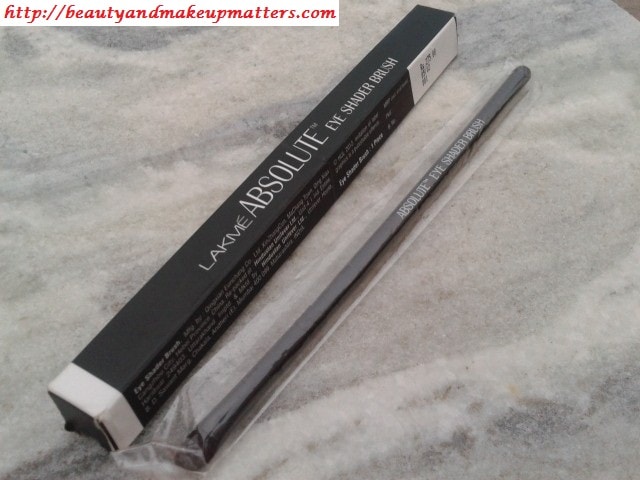 I always have to look up to high-end brands like MAC when it comes to good quality make up brushes. Though there are few other brands that also offer make brushes like
VEGA:- Brushes are good for the beginners but when it comes to durability it lags behind and also feels scratchy.
Colorbar:- Counters are not properly stocked and have limited availability
Bourjois:- They are slightly on the expensive side and have only a few of them.(I could only recall their kabuki brush).
Product Claims:- For Bold Dramatic eyes– A firm flat angled tip that works brilliantly for makeup intended for lash lines and eyelids. Ideal for lining, filling and shading with powdered, cream or liquid make-up.
Direction for Use:–With this brush apply the light eye-shadow as a base. Next apply a darker shade to the outer edges. Accentuate this look with a  clean, bold stroke of eyeliner over the lash line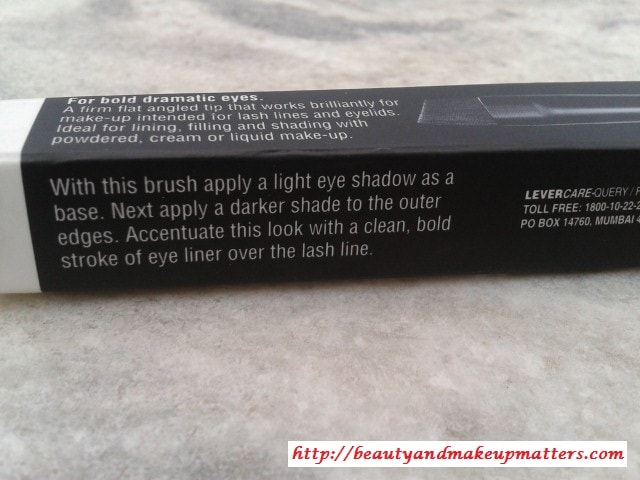 Price:- Rs. 275
Packaging:- The brush is packed in a sleek but long black cartoon box. The actual brush is safely wrapped in a thin transparent plastic sheet. I was a little disappointed to the see that there is no special protection for bristles to prevent them from getting distorted or contaminated.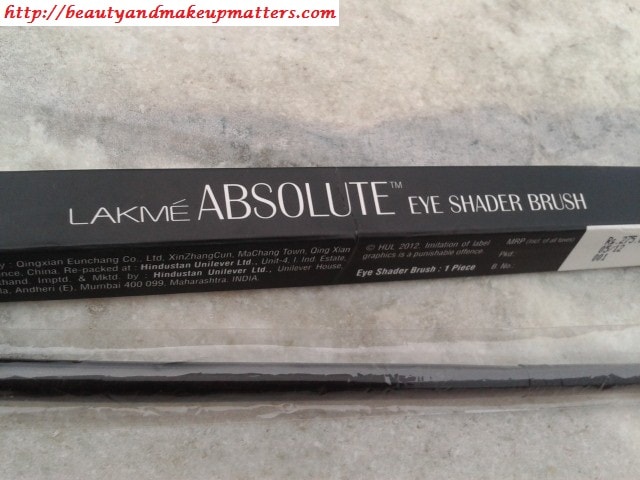 My experience with Lakme Absolute Eye Shader Brush:-
Bristles:-The brush has a sleek long black handle which looks smart. It is a single sided brush with tapered bristles shape. The bristles are nicely packed and are fluffy enough to even out the eye shadow over the crease. The bristles are decently soft and don't feel scratchy or harsh on the sensitive eye lid area.
Usage:-
The inclined shape of the brush helps in applying eye shadow to the lower lash line.
It does a good job in doing the crease work and blends the dark eye shadows easily. For blending I prefer Faces Eye Shadow Brush but Lakme Absolute Brush also does a decent job
The length of the bristles is not great but decent enough to pick the right amount of eye shadow. I use the lateral surface of the brush to apply the eye shadow all over the lid and then use its tip to smudge it.
The small size of the brush, fits nicely into the inner corners of the eyes to put the highlighting color there.
So, all in all it is a very versatile brush which does a lot of work on its own and comes handy when doing eye makeup.
The long but good quality handle eases up the application process. I was more than happy to see that it didn't shed any bristles or color while washing unlike Vega brushes. The softness of the bristles remained there in the bristles even after multiple washes
Don't Miss to Checkout: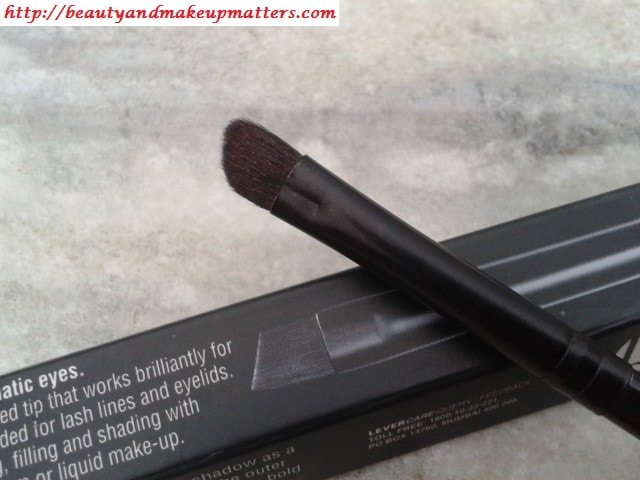 Pros of Lakme Absolute Eye Shader Brush:-
Can be used to pat eye shadow over the eye lid
Smudges eye shadow gently over the crease
Angled tip applied eye shadow to lower lash line easily
Fits nicely into the inner corners of the eyes to put the highlighting color there
Soft and densely packed bristles
Doesn't shed bristles
Good quality handle
Totally worth it
Lakme products are easily available everywhere
Cons of Lakme Absolute Eye Shader Brush:-
The image it carries on the cartoon isn't the same as that of the actual brush. The brush in the image has tightly packed bristles and is an angled brush which seems to be one for cream or gel liner application. The actual bristles of the brush are smaller and a little fluffy.
I would have loved to get dual-sided brush. Wish it had a smudger or a liner application brush on the other side of the brush.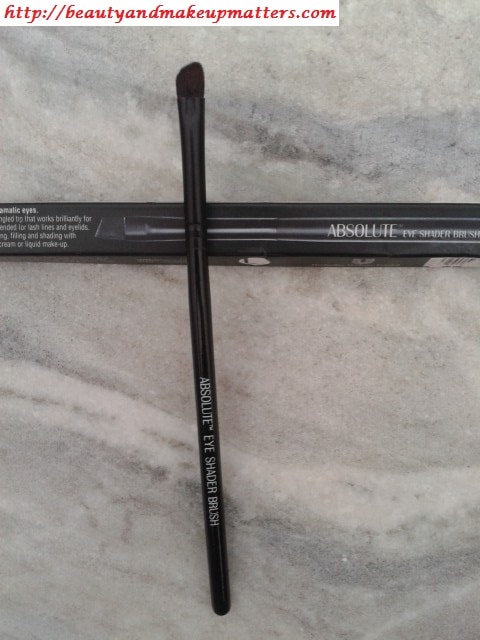 Recommendation:-  Lakme Eye Shader is a multi-purpose brush and works great with powder eye shadows. It is easy to use with a long and sturdy handle. The soft bristles take care of the delicate eye lid area and apply the eye shadow gently. I haven't used other professional eye shadow brushes so couldn't actually compare it with other high end brushes.

To start with you can use Lakme Eye Shader which is kind of "All-in one" brush and works fabulously. As far as I know, Lakme offers the most affordable brushes available in the Indian Market which were long due for Indian women. Enjoy makeuping..:D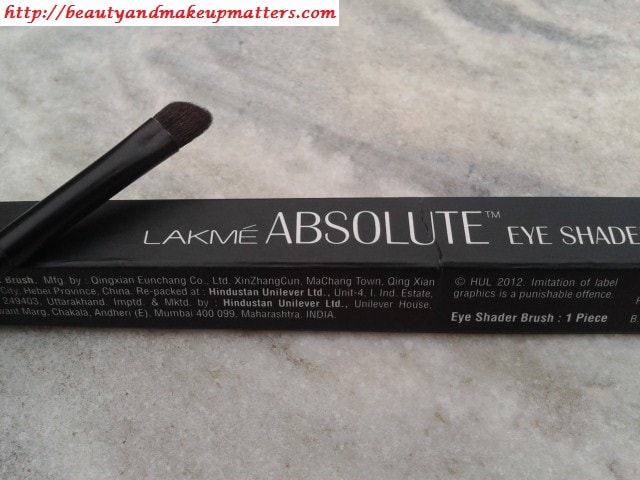 We all love make and will readily invest in high quality make up but when it comes to brushes our pocket comes crying and we hate to spend a fortune on them. But I think its time that we all should understand the importance of brushes to get the makeup right.
Rating:- 4/5
Have you tried Lakme Absolute Eye Shader Brush? Which is your favorite eye shadow brush?