Lakme Absolute Drama Stylist Eye Shadow Crayon: Bronze Review
Lakme came up with some amazing launches in the Absolute range, including Chubby Color crayons which were launched few months back and were loved and vouched by many bloggers here for their great quality but still something that has restrained me from getting my hands on them… Yes, its the crazy pricing stratergy of Lakme!! I couldnt make myself spend so much on a drugstore brand and always feel like add some more and buy MAC instead but dont forget there are angels sent on earth, especially for you.. and for me Preetha (IndianBeautyJournal) was the one. She gifted me this Lakme Absolute Drama Stylist Eye Shadow Crayon in Bronze and I was ecstatic by her gesture. Lets move on to the review!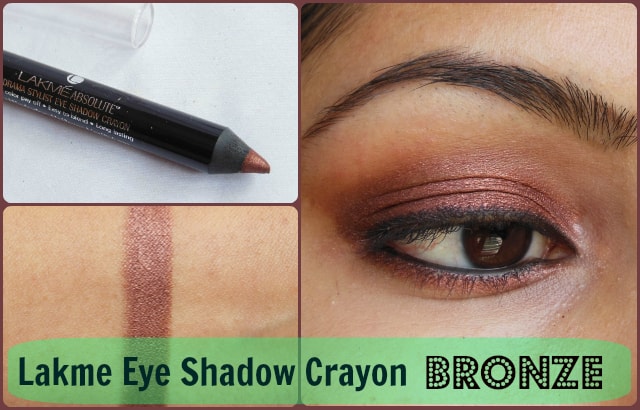 Product Claims: Lakme says : Sultry, somber or sassy. Women love drama! Unleash your drama quotient with Lakme's Drama Stylist Crayon. Key Features:
Super Long wearing.
Extremely soft.
Remarkably gliding.
Intense color pay off.
Water proof.
Crease proof.
How to apply:
Step 1: Choose your eye shadow crayon shade from the super long wearing shades.
Step 2: Apply the shadow directly with the pencil tip onto the eye lid.
Step 3: Smudge the color quickly on the eye lids as It is a quick dry formula.
Step 4: Accentuate the look with applying Lakme Absolute dramatic eyes mascara.
Price: Rs 750 for 1.6 gms
Shade Available:
Pink
Purple
White

.Olive

Green

Grey

Turquoise

Bronze
Packaging: The Crayon comes in a sharpenable wooden chubby pencil packaging with a transparent plastic cap and a large colored band at the bottom. The band makes it easy to locate the shade if you own many of these but I would have liked it better with full outer body color coded than just the band. Also as these are sharpenables, it will lead to product wastage during sharpening and at the price paid twist up mechanism would have been preferred. The pencil however is convenient to use and travel with.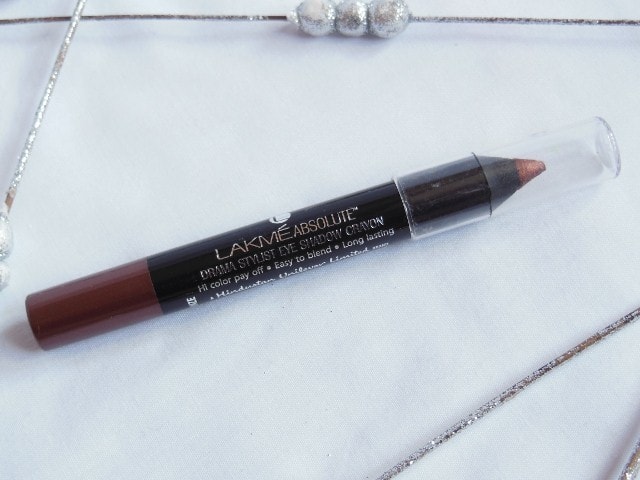 My Experience with Lakme Absolute Drama Stylist eye shadow crayon Bronze: 
Bronze is beautiful bronzey brown shade with pearlescnt metallic sheen. The shimmers are extremely fine and well blended into the formula. The color looks flattering on indian skin tone and will suit all complexion. It makes a great shade for traditional occasions. Other than the lids, the crayon can also be used as an eye liner especially on lower lash line for intense bronze effect. The crayon is a quick way to get eye makeup done, without much effort or fiddling with brushes.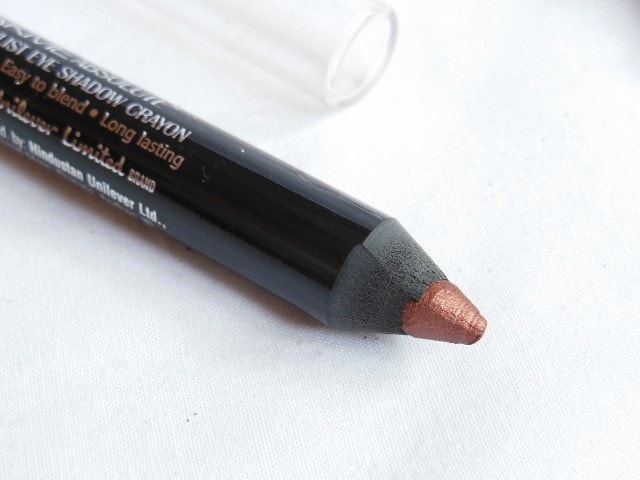 Texture: The crayon has soft creamy texture but not extremely creamy so that doesn't melts or feel heavy on lids. It glides on easily without any tugging or pulling giving smooth application and doesn't look patchy even after multiple swipes. The formula is creamy but it sets pretty fast once applied which prevents it from creasing or setting in fine lines. Once set it becomes Smudge proof and waterproof so one needs to really fast to blend the color properly as we have window of few seconds to work with it
Pigmentation: The crayon has excellent color pay off and with just one swipe over the lids it gives a rich intense color. The color can be built up further for more intensity, keep swiping till you achieve the desired intensity. Blend the color slightly for a soft faded look. The crayon can also be used as a base for powder eye shadows.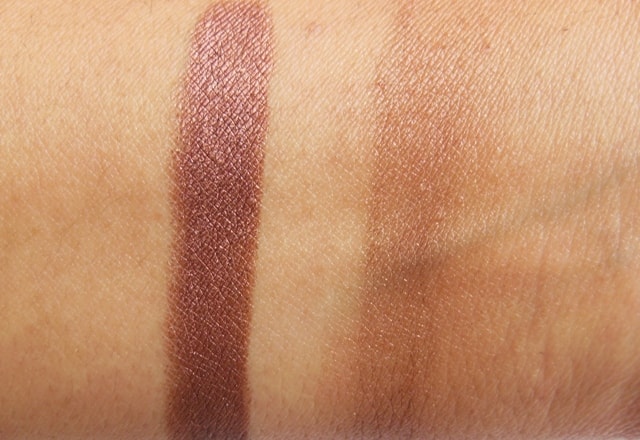 Wear Time: The staying power is phenomenal as it lasts almost whole on my lids, I believe even oily lids will easily get a stay of 5-6 hours. The shimmers stays intact and doesn't move around till i finally take it off with a remover. As it has long wear formula, it requires a creamy remover to get it off the eyes completely. It fares well on my waterline and stays without any major fading or smudging.
Don't Miss to Checkout: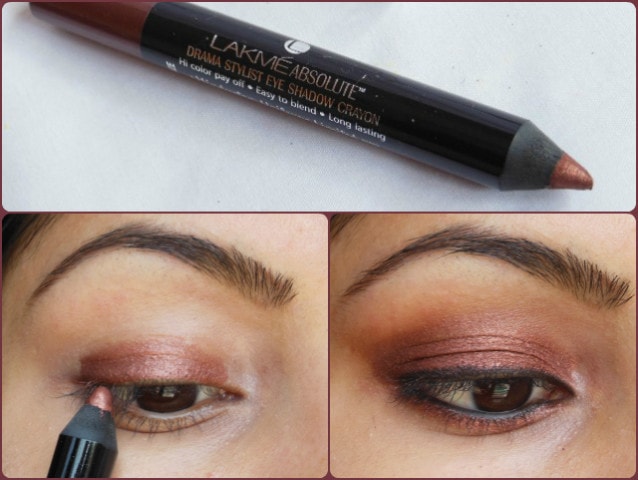 Pros of Lakme Absolute Drama Stylist eye shadow crayon Bronze :
Silky smooth texture
Glides easily
Intensely pigmented
Settles quickly to smudge proof finish
Stays on for hours without creasing or fading
Can double up as an eye liner and base for eye shadows
Doesn't require brushes as it Can be applied directly to the lids
Great shade for Indian skin tones,
Travel friendly and convenient to use crayon packaging
Transparent cap and colored band for easy identification
Cons of Lakme Absolute Drama Stylist eye shadow crayon Bronze:
Expensive
I would love to see more vibrant shades in the range
Sharpening leads to wastage, a Twist up packaging would have been better
Formula sets in pretty fast which makes it difficult to blend
Recommendation: Lakme Absolute Drama Stylist eye shadow crayon Bronze is a gorgeous dark bronze brown shade with Metallic pearly sheen, that will flatter Indian skin tones. The smooth creamy formula glides on eyes and once applied I am sorted for whole day without worrying about , creasing and fading.  These stick crayon are great for beginners who have just got introduced to eye makeup and doesn't have the proper brushes or skills to play with powder shadows.  Swipe the stick on the lids, blends with fingers and done , just one swipe and you get beautiful bronze all over your lids.It is a great product but slightly overpriced if you don't mind paying 750 bucks, I would definitely recommend this!
Have you tried Lakme Absolute Drama Stylist Eye Shadow Crayon Bronze? Do you prefer crayons or powder Eye shadows?