Lakme Absolute Bi Phase Makeup Remover Review
I have been using Maybelline Eye and Lip Makeup Remover which was doing a good job but now it is about to get over so I started searching for the next one again in the affordable price range. I found one from our own Lakme and decided to give it a try the "Lakme Absolute Bi-Phase Makeup Remover".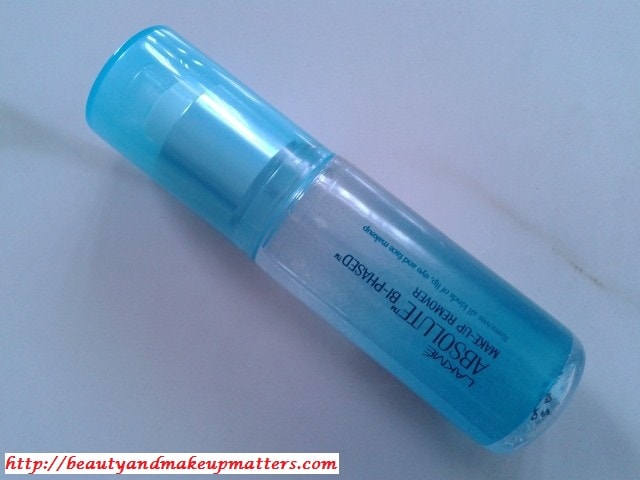 Product Claims: The Bi-phased makeup remover has a unique formula that gets activated on simply shaking the bottle. The oil helps in lifting up all the makeup while the water helps in deeply refreshing the skin. It gently but thoroughly removes all kind of makeup, leaving the skin feeling soft and smooth.
*Rinse with cool water. Keep the cap tighly after use.
Why Use a Makeup Remover?
 A make-up remover is designed to break down and rinse away chemicals in make-up that ordinary soaps and face-washes can't.
It gently takes off all kinds of make-up from the face, even the water-proof ones.
Suitable for sensitive eyes and contact lens wearers, its effective bi-phase formula effortlessly removes all traces of make-up from the face. Leaving skin feeling fresh and hydrated.
Direction for Use:-
Shake gently to activate the formulation.
Apply on a cotton pad and sweep gently over the make-up in a soft, circular motion
Wash your face with lukewarm water after removing your make-up, finish with a good moisturizer.
Ingredients:- Aqua, Cyclomethicone, Isohexadecane, Butylene Glycol, Sodium Chloride, Dimethicone, Capryryl/Capryl Glucoside, Glycerin, Fragrance, D panthenol, Di Sodium EDTA, Dipotassium Hydrogen Phosphate, Phenoxyethanol, DMDM Hydantoin and Idopropynyl Butylcarbamate
Price:- Rs.210 for 60ml
Shelf Life:-  24 months from the Mfg date.
Packaging:- The remover comes in an attractive blue cylindrical plastic bottle with a pump dispenser. The transparent packaging allows you to see the amount left in the bottle and the cap protect the product from spilling during travel. The cap fits snugly with bottle and wouldn't come out while travelling. The packaging is extremely convenient to use and travel friendly.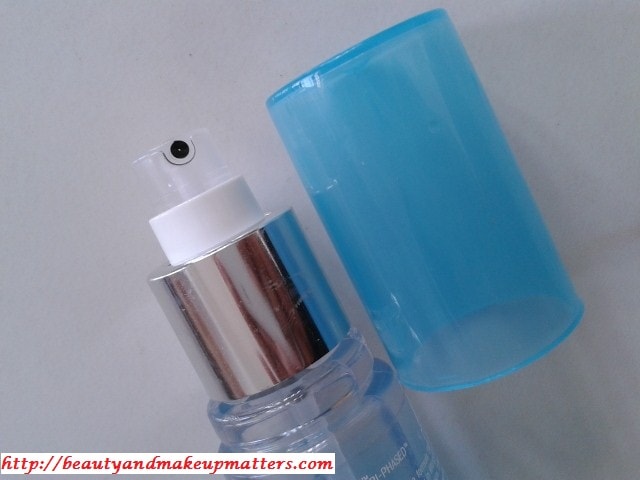 My experience with Lakme Absolute Bi Phase Makeup Remover:-
Since, it is a Bi-Phase makeup remover it has two separate layers (Oil and water) which should be muddled up by shaking the bottle to a form liquid that will be used for makeup removal. For facial makeup removal, I spray the remover all over my face and then wipe it off with a cotton pad. For eye makeup, I use it either with a cotton swab or spray directly on the lids and leave it for few seconds to let it dissolve all the makeup which then comes off easily. For removing long-wear or water proof makeup (like mascara and creamy eye shadows) leave it for few more seconds.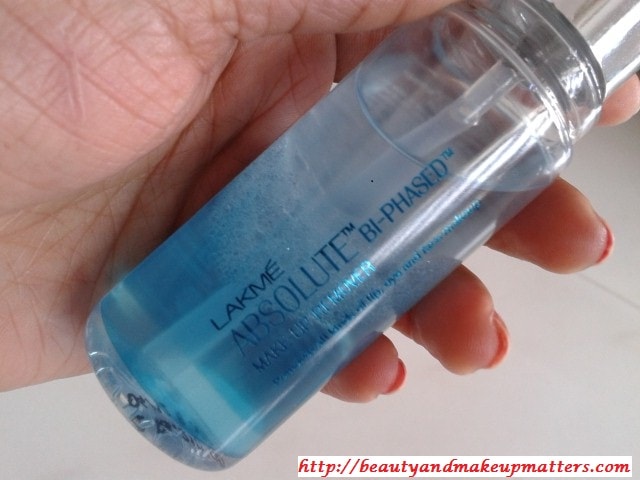 The formula is much oilier than the Maybelline Bi Phase Makeup Remover which enhances its removal action and the makeup comes off in a single swipe but then it tends to leave an oily layer on skin which needs to be washed off with a foaming facial cleanser aka face wash.
Some might feel the price is a little steep or is way too much for the quantity but the amount required for each removal totally justifies the price. Unlike Maybelline Makeup Remover which requires to be used in generous amounts, this one does an excellent job with small amount and I don't need more than 4-5 sprays for full face(including eye makeup).
For testing I am showing it how effectively it removed the Long-wear/Water-proof Makeup.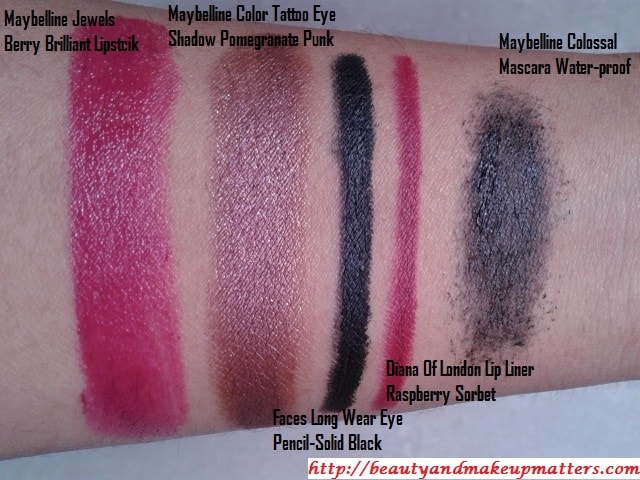 Swatch:-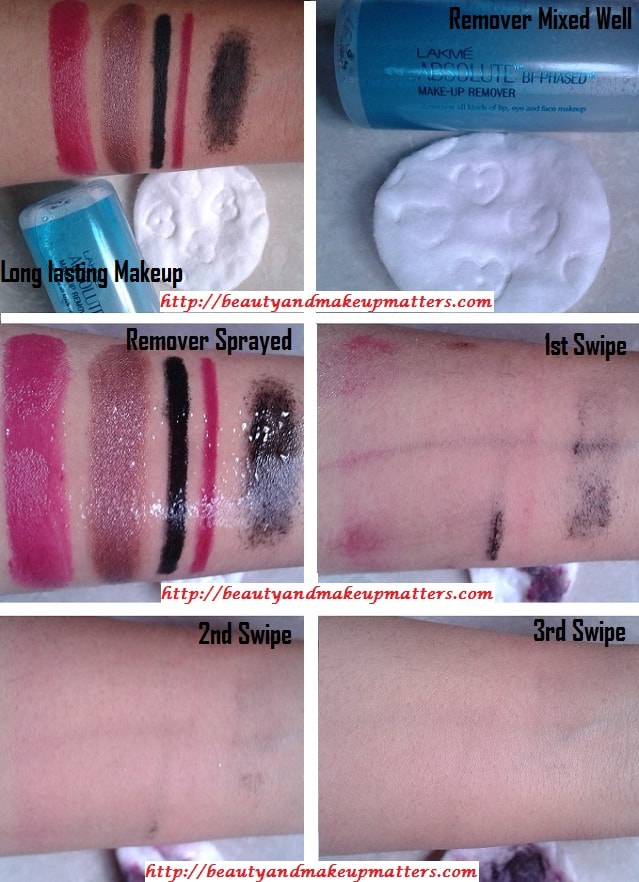 Other than its beautiful packaging and effectiveness the thing I liked the most about this remover is its gentle formula. Though, it is a chemical based remover it never stung my eyes nor it irritated or breakout my skin.
Don't Miss to Checkout:
Pros of Lakme Absolute Bi Phase Makeup Remover:-
Gently takes off makeup
Effectively removes water-proof makeup
Doesn't sting my eyes.
Doesn't irritate/breakout my skin.
Small amount is required for complete removal.
Dermatologically tested
Eye-catching Blue packaging
Pump dispenser is convenient to use and reduces product wastage
Resonably priced
Easily available
Cons of Lakme Absolute Bi Phase Makeup Remover:-
Leaves an oily layer on skin so needs to be followed with a face wash.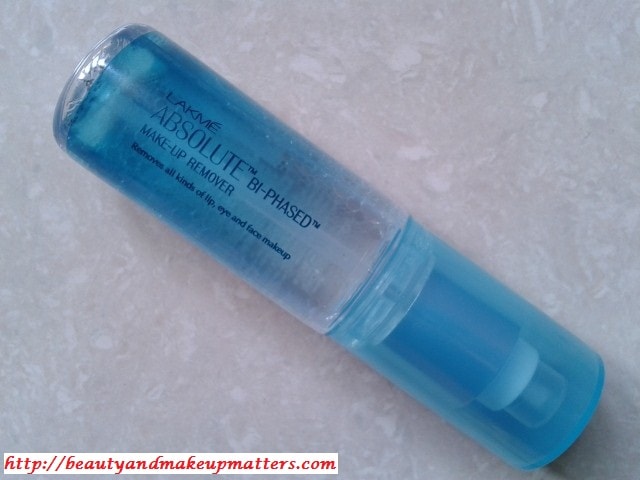 Recommendation:- Lakme Absolute Bi Phase Makeup Remover removes makeup quite easily and doesn't require to swipe the cotton too hard against the skin as it dissolves makeup quickly which then comes off effortlessly. The bottle comes with a pump dispenser which not only controls the amount to be dispensed but reduces wastage to a great extent. Considering the quality and efficiency of this remover, I find it quite reasonable at this price. I am in love with this makeup remover. Highly Recommended!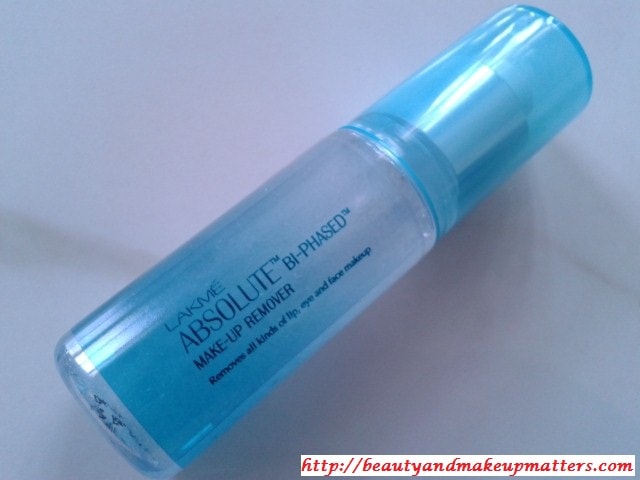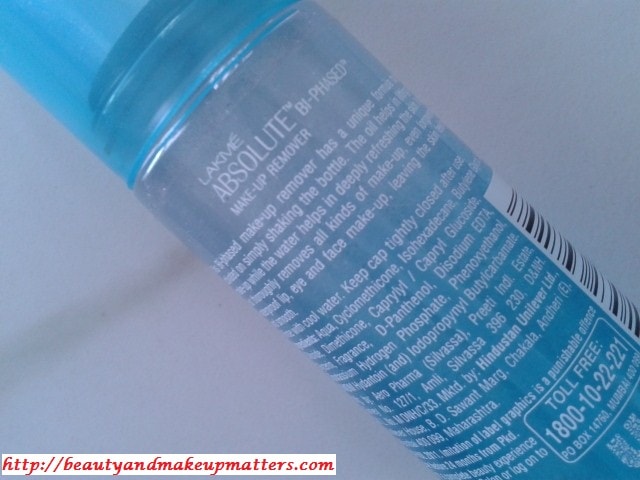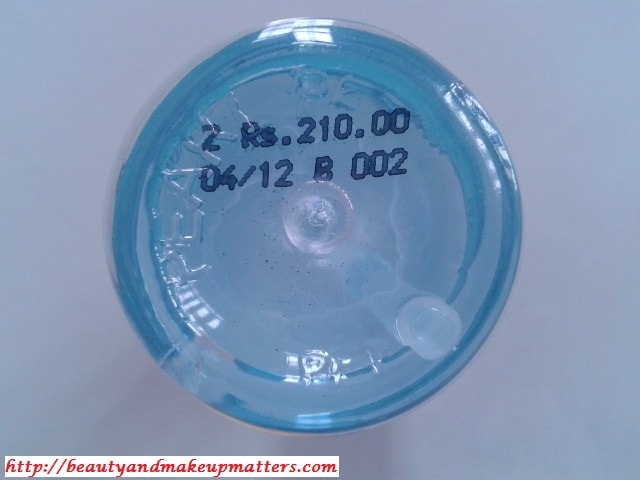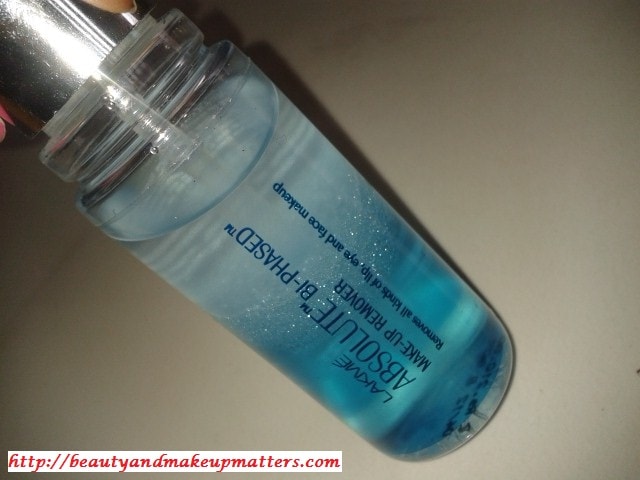 Rating:- 4.8/5
Have you tried Lakme Absolute Bi Phase Makeup Remover? Which is your favorite makeup remover?