Lakme 9 To 5 Color Transform CC Cream
Today, I have another new launch from Lakme, the Lakme Color Transform CC Cream. This is a new version of the, Lakme 9 To 5 CC Cream. The outer packaging and shades are exactly the same but let's see how they differ in formulas.. if they do! Read on for more details on Lakme Color Transform CC Cream.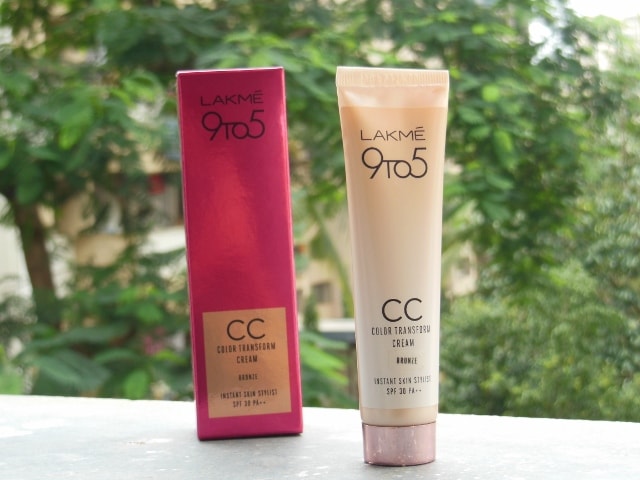 Video Review + Demo is now live:
Product Description: Tired of using a bunch of different products every day to get that perfect look, what if you could have your fairness cream, moisturizer, sunscreen and concealer all in one seamless CC cream. It's time to toss the clutter aside and make way for first Color changing CC cream from the house of Lakme. Lakme 9 To 5 Color Transform CC Cream
Moisturizes gives even skin tone and refreshes skin
Your all in one skin stylist with the perfect combination of your daily skin care cream with a hint of make up
Protects against the sun (SPF20), conceals marks and brightens skin
Price:
Rs 325 for 30gms
Rs 115 for 9gms
Buy on Amazon
 Shades Available:
Beige (Lighter Shade)
Bronze (Darker shade)
Sizes Available:
30gm and 9gms (travel sized)
Packaging: Lakme 9 To 5 Color Transform CC Cream comes packed in a bright magenta pink cardbox. The box carries all the details regarding the product. The cream is contained in an ombre beige colored squeeze tube with a shiny rose-gold cap. The slim tube and tiny nozzle gives control while dispensing the product. I really loved the Ombre touch to the tube. The tube is very convenient to use and travel with. It is also available in a small travel friendly packaging which is awesome!
My Experience with Lakme 9 To 5 Color Transform CC Cream – Bronze :
I am a big fan of CC/BB creams because I like go for such light coverage offered by them on a day to day basis. I loved the old Lakme CC cream a lot and Garnier BB Cream have been my all time favorite. Let's see if this new CC Cream in town is here to stay..
Shade – Lakme Color Transform CC Cream in Bronze is a surprisingly a white colored cream with tiny granules which I feel are the color pigments because once blended they give color to the base and transform to a skin like shade. At first, I was surprised to find such a light shade as bronze but after blending it into the skin I absolutely loved how it camouflaged to my skin color.
Texture – This new Lakme CC Cream has a very light creamy texture with fine granules which is very-very different from the old version. The cream blends in beautifully into the skin as the granules dissolves to give the color. I really love how light and comfortable on skin.
Finish– It gives a beautiful soft matte finish to my skin which I prefer in hot-humid days. Though, for winters I will prefer to use it over a good moisturizer so that my skin looks healthy and hydrated. The formula take a minute to color transform to the skin color but I love how natural it looks.
Coverage – I don't expect CC creams to deliver a medium to full coverage. And this one also just provides a very sheer-light coverage. It might not be able to hide pigmentation marks or dark circles but it can still give an even looking skin by hiding light blemishes and acne scars. It instantly brightens up my complexion giving a nice clean look to my skin.
Staying Power – The staying power is pretty decent. As it is such a light weight formula I don't actually realize when it's gone from my skin. But as soon as skin starts getting oily it's gone. It lasts easily for 4-5 hours on my dry skin but for oily it might last lesser. So, set it with powder to extend its stay on skin.
Fragrance– I am in love with the scent of it. The fragrance is absolutely different from the old one and its so enticing and beautiful with some sweet fruity notes.
Shade selection –There are only 2 shades available which is a bummer as the lighter shade Beige is way too light and will work only for fair skinned girls. Bronze is the shade that will work for most of the Indian skin tones between NC 35- NC 40. I am afraid that duskier beauties wont be able to find a good match for their skintone.
PS:
I love that it doesn't transfer to my phone screen or anything that comes closer to my face like Garnier BB Cream
Should be applied on a well-moisturized face for dry skin or it will look patchy and stick to dry patches on face.
Old Lakme Complexion Care CC Cream Vs New Lakme Color Transform CC Cream
1. Old Lakme CC Cream is packed in peachy tube with silver cap while New Lakme Color Transform CC Cream is packed in a peachy ombre tube with rose gold cap.
2. Old Lakme CC Cream is a straight up beige toned cream while this New Lakme Color Transform CC Cream is white colored base with colored pigments infused as granules
3. Old Lakme CC Cream is more hydrating and offers better coverage than this New Lakme Color Transform CC Cream
4. Old Lakme CC Cream lasted longer on me than New Lakme Color Transform CC Cream
Recommendation: Lakme 9 To 5Color Transform CC Cream is nice light weight CC cream for a daily no makeup-makeup look. I really liked the concept behind the formula where the color pigments will dissolve on blending, matching to the color of your skin. Owing to my dry skin, I will need a moisturizer underneath in winters but if you have oily skin you will love it's soft matte finish. I am in love its gorgeous fragrance and it's packaging. However, I would have loved it even more had it provided more coverage and lasted a little longer. Also, Bronze is the shade that will match to most of the Indian skin tones. I wish Lakme had come up with more shades in the range. Overall, good option for light-coverage on day to day basis especially for the price but that really depends on what are your priorities.
Rating: 3/5
Don't Miss to Checkout:
Have you tried Lakme 9 To 5 Color Transform CC Cream? Which is your favorite CC/BB Cream? 
❤Giveaway Details❤
Giveaway Rules:
There will 1 winner who will win this CC cream in Bronze
Contest starts today and ends on 21st August
Open to Indian residents only
Rules for participation:
Subscribe to my channel
Like This Video (Click Thumbs Up)
Share your favorite BB/CC cream and why!
Optional: Follow me on Instagram/Twitter (@Poonam_BMM)