LA Splash Lip Couture Liquid Lipstick Till Midnight Review
Hello Everyone,
Matte finish lipsticks have been in vogue like forever and the latest trend is the liquid lipsticks which dry to a matte finish. As more and more makeup brands are coming up this formula though not many in India. Color bar has come up with ones but they didn't seemto hit the mark. I have tried only one, Stila Liquid Lipstick which have been amazing and now I got this much raved LA Splash Lip Couture liquid lipsticks to test and compare. So lets checkout how LA Splash Lip Couture Liquid Lipstick Till Midnight worked for me.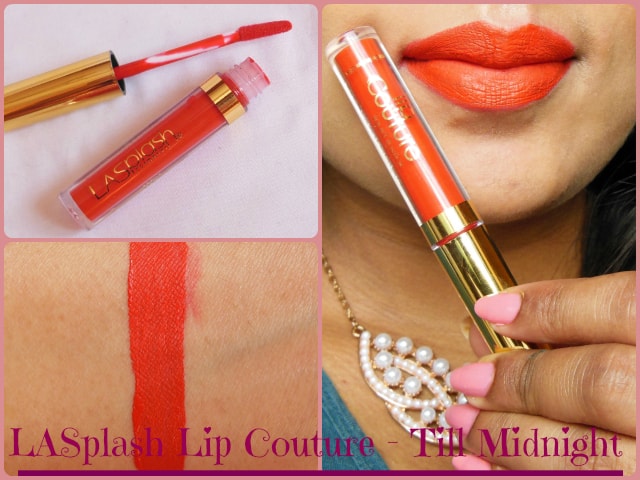 Product Claims: Lip Couture's rich waterproof shades will leave a velvety, matte finish that never transfers.
Experiment with our boldest high pigmented shades — from neutral to solid black.
With its innovative formula that glides on as liquid and dries matte, you are sure to turn heads!
Use the Lip Couture Remover to effortlessly remove the lipstick and leave your lips super moisturized and cushiony soft.
Direction for Use:- To remove use any oil based makeup removing product. For best results gently massage on cleanser and remove with a cotton ball.
Ingredients:- C10-12 Alcane/cycloalkane, Trimethylsiloxysilicate, Dimethicone, Silica Dimethyl Silyate, Quaternium-18 Bentonite, Propylparaben May contain: CI 77019, CI 77891, CI 15850, CI 45410, CI 77492, CI 77499, CI 77491
Price:- Rs. 1000
Shelf Life:-2  years from the Mfg date.
Packaging:- LA Splash Lip Couture Lipstick comes in a simple round tube packaging with a metallic gold handle. It has a long doe foot applicator with a slight bend. The applicator is soft and picks up a good amount of color but I find it hard to apply lipstick directly with the applicator on lips as it doesn't do it with precision because if the rounded tip.
My experience with LA Splash Lip Couture Lipstick Till Midnight:-
Shade: Till Midnight is bright orange shade with strong red undertones. The shade reminds me of INGLOT #103 lipstick which is also borders between Orange and Red. It is a bold shade so not everyone will be able to pull it off with ease but yet on a dull day just slather on your lips and rock it till midnight 😉
Formula: LA Splash Lip Couture is a liquid lipstick formula which is medium-thin and applies with ease. It spreads nicely but it dries so quick that its hard to get an even application. It sets to a powder matte and if lips are not properly exfoliated application get a little patchy and accentuate lip lines.
Pigmentation: This is the best part of liquid lipsticks as they are immensely pigmented. The applicator packs on good color in a single swipe but to get it even all across lips I have to swipe it 2-3 times. It gives an absolute opaque coverage to the lips. It is best to be used with a lip liner because if you move beyond lip boundary during application it will be hard to correct.
Staying Power: In a few seconds the lipstick set to a matte, transfer-proof finish and no matte how hard you rub it won't budge. It starts feeling drying in an hour of application so you if you have super dry lips you may need to run for a lip balm. The lipstick has a rubbery sticky feel to it which I don't enjoy much.
Removal: I will have to admit that I hurt my lips when I tried to get it off my lips for the first time. It is not easy to remove even with oil based removers. I have to apply the remover and let it sit for few minutes to loosen up the formula and remove. Repeat the same if it doesn't come off completely. It's best to gently brush lips with Vaseline to get rid of the traces of lipstick from the lips and follow with a nourishing lip balm. LA recommends using shea butter lip couture remover to gently remove the lip couture lipstick from the lips
Don't Miss to Checkout:
Pros of LA Splash Lip Couture Lipstick Till Midnight:-
Bright Orangey Red
Intensely pigmented
Dries quickly
Absolute Matte finish
Sets to a smudge-proof, transfer-proof finish
Doesn't budge even with oily food
Super long lasting
Value for money
Available in large array of shades
Cons of LA Splash Lip Couture Lipstick Till Midnight:-
Feels drying on lips
Removal is tough
Accentuate lip lines
Recommendation:- LA Splash Lip Couture Lipstick Till Midnight is a bold reddish orange shade which sets to a powder matte finish. The formula is neither too thick nor thin and hence gives an easy application but it's hard to get an even coverage as it sets super fast and also requires lips to be properly exfoliated and moisturized for an even application. It doesn't feel heavy on lips but has a sticky feel to it. The color pay off is intense giving opaque coverage to the lips. It dries to an absolute transfer-proof finish which easily survives meals and I didn't notice much fading on inner lips as well, so one can very well forget touch ups with this. Overall, it's a great quality for the price and if you are looking for a long lasting matte lipstick this would impress you but you have to deal with dry lips and not so easy removal process. Recommended!
Rating:- 4/5
Have you tried LA Splash Lip Couture Liquid Lipstick Till Midnight? Which is your favorite liquid lipstick formula?