La Roche Posay Effaclar Astringent Toner
La Roche Posay is one of the best skin care brand for acne prone and sensitive skin. I have tried a few of their skincare products including the Cleanser and moisturizer and was undoubtedly really impressed.  But I never got a chance to test their face products until yet.  I have been testing their La Roche Posay Effaclar Toner  for quite some time now, so today I will be sharing my experience with La Roche Posay Effaclar Astringent Micro – Exfoliant Toner. Let's see what all it claims and if it does work on my dry skin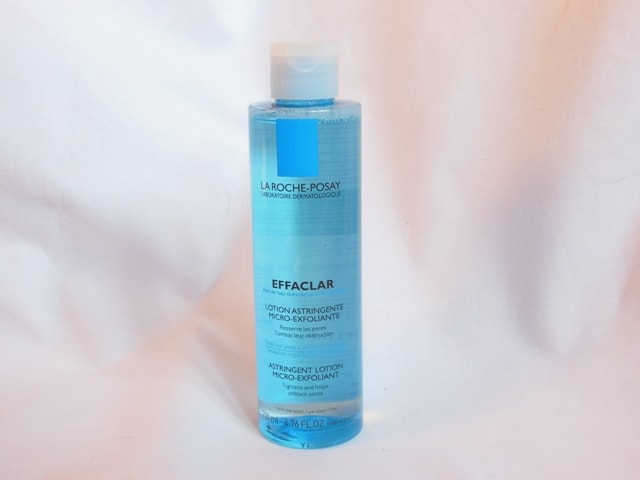 Product Claims: La Roche Posay Effaclar Astringent Micro – Exfoliant Toner is a pore minimizer skin toner which helps to unclog pores and refine skin tone.
With micro-exfoliating LHA to exfoliate face and smooth skin texture, visibly minimizing big large pores
Tighten pores
Clear, refreshing texture
Use as a skin toner after cleansing to exfoliate face
Price: Rs 1190 for 200ml
Ingredients: Water, Alcohol Denat., Glycerin, sodium Citrate, Propylene Glycol, PEG-60 Hydrogenated Castor Oil, Disodium EDTA, Capryloyl Salicylic Acid, Citric Acid, Salicylic Acid, Fragrance.
Directions:
Use as a toner for oily skin.
Dampen cotton wool with toner and apply gently to the face morning and / or evening. Avoid the eye area.
Packaging: La Roche Posay Effaclar Toner comes in a simple clear plastic bottle packaging with a white colored flip cap. The packaging is quite convenient to use and the see through bottle allows me to see the amount of product left.
My Experience La Roche-Posay Effaclar Micro-exfoliating Astringent Skin Toner:
La Roche Posay Effaclar Micro-exfoliating Astringent Skin Toner is a blue colored liquid with watery consistency. The skin toner has an alcoholic scent but it fades away quickly, hence doesn't bother me much.
I wash my face with my favorite facial cleaner and pat dry. After that I follow with this toner. I dip a cotton swab in this Effaclar Skin toner and wipe my face with it. I need a very small amount of this toner for each application.
It is an alcohol based toner, so I was a little skeptical to use it in the starting as Alcohol based toners tend to dry out my already dry skin. And that is the reason I prefer Alcohol-free toners and Rose water for toning purpose. But I am super happy with this La Roche Posay Effaclar Clarifying Lotion, as it is quite gentle on the skin and doesn't make my skin dry.
Sometimes, I skip this toner part from my CTM skincare routine and directly follow with a night cream after facial cleaner ( lazy me!). I am quite sure that I don't have anything left on my face after cleansing but this La Roche Posay Toner has been an eye opener. I was surprised to see how much dirt it picked from my well- cleansed face (it was shocking)!
This toner picked up everything from my pores and cleansed them thoroughly, removing everything that is missed by my facial cleanser.
Results: I have been using this toner for almost 15 days now and it made a visible difference in my skin texture. I use it once a day and sometimes once in 2 days for a thorough cleansing and it do a fabulous job.
Removes traces of makeup and dirt: The formula is very effective in deep cleansing the pores by picking up everything that is left on the skin even after dual cleansing ( cleansing Milk and Facial Cleanser).
Improves Skin Texture: The toner contains LHA's (Lipo-Hydroxy Acid) which helps to eliminate remaining excess oil, unblock pores and visibly reduce their size. And I can totally feel the difference this toner made to my skin texture. It picked up everything from the pores giving a smoother and even feel to my skin.
Reduces Pore Size: Also, it helped in tightening up the pores as the pores around my nose are look much smaller now.
Fades acne Scars: I don't have very problematic skin but I do have occasional acnes. I also have few acne scars on face and this toner has also helped in lightening the scars and eventually fading them away.
Get rid of Acne: I don't have any active acne while I was using this. But you will love this toner even more if you have Oily/ combination skin which is prone to acne. It unclog pores and removes excess oil reducing the chances of acne. But if you still have acne it will help you get rid of them quickly. It takes care of the acne issue very effectively and dries them out quickly.
Doesn't Dry Out Skin: I have a dry skin so I do follow with a good nourishing moisturizer but I must mention that my skin doesn't feel dry or stretchy at all after using this toner. One with Oily Combination skin can totally skip the moisturizer or follow with a light moisturizer and enjoy the healthy radiance it imparts to the skin.
I do not experience any sting with La Roche Posay Astringent Lotion but if you have active acne it might sting a bit.
I am totally amazed by the performance of this toner on me especially in terms of pore cleansing and tightening. I also love that the formula is paraben free and suitable for sensitive skin too.
Reccomendation: La Roche-Posay Effaclar Micro-exfoliating Astringent Skin Toner is an alcohol based toner and works beautifully against blocked pores and acnes. It also address issues like enlarged pores, uneven skin texture and acne scars very effectively. It is slightly pricey but total value for money as a small amount is required for each application. And within few weeks I can see a visible difference in my skin's health. The product is formulated without parabens and is suitable for sensitive skin too. I really liked how it performed on my dry skin and picked out the entire residue from the pores leaving my skin squeaky clean without drying. It controls oil secretion and is a powerful astringent against pimples. Highly recommended for Oily acne prone skin!
Don't Miss to Checkout:
Rating: 4.5/5
Have you tried La Roche-Posay Effaclar Micro-exfoliating Astringent Skin Toner? Which is your favorite Skin Toner?
PS: Product sent by brand for consideration but honest and unbiased opinion!