Korean Skincare Routine Step 6- Seal the Moisture: Benton Snail Bee High Content Mask Pack
Hello Everyone,
I am quite late to post this last step of my Korean Skincare regime but finally I am doing this. I have benn obsessed with Korean Face Mask Sheets and this is actually where my obsession for Korean Skincare reached another level because they are so freaking awesome. I have used few different types of Face mask sheets and lets see if this Benton one is any different, Benton Snail Bee High Content Mask Pack.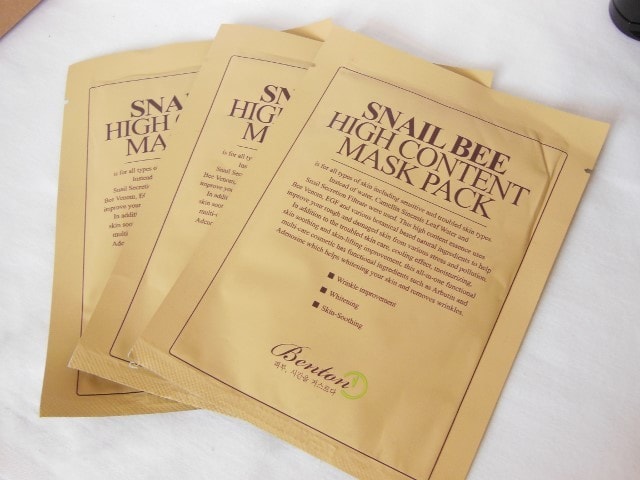 Product Claims: Benton Snail Bee High Content Mask Pack is 100% cotton sheet mask contains snail secretion filtrate, bee venom, EGF, aloe barbadensis leaf juice, and natural preservatives to provide pore care, trouble care, whitening, wrinkle improvement, and moisturizing functions
This sheet mask is particularly beneficial for those with itchy skin due to dryness and sensitivity, pigmentation from those with troubled skin (acne and scars), dull and freckled skin, skin that needs wrinkle care, imbalanced skin between oiliness and moisturizing, skin that is externally and internally dry, skin that needs skin soothing due to UV rays and stress, and skin that is sensitive to harmful chemical ingredients.
Harmful Ingredients Free:  No added parabens, mineral oil, alcohol, benzophenone, synthetic preservatives, steroids, artificial flavors, or artificial colors.
Direction for Use: It is best to use the mask 2-3 times a week
Benton doesn't use alcohol in its mask pack because alcohol makes a person's skin drier, therefore you may not feel the extra cooling sensation cause by Alcohol
Tip 1: If you store the mask pack in refrigerator before use, you may feel the extra cooling sensation and the extra contraction of pores when you are using the product
Tip 2: It Is better for you to wash your face with warm water or apply a hot towel on your face which may help in widening your pores before using the mask pack
Tip 3: Do not throw away the liquid solutions which are left over. You can apply the liquid solution leftovers to your arms legs or neck because these liquid solutions leftovers are made up of high content essence.
Ingredients:
Active Ingredient:  Glycerin 4.0% 
Inactive Ingredients:  Camellia Sinensis Leaf Water, Snail Secretion Filtrate, Butylene Glycol, Arbutin, Sodium Hyaluronate, Zanthoxylum Piperitum Fruit Extract, Pulsatilla Koreana Extract, Usnea Barbata (Lichen) Extract, Diospyros Kaki Leaf Extract, Salix Alba (Willow) Bark Extract, Plantago Asiatica Extract, Laminaria Digitata Extract, Ulmus Campestris (Elm) Extract, Althaea Rosea Root Extract, Aloe Barbadensis Leaf Extract, Betaine, Bacillus Ferment, Azelaic Acid, Xanthan Gum, Human Oligopeptide-1, Beta Glucan, Panthenol, Allantoin, Adenosine, Bee Venom
Price:- $2 each
My experience with Benton Snail Bee High Content Mask Pack:-
Benton Snail Bee High Content Mask Pack sheet is quite thicker than most of the other mask sheets I have used from Skin18 and Innisfree. The sheet is folded nicely to fit into the pack and opens up with a little bit of struggle because I tend to tear it or loose the serum during the process. The sheet doesn't have any cuts on the sides so it doesn't fit on my face and I keep pulling it here and there for best placement.
The texture of the sheet is slightly thick and rougher than the other ones. The serum in which the sheet or Mask Pack is dipped is quite similar though with the same runny gel kind of consistency but I feel the amount is lesser because it dries fast on me while the ones from Innisfree and Skin18 stay wet for hours.
Results: Benton Snail Bee High Content Mask Pack like other face mask sheets does feel sticky and slimy like other face mask and I feel the results are also quite similar. It does nourishes my skin and makes it look super hydrated and glowy. My skin feels so soft and supple.
Recommendation: Benton Snail Bee High Content Mask Pack is a decent face mask sheet dipped in a moisturising serum but I feel the sheet fabric is thicker than the other mask sheets I have used and the quantity of serum was slightly less too. However, it doesn't impact on the performance of the mask pack because I can still enjoy a beautifully nourished skin with a healthy glow and softer-smoother texture.
Rating: 4/5
Have you tried Benton Snail Bee High Content Mask Pack? Which is your favorite Mask Pack/Sheet?
PS: Product sent by brand for Consideration