Korean Skincare Routine Step 4- Moisturizing: Benton Snail Bee High Content Lotion
Hello Everyone,
By now, you must be like layering so many products on the skin will not be comfortable but I tell you that the feeling is quite bearable and not bothersome unless you have super oily skin and there is no AC in your room. This step is quite important to me owing to my dry skin as it will provide that extra nourishment but if you have oily/combi skin feel free to skip it altogether. So, coming to the Step 4 of Korean skin care regime: Moisturization with Benton Snail Bee High Content Lotion.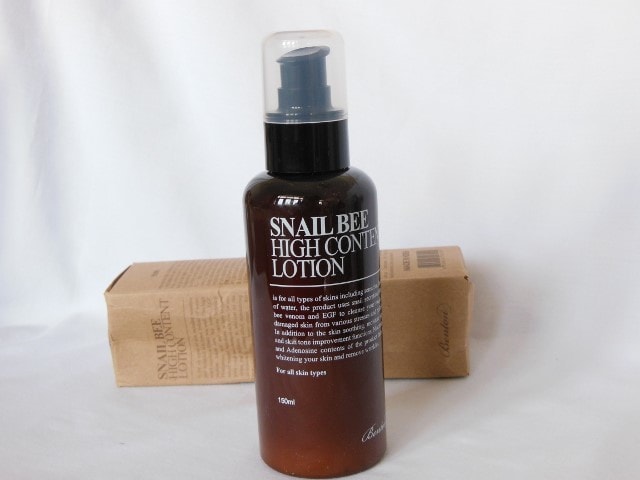 Product Claims: Benton Snail Bee High Content Lotion is for all skin types including sensitive and troubled skin types. Instead of water Snail Secretion Filtrate and Camellia Sinensis Leaf Water was used. This High Content Lotion uses Bee Venom, EGH, Hyaluronic Acid and various botanical natural ingredients to help improve your rough and damaged skin from various Stress and Pollution. In addition to the skin soothing cooling effect, mositursing and skin-lifting improvement, this all in one functional multi-care cosmetic has functional ingredients as Niacinamide and Adenosine which help whitening your skin and removes wrinkles
Direction for Use:
Pour appropriate amount and rub evenly spread.
Softly dab to enhance the absorption
Ingredients: Snail Secretion Filtrate, Butylene Glycol, Glycerin, Cetyl Ethyl Hexanoate, Sodium Hyaluronate, Niacinamide, Zanthoxylum Piperitum Fruit Extract, Pulsatilla Koreana Extract, Usnea Barbata (Lichen) Extract, Cetearyl Olivate, Sorbitan Olivate, Squalane, Urea, Human Ogliopeptide-1, Bee Venom, Argania Spinosa (Argan) Kernel Oil, Helianthus Annuus (Sunflower) Seed Oil, Carthamus Tinctorius (Safflower) Seed Oil, Pentylene Glycol, Glyceryl Stearate, Stearic Acid, Cetostearyl Alcohol, Xanthan Gum, Tocopheryl Acetate, Bacillus Ferment, Azealic Acid, Alcea Rosea Root Extract, Aloe Barbadensis Leaf Extract, Panthenol, Beta-Glucan, Diospyros Kaki Leaf Extract, Salix Alba (Willow) Bark Extract, Plantago Asiatica Extract, Laminaria Digitata Extract, Ulmus Campestris (Elm) Extract, Aloe Barbadensis Leaf Juice, Adenosine
Price: $14 for 150ml
Shelf Life: 24 months from the Mfg date.
Packaging: Benton Snail Bee High Content Lotion comes in a simple cardbox packaging made of recycled paper carrying details in English and Korean. The actual product is housed in a tinted brown plastic bottle and a pump dispenser secured by a see-through cap. I absolutely love the packaging, it looks so luxurious.
My experience with Benton Snail Bee High Content Lotion:
Benton Snail Bee High Content Lotion is white colored lotion with a thin consistency. It looks like any of the light moisturizers (water-based ones) you must have seen in the past but when it applies on skin it nourishes it from deep within. It is by no means a light hydrating lotion but has a good moisturizing property with the deceiving texture ;).
The moisturizer doesn't melt quickly into the skin but takes its own sweet time to get absorbed completely which is not my favorite part because it sits on top of it for good 5-10 minutes. Though I would like to mention that it never feels heavy or greasy on skin but it's just that it takes time to sink in completely.
The formula again is full of amazing natural ingredients.
Don't Miss to Checkout:
Results: The lotion does a great job in moisturising my skin without feeling heavy. It makes my skin soft, smooth and impart a healthy glow. My skin feels more supple and bouncy with this. I haven't faced any breakout or irritation.. so Yayy!! I am using it along with other products from Benton Snail Bee Range and together they have helped me with a brighter, smoother and healthy looking skin.
Recommendation: Benton Snail Bee High Content Lotion is decent moisturiser with a light texture but good nourishing formula. It doesn't feel heavy on application but takes some time to disappear into the skin and once it gets absorbed skin feels soft, smooth and bouncy. The formula again is packed with natural ingredients which will work for the betterment of your skin but there are few unwanted ones as well. I have been using this range religiously for 3-4 weeks and am yet to experience a visible difference the fine lines around my lips but I see there is tiny bit of improvement in the pores around my nose.
Rating: 3.5/5
Have you tried Benton Snail bee High Content Lotion? Which is your favorite moisturizer?
PS: Product provided by brand for consideration