Korean Skincare Routine Step 3: Essence – Benton Snail Bee High Content Essence
Hello Everyone,
Today, I will be sharing my favorite product from Benton Range ( 1 more to come) and this is none other than the Benton Snail Bee High Content Essence. Essence is Step 3 of 6 Step Korean Skincare Regime and I am obsessed with this. Lets go through the post to know more about this wonder stuff, Benton Snail Bee High Content Essence.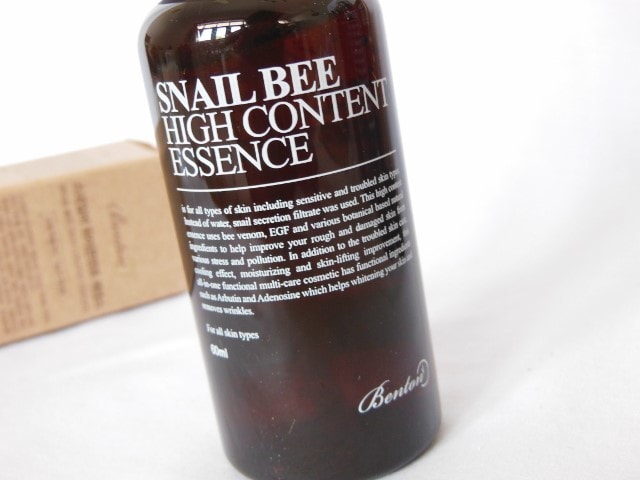 Product Claims: Snail Bee High Content Essence is for all types of skins including sensitive and troubled ones.  Instead of water, the product uses snail secretion filtrate, bee venom, and EGF to cleanse your rough and damaged skin from various stresses and pollution.  In addition to the skin-trouble care, moisture supply and skin tone improvement functions, Arbutin and Adenosine contents of the contents of the product help you whitening your skin and improve wrinkles.
Direction for Use:
Pour appropriate amount and rub evenly spread.
Softly dab to enhance the absorption
Ingredients: Snail Secretion Filtrate, Aloe Barbadensis Leaf Juice, Glycerin, Arbutin, Human Ogliopeptide-1, Bee Venom, Plantago Asiatica Extract, Laminana Digita Extract, Dios Pyros Kaki Leaf Extract, Salix Alba (Willow) Bark Extract, Ulmus Campestris (Elm) Extract, Bacilus Ferment, Azelaic Acid, Althaea Rosea Flower Extract, Aloe Barbadensis Leaf Extract, Butylene Glycol, Beta-Glucan, Betaine, Acrylates/C10-30 Alkyl Acrylate Cross Polymer, Adenosine, Panthenol, Allantoin, Zanthoxylum Piperitum Fruit Extract, Usnea Barbata (Lichen) Extract, Pulsatilla Koreana Extract, Arginine
Price: $16 for 60ml
Shelf Life: 24 months from the Mfg date.
Packaging: Benton Snail Bee High Content Essence comes in a simple cardbox packaging made of recycled paper carrying details in English and Korean. The actual product is housed in a tinted brown plastic bottle and a pump dispenser secured by a see-through cap. The packaging is absolutely similar to toner but almost half the size as this Essence is just 60 ml compared to 150ml Toner. I absolutely love the packaging, it looks so luxurious.
My experience with Benton Snail Bee High Content Essence
Benton Snail Bee High Content Essence is a clear gel with medium thin consistency, neither runny nor thick which makes it super easy to work with. It spreads beautifully onto the skin and doesn't feel sticky or heavy like some of the gel based formula does on skin.
This is my 3rd step of Korean skincare Regime with Benton products and I apply 2-3 pumps of this essence after Benton Snail Bee High Content Skin is completely absorbed and it doesn't take long to get absorbed so I can follow up with Benton Snail Bee High Content Lotion but sometimes I do skip the Lotion thing as the next steps, as I feel just this is enough especially in summers. It has light hydrating texture which feels nice. I am sure people with oily skin will love it!
Don't Miss to Checkout:
It is sort of a facial serum with good concentration of Snail Secretion that is claimed to help with acne and other skin issues. This essence actually prepares the skin for next step by enhances the performance and absorption of the products we are going to apply next and therefore help in addressing the skin issues like moisturizing, lightening, anti-irritation and anti-aging.
How The Star Ingredients work:
Snacil mucin supports natural cell regeneration and replenishes moisture to increase firmness
Bee venom has natural anti-inflammatory, anti-bacterial, and anti-viral properties.
Results: I don't have acne issue but I had that tiny little bump on my forehead and I feel this Benton Skincare regime really helped me in reducing redness and quick healing of the acne without leaving any mark or scar. My skin looks firm and beam with a healthy glow. Out of all the steps this Essence is one of my Favorites.
Recommendation: Benton Snail Bee High Content Essence is a light weight gel which gets quickly absorbed into the skin and doesn't have a sticky or greasy feel. It boosts up the performance of the products you are going to apply next and help in quick healing in case you have any skin irritation or inflammation and speed up the results. It is a must have in my night care routine as my skin feels soothed, firmer and brighter. It is a great product and even with all the incredible ingredients it doesn't cost a bomb and is reasonably priced around $18 (prices differ on various sites). It is a great stuff especially for acne prone and sensitive skin, must try. Highly recommended!
Rating: 5/5 ( I love everything about this Essence)
Have you tried Benton Snail bee High Content Essence? Which is your favorite Facial Serum?
PS: Product sent by brand for Consideration