Korean Skincare Routine Step 2- Toning: Benton Snail Bee High Content Skin 
Hello Everyone,
Today I will be sharing the second step of Korean Skincare Routine which is toning the skin. I feel this is the most important but highly underestimated step because not many people are aware of the benefits of using a toner. Toner helps in closing the pores and tightening the skin which maintains the skins elasticity in the long run and prevent skin-sagging. Let's see how this one worked for me, Benton Snail Bee High Content Skin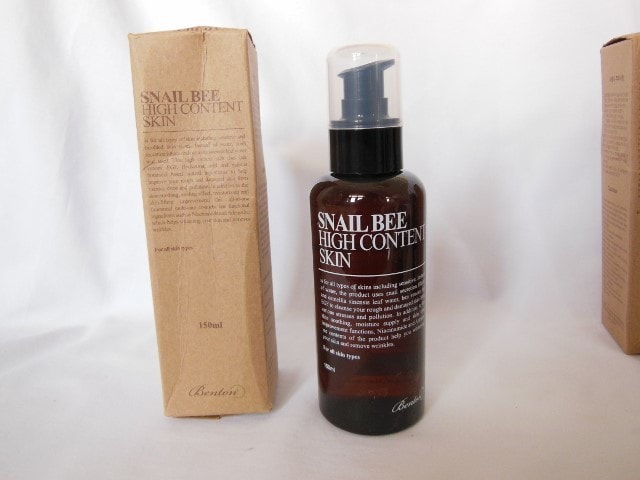 Product Claims: Benton Snail Bee High Content Skin is for all skin types including sensitive and troubled skin types. Instead of water Snail Secretion Filtrate and Camellia Sinensis Leaf Water was used. This High Content Skin uses Bee Venom, EGH, Hyaluronic Acid and various botanical natural ingredients to help improve your rough and damaged skin from various Stress and Pollution. In addition to the skin soothing cooling effect, mositursing and skin-lifting improvement, this all in one functional multi-care cosmetic has functional ingredients as Niacinamide and Adenosine which help whitening your skin and removes wrinkles
Direction for Use:
Pour appropriate amount and rub evenly spread.
Softly dab to enhance the absorption
Ingredients:Snail Secretion Filtrate, Camellia Sinensis Leaf Water, Glycerin, Niacinamide, Human Ogliopeptide-1, Bee Venom, Diospyros Kaki Leaf Extract, Salix Alba (Willow) Bark Extract, Plantago Asiatica Extract, Laminaria Digitata Extract, Ulmus Campetris (Elm) Extract, Zanthoxylum Piperitum Fruit Extract, Pulsatilla Koreana Extract, Usnea Barbata (Lichen) Extract, Athaea Rosea Root Extract, Aloe Barbadensis Leaf Extract, Betaine, Bacillus Ferment, Panthenol, Beta-Glucan, Allantoin, Azelaic Acid, Adenosine
Price: $18 for 150ml
Shelf Life: 24 months from the Mfg date.
Packaging: Benton Snail Bee High Content Skin comes in a simple cardbox packaging made of recycled paper carrying details in English and Korean. The actual product is housed in a tinted brown plastic bottle and a pump dispenser secured by a see-through cap. I absolutely love the packaging, it looks so luxurious. The dispenser is not a spray one but rather like the lotion ones to dispense a good amount in single press.
My experience with Benton Snail Bee High Content Skin:-
Benton Snail bee High Content Skin is basically a toner which is usually the second step in Korean skin care regime. This toner has a runny watery texture but its thicker and denser with hydrophobic looks as it doesn't spread like water but kind of stay on the top of the skin (if that makes some sense).
These toners should be spread onto face and then pressed into the skin so that they get absorbed and all the magical ingredients start working on improving the texture and health of the skin. I dispense 3-4 pumps and then spread it on my face, followed by slight dabbing motions. The toner takes its own sweet time usually 5-10 minutes to seep into the skin but it may leave behind slightly sticky feel when used in excess which might not be liked by everyone. It feels like I have something on and when I touch my face my hands sticks, though the stickiness disappears in next 30-40 minutes on my skin.
The formula is full of amazing natural ingredients and has absolutely no fillers or harmful ingredients. As the formula is rich and concentrated with active ingredients its best to use only the required amount and don't go overboard.
Results: It actually feels quite refreshing with a slight cooling sensation which calms down and soothe any stress my facial skin has and it does feel brighter and look relaxed. It claims to be suitable for all skin type but I feel it is a little bit more on the moisturizing side so its best pick for dry – normal skin, though if you have oily skin you might just skip any of your moisturizer and use this because it does the job of light moisturizer so well.
Recommendation: Benton Snail bee High Content Skin is an excellent toner with all the natural ingredients and an efficient packaging which makes it quite convenient to use and travel with. The toner has watery texture which takes a little bit to sink into the skin but it calms down and relaxes the facial skin really well. It doesn't feel heavy but does have initial stickiness which might not be liked by Oily/combi skin in summers. It has brightened up my complexion and my skin looks a lot firm, even toned and hydrated. It has been able to keep occasional acne at bay. It is worth every penny and I am sure I will last me 3-4 months easily.  Highly Recommended!
Rating: 4.5/5
Have you tried Benton Snail bee High Content Skin? Which is your favorite toner?
PS: Product sent by brand for consideration