Korean Skincare Routine Step 1 -Cleansing: Benton Honest Cleansing Foam
Hello Everyone,
I have been following this Korean skin care routine for almost a month now and feel like I will be able to share what difference it made to my skin. So, lets start with the first step of the 6-Step Korean Skincare Routine:Cleasning with Benton Honest Cleansing Foam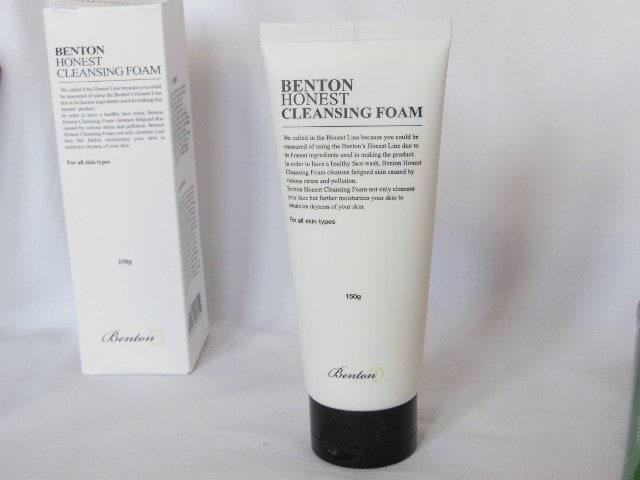 Product Claims: We called it the Honest Line because you could be reassured of using Benton's Honest Line due to its honest ingredients used in making this natural product.
In order to have a healthy face wash, Benton Honest Line Cleansing Foam cleanses fatigued skin caused by various stress and polluton. Benton Honest Cleansing Foam not only cleanses your face but further moisturizes your skin to minimize dryness on your skin.
For all Skin types
Direction for Use:-
Apply a suitable amount on your palm
Rub it into a foam-form
Gently rub the foam on your face
Wash away the foam with warm water
Ingredients: Water, Potassium Stearate, Glycerin, Potassium Myristate, Potassium Laurate, Butylene Glycol, Camellia Japonica Seed Oil, Sodium Lauroyl Glutamate, Sorbitan Olivate, Polyquaternium-10, Portulaca Oleracea Extract, Camellia Sinensis Extract, Centella Asiatica Extract, Glycyrrhiza Glabra Extract, Anthemis Nobilis Flower Extract, Polygonum Cuspidatum Extract, Rosmarinus Officinalis Extract, Scutellaria Baicalensis Extract, Althaea Rosea Flower Extract, Aloe Barbadensis Leaf Extract, Propanediol, Hydrolyzed Pea Protein, Phytosterol, Lecithin, Olea Europaea (Olive) Fruit Oil, Squalane, Butyrospermum Parkii (Shea) Butter, Ceramide 3, Zanthoxylum Piperitum Fruit Extract, Pulsatilla Koreana Extract, Usnea Barbata (Lichen) Extract
Price: $12 for 150 gm
Shelf Life: 1 year from the Mfg date (6 months after the date of opening)
Packaging: Benton Honest Cleansing foam comes in a nice all white squeeze tube packaging with a black flip top cap. The packaging is pretty good and can be kept upside down because that's how I like to keep my stuff. The cap closes tightly and is sturdy enough to not open while carrying it during travels.
My experience with Benton Honest Cleansing Foam:-
Benton Honest Cleansing foam has a pearly white creamy appearance with medium thin texture which is easy work with. I just need a dime sized amount of the cleanser to clean up my face, trust me I just need that no matter how dirty my face is :P. I squeeze just the tiny little bit amount of this cleanser on wet palms, rub them together which transforms it to a thick creamy lather and then apply it all over my face.
Within seconds the formulation picks up dirt and grimes from the skin surface and leaves me with a squeaky clean skin after rinsing it off with tap water. It washes off very quickly resulting in fresh and dirt free skin and absolutely no residue. I have a dry skin and it doesn't feel too drying on me but I have to follow up with moisturizer to maintain the moisture level of my skin, though I feel oily/combination skin would love the results on them.
Don't Miss to Checkout:
It is not a fragrance free product because it does have a soft floral scent but that is very mild and fades quickly.
It is a great option to be used after your creamy or oil based cleanser to take off all your makeup and give a final rinse with this foamy cleanser for that super clean skin.
FYI: Koreans believe in Double Cleansing Ritual for their skin, using Oil based cleanser for taking off all the oily stuff from skin and then a creamy foam to pull out all the dirt or dust accumulate on the skin.
Recommendation: Benton Honest Cleansing Foam makes a great foaming cleanser which gives a rich lather (not the lather you have seen with other face washes but really thick creamy one) with the tiniest amount of product. It rinses off fast leaving behind no traces or any slippery feel. It claims to be suitable for all skin types but I think it is a bit drying for dry skin so needs a little help from moisturizer.The claims of moisturizing the skin to minimize dryness doesn't hold true for me.

The ingredients list also looks impressive with Water as the first one and lost of natural oils and extracts to follow. Overall, a pretty good cleanser for my dry skin in summers when it tends to get a bit oily on the t-zone but I will be skipping this in winters when my skin becomes super-dry. Get it if you are okay with using a separate cleanser for removing makeup as it doesn't work well that ways but if used as a 2nd step cleanser it performs great!

FYI: The dryness is because of the pH levels of the cleanser which is usually high with foamy cleansers, hence they are more suitable to oily skin.
Rating: 3.8/5
Have you tried Benton Honest Cleansing Foam? Which is your favorite foaming cleanser?
PS:Product sent by brand for consideration