Korean Face Mask Sheets:Face Masks Addiction is the Best!
Hey Gorgeous,
Have you ever been addicted to something and you just wanna stop? I know many of you would say Coffee, Chocolates or may be a particular flavor of Haldiram namkeens but guys all of these addiction are going to harm your body in the long run, so you can't feed these addiction have to control but what if a particular addiction is good for you and your skin and you don't have to get rid of it because the more addicted you are the better your skin will be :D.. I am talking about Korean "Face Masks Sheets".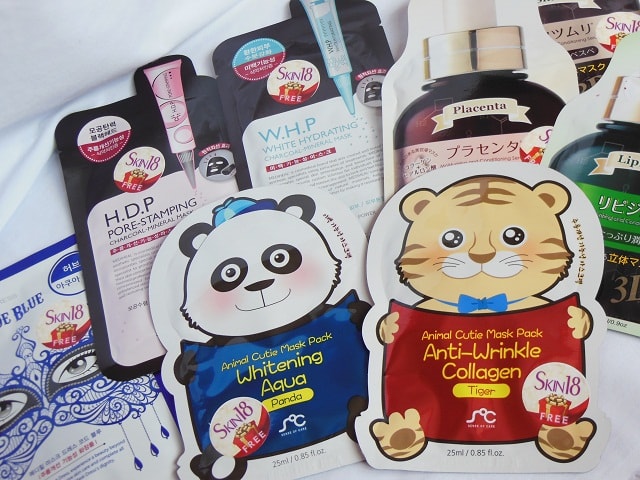 I first got to experience these from Innisfree and absolutely loved them but when I received a bunch from Skin18.com, I was head over heels in love with these. These masks sheets a blessing in disguise from dry skin like mine.
This time I got to try few Korean Face mask sheets from Mediheal and Rainbow beauty. I absolutely loved the Dress Code blue Mask Sheet from Mediheal, though it didn't fit my face so well but I loved the idea of it. I mean why skincare has to be boring.. when you can have face masks with such interesting patterns! I almost felt like a princess from Vintage Era 😉
My other two favorites are the cutesy Tiger and Panda sheets form Rainbow Beauty.. super cute Indeed!
These mask sheets are infused with Hydralaunic acid which moisturizes dry skin and keep it healthy and glowy. They also have collagen boosting ingredients and many other natural extracts that improves skin's texture and make it smooth and radiant.
I also got some samples moisturizers, serums and cleansers which I feel is a great way to test these awesome Korean skincare products. I am love with these Face masks sheets and Skin18.com.. try them out once and I am sure you will be addicted too ;)! Happy Addiction 🙂
Recommendation: Skin18.com is the perfect place if you are on the lookout of Korean Skincare products, especially Korean Face mask sheets. They stock majorly all the brands and also provide package protection if your package is lost during transit or held by customs. They also have a free shipping section where you can claim some mask samples at no cost but just the shipping charges… gosh I am amazed at the idea of freebies.. :P. Tune into their social media to stay updated with offers and discounts:

Facebook: https://www.facebook.com/skin18
Twitter: https://twitter.com/skin18com
Pinterest: https://www.pinterest.com/skin18
Instagram: https://instagram.com/skin18com
Have you tried Korean Skin Care Products? Which brand would your recommend?
PS: Product sent for review purpose.Honest Opinion!