Konad Regular Nail Polish – Solid Black (R01) Review
I picked up this nail polish from an online shopping website along with the Konad stamping kit which I would be reviewing soon.
Ingredients:- Butyl Acetate, Nitrocellulose, Tosylamide/Formaldehyde Resin, Ethyl Acetate, Stearalkonium Hectorite , Dipropylene Glycol Dibenzoate,Isopropyl Alcohol, Camphor, Alcohol, Citric acid, Tocopheryl Acetate, Mica, CI 77891
Price:-  Rs168.00 for 10ml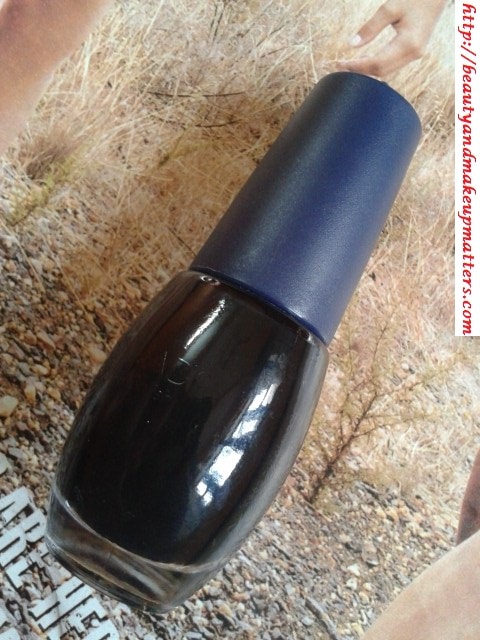 Packaging:- I was super-excited to receive my first Konad nail polish but was left disappointed to see its boring and dull packaging. The nail enamel comes in an oversized oval shape bottle with a big blue colored applicator handle. The handle has Konad embossed over the handle top along with a butterfly. The handle is a larger than any regular nail polish and I face difficulty in fixing it between fingers.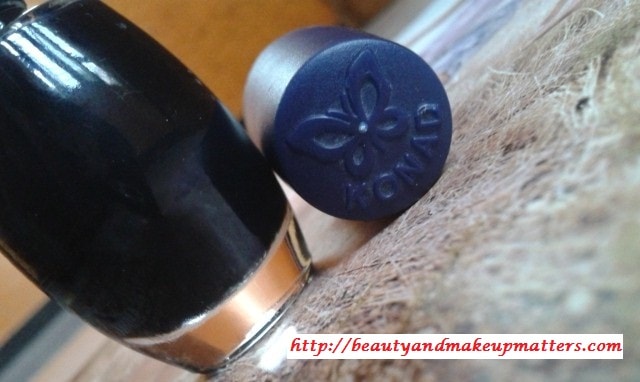 My experience with Konad Regular Nail Polish –Black (R01):-
The most awful thing was still waiting for me locked inside the bottle. My nose was saturated with a horrible chemical smell as soon as I unscrewed the cap. The smell was so strong that it stopped me there and I locked back the bottle.
The bottle was left untouched for 2-3 days so I can gather some courage to open it again. The nail enamel was still stinking badly which was extremely unbearable but somehow I managed to open the bottle and have a look at the consistency and the formula.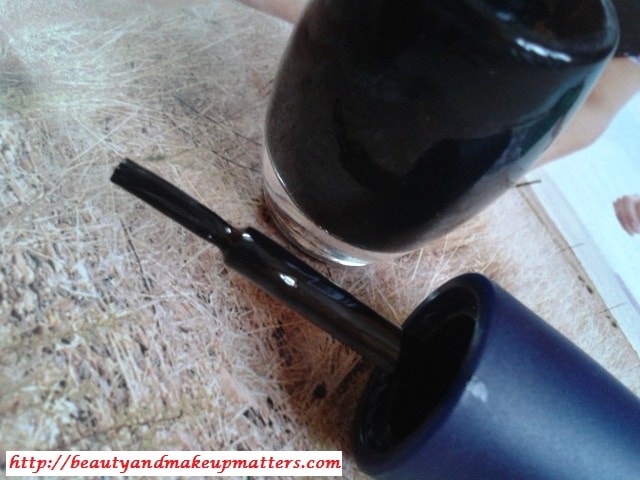 True to its name it is a solid black shade having slightly thick creamy texture. The shade goes slightly sheer in single coat and requires at least 2-3 coats for complete coverage. I tried applying thin coats but the thick formula turns streaky giving uneven application. The applicator length is okay but the size of the bristles is comparatively smaller and also their wide shape makes it difficult to get a smooth application.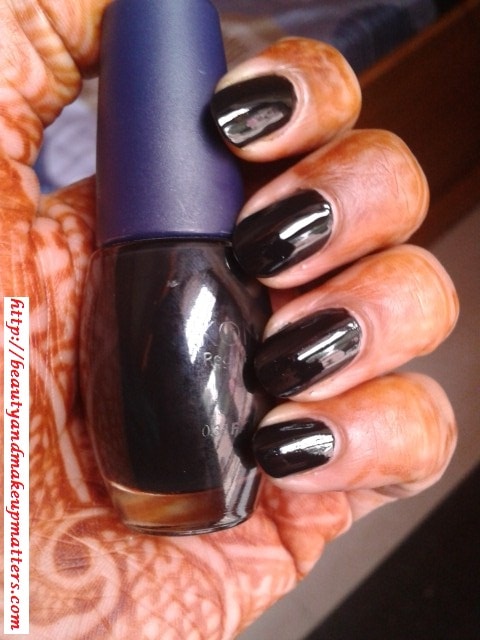 So, I went for 2 thick coats for opaque coverage. The nail polish took almost 10 minutes to dry completely. The nail enamel gives a creamy and slightly glossy finish but the shine disappears after 2 days of application giving it a matte appearance. The staying power of the nail enamel however is good which stayed on my nails for 3-4 with minimal chipping.
NOTD:-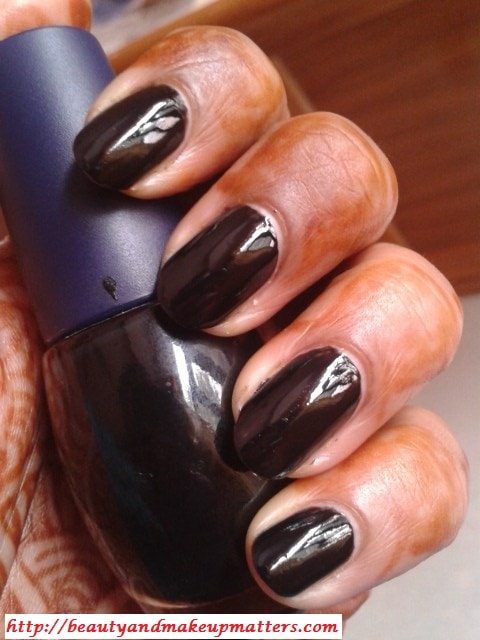 Pros of Konad Regular Nail Polish –Black (R01):-
Reasonably priced as it is 10 ml bottle which will last really long
Color–pay off is satisfactory and nothing extraordinary.
Dries to a creamy glossy finish but the gloss is short-lived
Decent staying power
Cons of Konad Regular Nail Polish –Black (R01):-
Pungent smell
Bulky packaging
Small and broad shaped bristles doesn't help in giving smooth application
Takes time to settle completely
Not easily available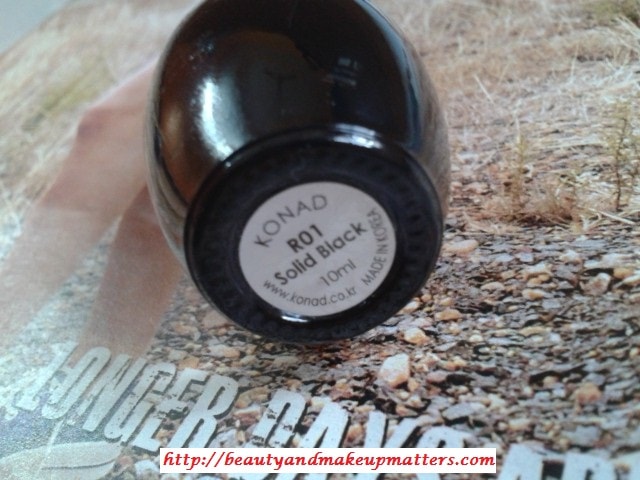 Recommendation:- Konad Regular Nail Polish – Solid Black (R01)  is a matte black shade but It has a strong stinking smell which is a major turn down. I would crown it as the nastiest odor that I have ever smelt. Also the wide brush was of no help for easy application. I am also not much happy with its formula which turns sticky with multiple coats and takes long to settle completely. Due to its terrible smell the bottle laid unused for a year. I won't recommend this to any one as we can get better quality and smell at the same price in our local brands.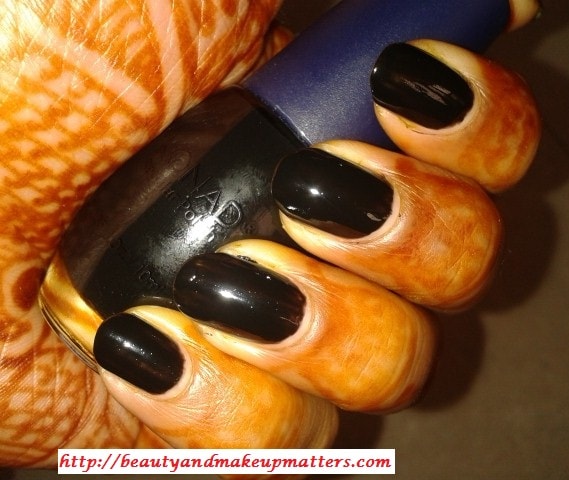 Rating:- 2/5
Have you tried Konad Regular Nail Polish – Solid Black (R01)? Do you wear plain black on your nails?