Kiko Milano Neo Muse Eye Shadow Palette Burgundy Silhouette
I got a chance to try some of the makeup products from the well known Italian Makeup Brand, Kiko Milano last year. The brand has been recently launched in India and I have wanted to check out the products. And 2016 ended on a wonderful note with these beautiful makeup products from Kiko Milano India in my kitty. I have already shared my first impression about the Kiko Milano Makeup Products and today I will sharing my detailed review on the eye shadow palette I received. So, lets checkout how I liked Kiko Milano Neo Muse Eye Shadow Palette – Burgundy Silhouette.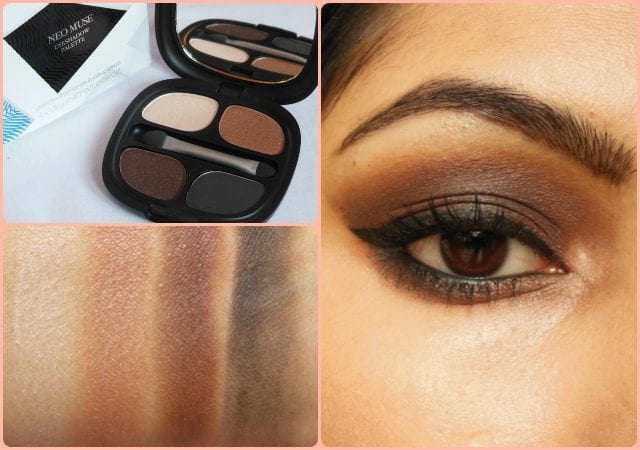 Price : Rs 970 for 6gms
Packaging: Kiko Milano Neo Muse Eye Shadow Palette comes in a white cardboard box packaging with the all details about the product. The actual eye shadows are house in a gorgeous satin matte case with an embossed light pattern towards the edges which looks classy and sassy. There is a full sized mirror under the lid which comes quite handy during travel. The Kiko Milano Neo Muse Eye Shadow Palette has four tiny eye shadow palettes with a small sponge tip applicator included in the packaging.
My Experience with Kiko Milano Neo Muse Eye Shadow Palette – Burgundy Silhouette:
Kiko Milano Neo Muse Eye Shadow Palette contains 4 eye shadows in the smokey brown color family with shimmery metallic texture except the black which is a matte.
Formula: The formula of each eye shadow is different because they have a different finish. The matte one is quite stiff and the shimmery one is better with a satin smooth texture. I love that the shimmers are finely blended gives a lovely glistening shine on application. The metallic, pearly shades are the nicest of all ( the shades of brown 2, 3). There is fallout during application so better powder the under eye area or do base makeup post eye makeup.
Pigmentation: The eye shadows in the palette have a decent color pay off. They show up very nicely in hand swatches except black and the light peachy shade. They work best when used over an eye shadow base.
Longetivity: I am really impressed by these eye shadows as they last 7-8 hours easily on me when used over an eye shadow base without any fading or creasing. I have slightly oily lids but still they held up really well on lids.
Eye Shadows in Kiko Milano Neo Muse Eye Shadow Palette – Burgundy Silhouette: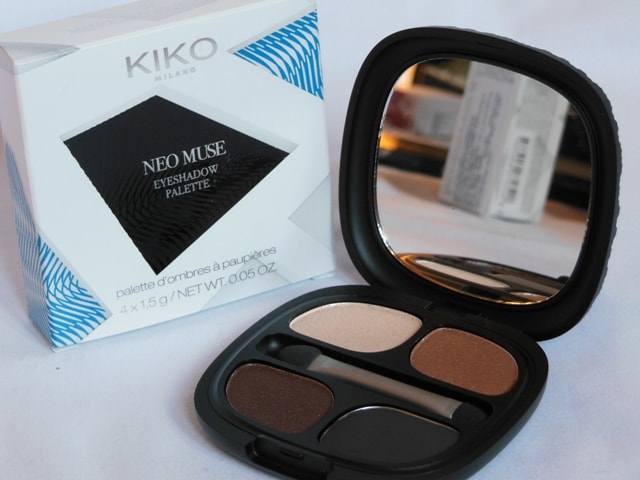 Shimmery Beige: It is a peachy cream shade with pearly sheen and added golden shimmers which gives it a soft shimmery finish. It isn't richly pigmented so can be layered it for a strong highlight. But I wish it didn't had those shimmers as it would have been a perfect brow bone highlight but still it works if applied with a light hand.
Metallic Peachy Brown: It is a light brown shade with a pearly sheen. It also have those tiny reflecting golden shimmers for a sparkly look. I like to use this as a transition shade. It will also go well for a soft ombre brown eye makeup look.
Metallic Chocolate Brown: It's my  favorite in the palette, a dark chocolate brown shade with soft shimmery metallic finish. It contains gold shimmers which add a beautiful shine to the shade. The formula is nice and blendable and goes on well over a base for an intense chocolaty eye look.
Matte Black: It is the only Matte eye shadow in the palette. The color pay off is ok –ok but the texture is slightly stiff and it needs to be layered for a complete color coverage or use it over a black base. I still like that it blends out easily.
Look: I used the Sedona Lace eye shadow primer and then packed the Black eye shadow all over the lids. Applied the chocolaty brown shade with a flat shading brush on top of it in patting motion. And then blended it with the metallic peachy brown in the crease. I used that shimmery Beige in the inner corners and my brow bone highlight.  Use the chocolaty brown in outer lower lash line and the peachy brown toward the middle for a soft ombre definition to the eyes.
Recommendation: Kiko Milano Neo Muse Eye Shadow Palette Burgundy Silhouette has a good mix of shades for perfect chocolaty smokey eyes or subtle neutral brown eyes. The formula of metallic brown shades is the best but I wish the eye shadows were a little more pigmented so I don't have to pack them on as much. I really liked the middle 2 brown shades in the palette. Though the price is slightly on the higher side but for Kiko Milano fabulous packaging and the gorgeous shades you can give it a try.  It is one of the prettiest eye shadow palettes in India. Recommended!
Don't Miss to Checkout:
Rating: 3.5/5
Have you tried these new Kiko Milano Eye Shadow Palette? Which is your favorite eye shadow palette?
PS: Product sent by brand for consideration but honest and unbiased Opinion!