Kiko Milano Enigma Lipstick 02 and Enigma Lip Liner 07 Review
Kiko Milano Makeup has definitely won me over with their classy packaging. Lately, I have been loving the shades of brown be it eyes or lips. I just reviewed the Kiko Milano Neo Muse Eye Shadow Palette on the blog and today I will sharing my thoughts on the lip products from the brand, Kiko Milano Enigma Lipstick 02 and Kiko Milano Enigma Lip Liner 07. You can also check my first impressions on Kiko Milano Makeup .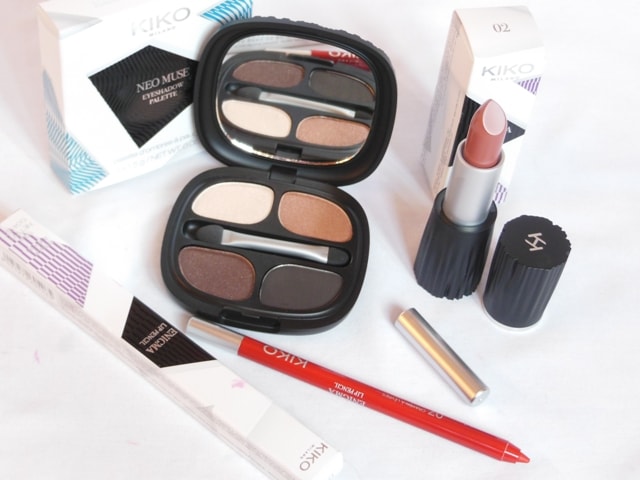 Kiko Milano Makeup Price in India:
Kiko Milano Enigma Lipstick – 02 : Rs 1390 for 3.5gms
Kiko Milano Enigma Lip Pencil – 07 : Rs 690 for 1.3 gms
Kiko Milano Enigma Lipstick
Packaging: Kiko Milano Enigma Lipstick has one the prettiest packaging I have ever seen. The signature satin matte case with an embossed pattern towards the ends makes it look like candy wrapped in paper. To up the packaging game of the lipsticks instead of having a regular click lock mechanism it has a modern touch to it with magnetic enclosure. I can identify the lip shade only from the sticker at the bottom on the outside but I love playing with this beauty buddy.
My Experience with Kiko Milano Enigma Lipstick – 02
Shade: Kiko Milano Enigma Lipstick 02 is a beautiful peachy nude with warm undertones. There are slight golden shimmers in it which imparts a nice golden sheen to it. It makes a great nude for day time or office wear for medium warm Indian skintones (NC 40 – 42) but if you have a darker complexion it might wash you out. It is one perfect nude lip color for me.
Formula: The texture is creamy smooth and it glides on easily on lips. The formula does feel moisturizing to the lips and I love that it doesn't set in lip lines or accentuate lip imperfections rather makes them appear smoother. There is slight stickiness in the texture which one can feel while pressing the lips together. The lipstick has some weird fragrance but it's not that noticeable and can be easily ignored.
Pigmentation: The color payoff is buildable. The lipstick gives a sheer color in one swipe but can be layered for a better coverage. It gives an almost perfect opaque coverage in 2-3 swipes and it does build up ever so beautifully.
Longevity: The formula is creamy and it is a nude shade but still it holds really well and lasts around 4-5 hours with meals too. I guess owing to the slightly sticky texture it hugs the lips and refuses to budge. I love it for being such a rock star!
Recommendation: Kiko Milano Enigma Lipstick 02 is a gorgeous brownish nude lip color. The formula is buttery smooth and glides on easily. The formula is not richly pigmented and gives a light –medium coverage to the lips. The color can be built up in multiple swipes. I feel it is a perfect combination of a lip gloss and lipstick with a medium coverage and slight sheen without being sticky or goopy. This shade 02 is a wonderful MLBB shade for me. I get some color to my lips evening out the lip pigmentation but still looks like I am wearing nothing.. just like my natural lip color but better!

I have always been into Red and Pink Lipsticks but somehow I am more inclined towards Nude lip colors these days. The Kiko Milano Enigma Lipsticks are on the pricier side but for the color, formula and packaging it is totally worth it. Recommended!
Rating: 4/5
Kiko Milano Enigma Lip Pencil – 07
Packaging: Kiko Milano Enigma Lip pencil comes in a color coded slim pencil packaging with a silver colored cap. The lip liner packaging is good.. nothing fancy. But it is sharpenable pencil.. errr I wish it had a retractable packaging to make my life easy!
My Experience with Kiko Milano Enigma Lip Pencil:
Shade: Kiko Milano Enigma Lip Pencil 07 is a bright tomato red lip color.  It is almost a True Red with neutral undertones. The Lip liner reminds me of Stila Beso and MAC Ruby Woo. A must have for Red lip lovers to flaunt sassy Red Lips.
Texture: Kiko Enigma Lip Pencil has fairly soft creamy texture which glides easily on well, without any tugging. It gives a smooth and even application.
Formula: The formula is water proof and smudge-proof. The lip liner gives a satin matte finish and quickly sets to an almost transfer proof finish. The liner wears comfortable and doesn't bleed or smudge. The formula is neither moisturizing nor drying.
Pigmentation: This Kiko Enigma Lip Pencil is beautifully pigmented. It has a rich color payoff and in just one swipe they give true red color on lips. It gives such a nice definition to the lips.
Staying Power: The deciding factor on the efficacy of any lip liner is its longevity. And Kiko Enigma Lip Pencil does a good job by staying put on lips for long. The formula hugs the lips really well and if allowed to settle for a minute or 2 it will last for 7-8 hours easily with light meals in between. It might fade from the center of lips after oily food but otherwise be rest assured it is going to be on your lips throughout the day.
Swatch Test: I swatched these on my arm and tried rubbing under running water and nothing came off.. no smudging or bleeding of colors. The formula is really impressive.
Recommendation: Kiko Enigma Lip Pencil 07 is of the prettiest red lip liner I have. I absolutely love bright Red lip colors and this true red lip liner tops my chart. I love its creamy, smooth formula with intense pigmentation. I was bowled over by it longevity and how awesomely it passed the water and smudge test. And all of that without being drying on lips. The color is super long wearing and lasts whole day. I did not experience any feathering with this and it wears quite comfortably too. I am totally impressed with the beautiful packaging and the quality of this lip liner. Just wish it had a retractable packaging but otherwise it is definitely, one of the best Lip liner in India. Highly recommended!
Rating: 5/5
Have you tried Kiko Milano Enigma Lipsticks or lip Pencils ? Which is your favorite Nude/Neutral Lipstick?
PS: Product sent by brand for consideration but honest and unbiased Opinion!