Khadi Sandlon-Rose Herbal Face Pack Review
I haven't been able to locate a Khadi store near my place so didn't had a chance to try its products. But now Khadi can be bought from online shopping Khadi brand and so thought of trying its much talked about products Handmade soaps and Face pack powders
I was looking for its Sandalwood face pack but that was not available so settled for Khadi Sandlon-Rose Herbal Face Pack powder. You can check my review on Khadi Neem Tulsi soap.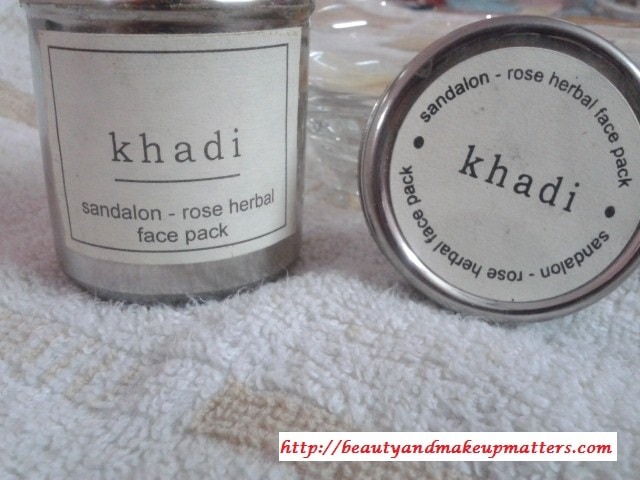 Product Claims: Khadi Sandlon-Rose Herbal Face Pack powder. An ayurvedic product which gives clean and polished look to the skin and improves the complexion
Direction for Use:- For natural result mix powder with water Or Rose Water to make paste. Apply it on face. Keep it 30 min then wash it with cool water.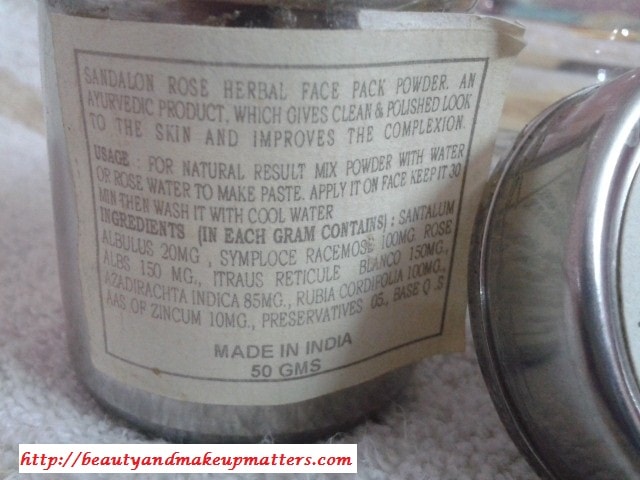 Ingredients(in each GM contains):-
Santalum Albulus 20mg,
Symploce RaceMose 100mg,
Rose Albs 150 mg,
Itraus Reticule Blanco 150mg,
Azadirachta Indica 85mg,
Rubia Cordifolia 100mg,
Aas of Zincum 10mg,
Preservatives 05,
Base QS
Price:- Rs.90 for 50gms
Shelf Life:-2 years from the Mfg date.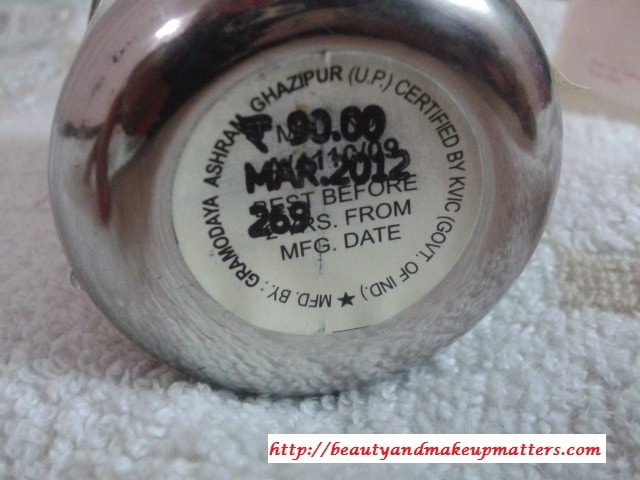 Packaging:- The face pack comes in steel jar type packaging. The packaging is quite different from the regular powder pack that comes in plastic tubs or poly packs. The metal jar is anytime better than the poly pack packagings (as in Ayur face packs) which are difficult to maintain and store. However, I do feel that if at any point of time I handle this jar carelessly, I am going to loose the whole face pack powder because of its wide mouth.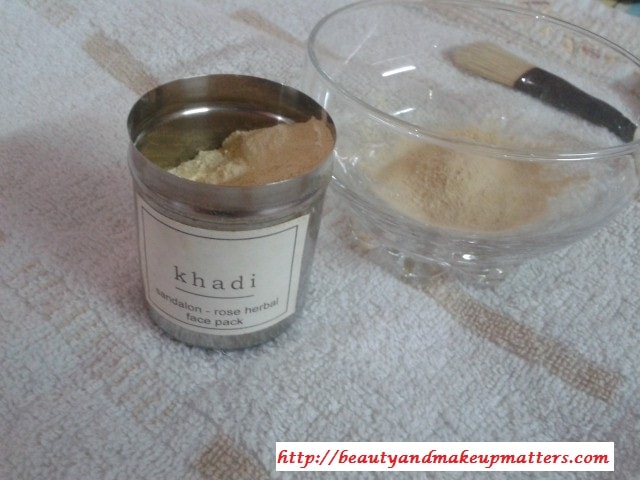 My experience with Khadi Sandlon-Rose Herbal Face Pack:-
Khadi Sandlon-Rose Herbal Face Pack is entirely made of Herbal ingredients with a negligible amount of preservatives. It is a very fine powder in light mustard yellow color. The powder has a mild herbal fragrance sort of sandalwood mixed with roses. I quite liked the smell but it is very light and you might didn't notice it until you put your nose in the tub.
I prepare the pack using Dabur Gulabari (Rose water) and the powder soaks water really quick and doesn't take more than 1 min to covert to a smooth paste. The powder fluffs up a little and turns more yellow (looks like turmeric paste) when drenched in water. I require 2 tablespoonfuls of powder to cover my face and neck but the quantity can be varied depending on the consistency of the paste you want to apply. I keep it a little runny so that I can let it stay on my face for a longer duration.
The pack gives a mild cooling sensation for almost 15 minutes of application or till the time it starts drying. The feeling is really gentle and nowhere near the burning sensation caused by horrible FabIndia Papaya Face Pack . Normally, I keep the packs for a minimum of 20-25 minutes like Fuller's earth pack or Aroma Magic Glow Powder Packs before they starts cracking but this one can be kept longer as doesn't crack or give uncomfortable stretchy feel to the facial skin.
Don't Miss to Checkout: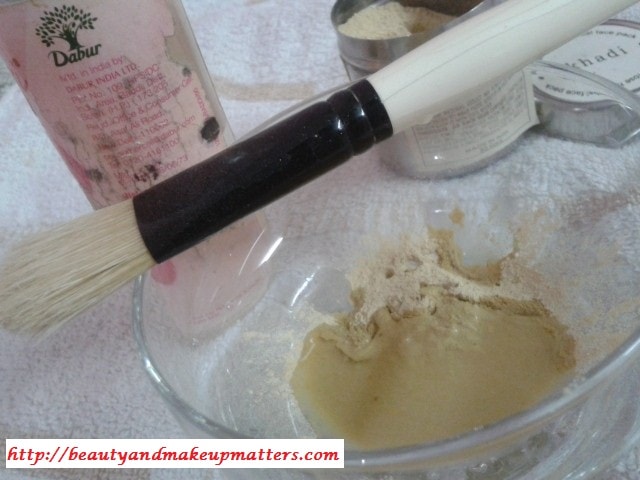 It gets rinsed off easily with tap water and doesn't require any extra efforts to get rid of it.It adds a subtle glow to my face and leaves it soft and supple without squeezing out the moisture from my already dry skin.
Pros of Khadi Sandlon-Rose Herbal Face Pack:-
It contains herbal ingredients which have various skin benefits.
Pleasant smell
Dissolves fast to make a smooth paste
Gives mild cool feeling on application
Doesn't get stretchy  or develop cracks after drying
Rinses off easily with tap water
Leaves my skin soft and smooth
Made up of herbal ingredients.
Reasonable price
Cons of Khadi Sandlon-Rose Herbal Face Pack:
Khadi products aren't easily available
The tub type packaging has to handles carefully
Recommendation:- Khadi Sandlon-Rose Herbal Face Pack is a good quality face pack which is composed of herbal ingredients with multiple skin benefits. It gets prepared quickly with minimum effort. It has a mild fragrance and gives a soothing cool feeling to the facial skin post-application which stays pretty long and helps in comforting and relaxing the facial muscles. The pack doesn't dry to a hard mask which I like and also the ease with which it gets washed with few splashes of water.

Unlike normal powder packs it doesn't made skin go stretchy or dry after removal but left it soft and supple with a hint of glow. I will recommend this pack especially to dry skin beauties.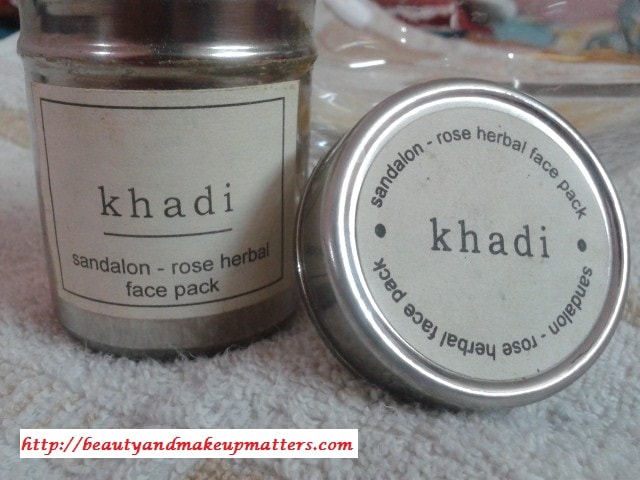 Rating:- 3.7/5
Have you tried Khadi Sandlon-Rose Herbal Face Pack? Which is your favourite Khadi Face Pack?