Katrina Kaif's Kaala Chashma Inspired Makeup
Today's post is going to be about my Katrina Kaif's Kaala Chashma Inspired Makeup look from the movie Baar Baar Dekho. It has been ages that I have created any celebrity Inspired Makeup. So, I finally gave in and tried my hands at recreating her look from the song using only Indian Drugstore products.
PS: When I saw her bright green bindi, Sindoor, Sexy moves and ABSss…. I almost burnt to ashes :P.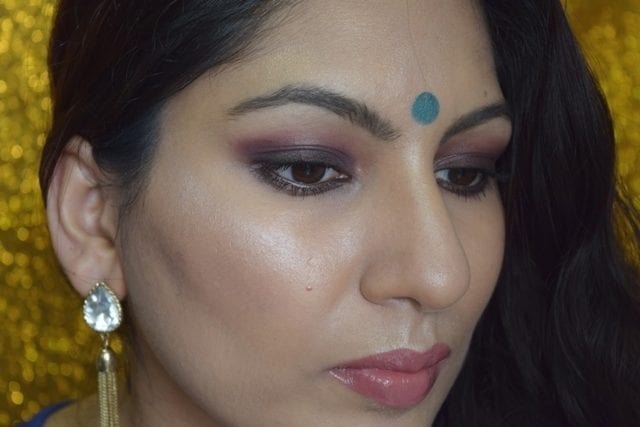 Katrina Kaif always likes to keep her makeup simple and even in this song it was nothing dramatic with soft smokey eyes and glossy nude lips. It was very hard to see what exactly was going on, on her eyes as she was donning Kaala Chashma for most of the time. But after a long wait she finally revealed her eyes. I was already smitten by her bindi and sindoor and when paired with plum smokey eyes and glossy nude lips.. it's everything.
Video Tutorial of the Kaala Chashma Inspired Makeup Look:
Steps to Achieve the Look:
Line the upper lash line with a Brown Eye Pencil and smudge it lightly
Pat some plumy brown eye shadow or mix 2 eye shadows to get the color. Pack the color on lids using a flat eye shadow brush.
With a blending brush blend the slightly over the crease for a soft transition and get rid of any harsh edges.
Pack the color a bit more using a pointed brush on the outer V for more of that smokey effect.
Highlight the brow bone using a matte peachy-nude shade.
Use the same brown eye pencil on waterline and lower lash line.
Smudge the lower lashline with that plummy brown eye shadow on a small smudger brush.
Finish off with lots of Mascara.
For the face, I went for full contouring and highlighting but that's not required if you already have a defined jaw line like her. She was flaunting her chiseled cheeks and flawless skin keeping the look natural. So, I used Maybelline Cheeky glow blush in Creamy Cinnamon for that natural flush of color on cheeks. And, highlighted high points of my face with a powder highlighter, for a luminous glowy skin.
For lips, I picked a peachy nude shade, L'Oreal Color Riche Lipstick Tender Rose and topped it with a brownish gloss for the gorgeous glossy nude lip look.
Products Used:
PAC Studio Finish Primer
Maybelline Fit Me Foundation – Natural Buff
Maybelline Dream Touch Lumi Concealer
NYX Wonder Stick – Medium
Maybelline Cheeky Glow Blush – Creamy Cinnamon
Revlon Shimmer Brick – Peach Glow
Faces Long Wear Eye Pencil- Metal Brown
Makeup Revolution Iconic 2 Pro Eye Shadow Palette
PAC Cosmetics Big Eyes Magical Mascara
L'Oreal Color Riche Lipstick – Tender Pink + Sheer Lip Gloss
PAC Beauty Blender
PAC Eye Shadow Blending Brush – 217
Here is the Original song for you… 🙂
Don't Miss to Checkout:
I had so much creating this look.. I hope you like it too.. <3
PS:  Some of the products used in this video were sent by brands for review!