Kama Ayurveda Mridul Soap Free Cleanser Review
Hello Everyone,
I have read quite a lot about Soap-free cleanser but never got tempted to try these. Though they are all herbal with natural ingredients but had a doubt on their performance about how they will be able to remove the traces of dirt and oil from skin. So, today I will be sharing me experience with one such Soap-free cleanser, Kama Ayurveda Mridul Soap Free Cleanser.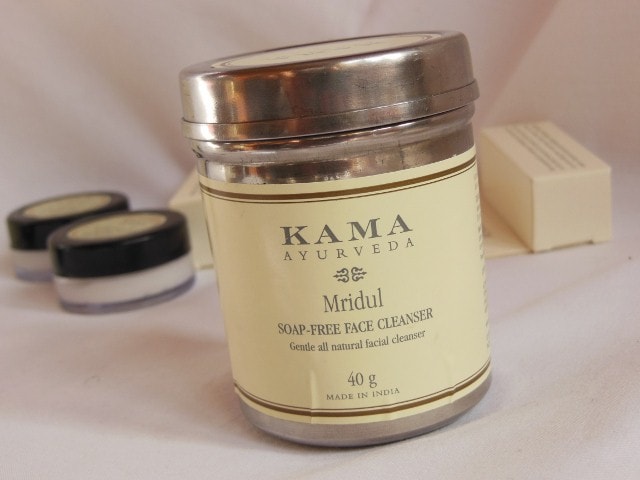 Product Claims:
A gentle all natural facial cleanser.
A combination of herbs, cereals and pulses that gently cleanses and exfoliates facial skin.
Completely natural, it is non-drying and may be used as a daily alternative to soap.
Leaves skin fresh and radiant.
100% natural formula.
Free from artificial preservatives, colorants, fragrances, petrochemicals
Direction for Use:- Mix a small amount (1-2 teaspoons) in your hand with some water and lightly massage into the face. Rinse clean. Only mix what you need for immediate use (though a paste made of Mridul will keep in the refrigerator for a week). Use daily in place of soap.
Ingredients:- Herbal powders: Avena sativa (oatmeal), Phaseolus aureus (green gram), Amygdalus communis (almond), Azadirachta indica (neem), Santalum album (sandalwood), Curucma longa (turmeric), Cinnamomum camphora (camphor), Cicer arietinum (chickpea), Rosa damascena (rose), Foeniculum vulgare (fennel).
Price:- Rs.295 for 40 gms
Shelf Life:- 2 years from the Mfg date.
Packaging:- Kama Ayurveda Mridul cleanser powder is packed in a plastic packet which is accompanied by a wooden spatula and a metallic jar for use. Transfer the powder into the tub for use and dig the spatula inside so I don't have to search for it each time before usage.
My experience with Kama Ayurveda Mridul Soap Free Cleanser:-
Kama Ayurveda Mridul Soap Free Cleanser is a green colored powdered with slightly grainy texture though not as grainy as a scrub. As, it is a cleanser I have replaced my face wash with it. If I have some makeup on I use my favorite DIY Olive Oil makeup remover to remove all the makeup and then follow up with this cleanser.
I use one spoon of powder for each use. Pour the powder onto my palms and then add drop of Rose water to make a runny paste, mix with fingers and apply all over my face. I keep the consistency thin as it makes it easy to apply and massage onto the face. I scrub my face with gentle finger movements for few minutes till it starts getting dry.
Sometimes, I wash it instantly but at time I do let it on my face for few more minutes as a face pack until it starts falling from the skin on its own 😉
I must say I am impressed with the efficiency of the products and cleared all my doubts about a Soap-free cleanser. It is as effective a soap based cleanser to remove dirt and oil from the skin leaving behind fresh and clean skin. It doesn't dry out my skin but gives a firm feeling. It removes dead skin cells and helps in reducing the blackheads. With regular use, you can feel your skin's improved texture which will be smoother and radiant.
Being a 100% natural composition, it is made of natural herbal powders like Oatmeal, Neem, Sandalwood, turmeric it does no harm to the skin and will work for oily and acne prone skin as well.
Don't Miss to Checkout:
Pros of Kama Ayurveda Mridul Soap Free Cleanser:-
Cleanses skin efficiently
Doesn't strip skin of natural oils
Does not leave any residue
Leaves skin smooth and radiant
Works on reducing black heads with regular use
Small amount is required for each use
Jar will last me a month
Soap Free cleanser
100% Natural and Free from artificial preservatives
Comes with a wooden spatula to pick uop product
Works even for Oily/ sensitive / acne prone skin
Cons of Kama Ayurveda Mridul Soap Free Cleanser:-
Powder product which needs to be prepared before use
Contains Neem which spoils the taste if gets into mouth
Not suitable for delicate under eye area
Bit pricey
Recommendation:- Kama Ayurveda Mridul Soap Free Cleanser is a herbal powder cleanser made of all natural ingredients like Neem powder, Sandalwood, Oatmeal and needs to be prepared with water/rose water/milk to make a runny grainy paste. It cleanses skin gently removing all the traces of oil and dirt and makes skin smoother, firmer and brighter . For daily use, it can be a bit too much in winters for dry skin but it will work wonderfully for oily/combination skin. Overall, a great herbal face cleanser which will do only good things to your skin. Recommended!
Rating:- 4.5/5
Have you tried Kama Ayurveda Mridul Soap Free Cleanser? Which is your favorite cleanser/facewash?