July Fab Bag 2016: Hello Gorgeous
Hello Gorgeous.. Yes that's the theme of July Fab Bag 2016. Unlike last month I didn't got the bag on the 1st of the month but still receiving it in the first week of the month feels great. 🙂
July Fab Bag is the pretty blue colored bag with pink pouts printed all over.. so chic and sassy!! Absolutely love it.. because its all about Pouts honey :D. Well, the Fab bag team is definitely doing a great job by picking such pretty designs for the monthly fab bags.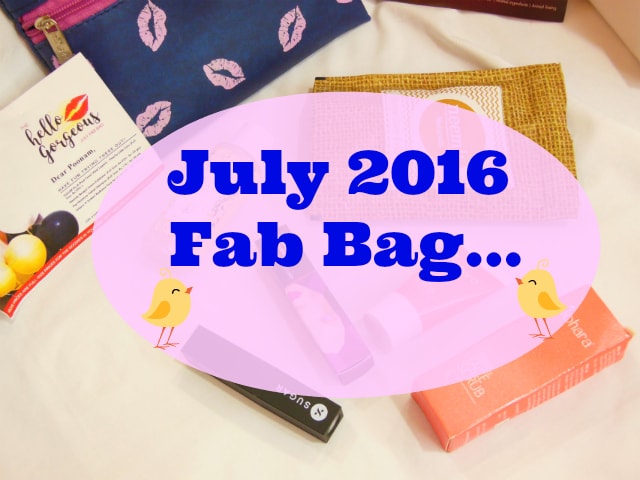 Video is now live:
Let's just quickly see what all you can expect in this months Fab bag.
Products in July Fab Bag 2016:
Sugar It's A Pout Time! Vivid Lipstick- Peachy Little Liars: Rs 599 (Full size)
Neemli Bengal Gram Exfoliator : Rs 425 for 50 gms (Full size)
Pep Moisture Velvet Shampoo– Rs 119 for 50ml (Full Size)
Johara Instant Radiance Face Scrub – Rs 500 for 100gms (15ml Sample)
Product Details:
Sugar It's A Pout Time! Vivid Lipstick- Peachy Little Liars: I have received another Sugar Vivid Lipstick in the shade Coral Caroline in my March Fab Bag and I absolutely love the shade. While this Peachy Little Liars is a new shade added to the Vivid lipstick collection by the brand. It is a beautiful peachy pink shade with slight mauve undertones. The shade will work wonderful for warm Indian skin tones and might be a MLBB Shade for many. It also qualifies to be a affordable dupe of Kylie Jenner lip shades.. just in case!
Neemli Bengal Gram Exfoliator: It is an all natural exfoliator made with Gram Flour, Rice flour, Turmeric, Sandalwood powder and more. It is a finely milled powder and can also be called as Ubtan. It can be prepared by mixing with liquids like Milk/Rose water or plain water. So, if you don't want to make an effort to prepare this resipe in the kitchen just get this and pamper your skin with natural goodness.
Pep Moisture Velvet Shampoo: This Shampoo has such a pretty name.. "Moisture Velvet" <3. I have never heard of this brand before so really excited to try out the shampoo. It claims to be formulated with Oat protein milk which will restore moisture and provide deep nourishment to hair. SO, the hair will becomes softer and more manageable. The formula is free from parabens but it does contain SLES and fragrance, which bothers me. Though, the shampoo has a lovely fruity floral scent.
Johara Instant Radiance Face Scrub: The only sample sized product from this Month's Fab Bag. The scrub comes in a pretty pink packaging. The formula is creamy and has tiny little granules that will gently pull away the dirt and grime from the pores. It is also free from harmful chemicals like Parabens, Sulphate, formaldehyde and synthetic Dyes.
Overall:
So, these are the 4 products I received in this month's Fab Bag. No bonus stuff but I loved that we got 3 full sized products. One from makeup and 2 from Skincare. The quality of the products looks great and I love that skincare product are from natural/herbal brands. Though there could have been more makeup.. but with 3 full sized products I am not complaining.
I got to choose the Lipstick shade because this month's lipstick shade selection is available only to 3, 6 & 12 month subscribers. Shade for 1-month subscribers will be customized by Fab Bag team. Which I feel is a great way to pamper brand loyslists and long-term subscribers.
The Fab bag is worth around Rs 1200 which is good especially for the beautiful Sugar Vivid Lipstick I got! 😀
Don't Miss to Checkout:
Have you tried any of these products? Which one is your favorite here?
PS: Bag sent by brand for consideration but honest and unbiased opinion.