Jovees Strawberry Face Wash – Sheer Moisture Review
Another freebie from Medplusbeauty.com, and this time it's a face wash. I am a little apprehensive about face washes as most of them leaves my skin extremely dry and flaky and in some cases even breaks it out. I wasn't expecting much from this Jovees Strawberry Face Wash – Sheer Moisture but let's see how it fared on my dry skin before reaching to a conclusion.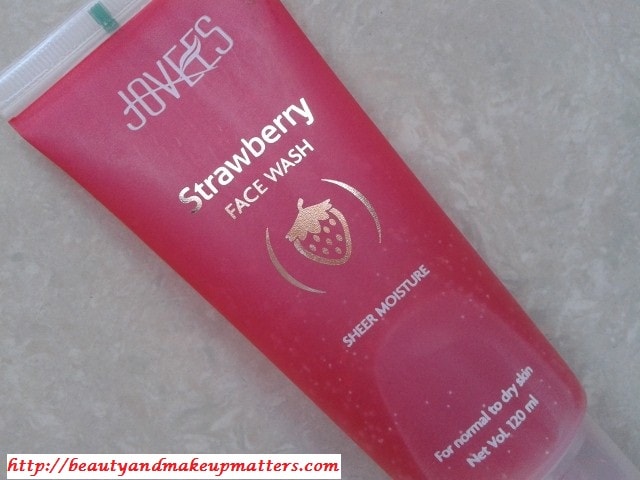 Product Claims: An exclusive face wash for normal to dry skin developed with latest scientific processes, contains precious herbs, botanicals and well treated granules thatshall also helpto remove dead cells from the skin surface, restore moisture balance, helps to make skin visibly fairer glowing and soft.
Direction for Use:- Moisten face, Squeeze out a small amount on your palm. Massage gently on the face and neck. Rinse well and pat dry.
Preferably follow with Jooves White Water lily Moisturizer
Ingredients:- Strawberry Extract, Jojoba Extract, Vitamin E, Olivem
Price:- Rs.115 for 120 ml
Shelf Life:- 3 years from the Mfg date.
Packaging:- Jovees Face Wash comes in standard squeeze tube type packaging which is pretty much common among all the face washes but what made a difference was the silver seal. Yes, you read it correct; the tube comes with a silver seal at the mouth which needs to be removed. The translucent tube with a transparent plastic cap is convenient and hygienic to use.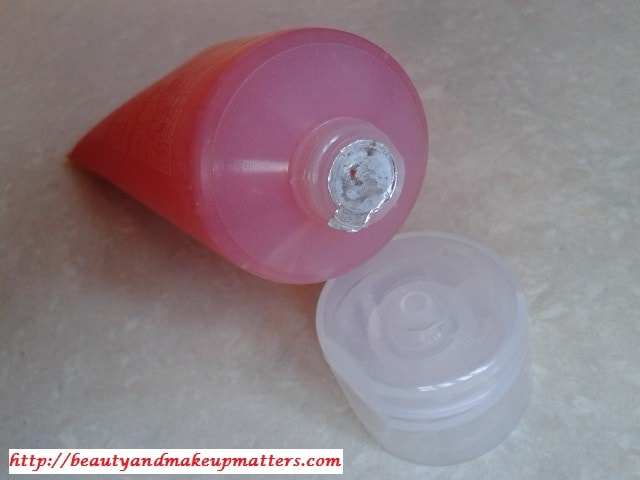 My experience with Jovees Strawberry Face Wash:-
The face wash is beautiful pink colored liquid which is a bit runny and has a gel like texture. The liquid is infused with extremely tiny white granules running all through the liquid with a few pink beads in between which are slightly bigger in size. The microscopic white granules, even the pink ones are immensely smooth. The rounded granules give an experience of mild massage rather than scrubbing.
It does have a sweet strawberry scent but surprisingly it isn't overwhelming and doesn't smell overtly sweet or artificial kinds. I love and thoroughly enjoy its mild yummy strawberry fruity scent.
Swatch:-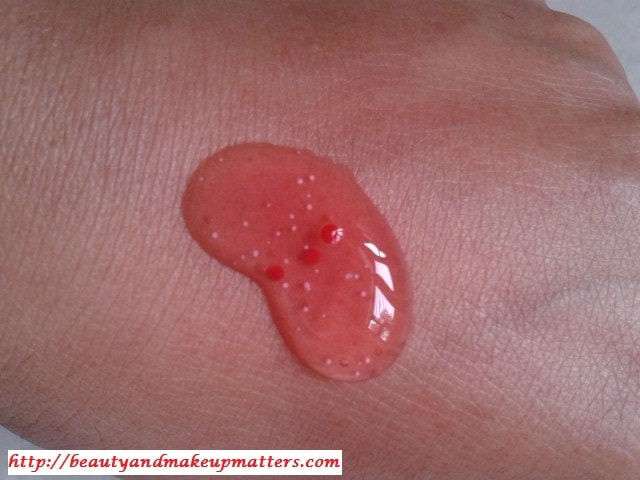 It lathers well and gives generous rich creamy foam which gently cleanses away all the impurities and oil from skin but the Icing on the cake is that it doesn't leave my skin dry or stretchy at all and I can easily delay on moisturizing it. It took a little longer to rinse off completely and skin felt a bit slippery post wash but nothing uncomfortable.
Don't Miss to Checkout:
Pros of Jovees Strawberry Face Wash – Sheer Moisture:-
Smell of delicious strawberries
Gives a good lather
The tender granules feels soft on skin
Gently cleanses away impurities
Doesn't leave my skin dry
Reasonably priced
Hygienic tube packaging
Comes with a seal on tube
Cons of Jovees Strawberry Face Wash – Sheer Moisture :-
Only Active Ingredients are mentioned
The granules are extremely soft for any sort of Exfoliation but that is a pro for me as I am really not into daily exfoliation and feel it would a harsh for my skin.
Leaves a slight slippery layer on face which might not like by everyone
Recommendation:- Jovees Strawberry Face Wash in Sheer Moisture turned out to be a happy surprise for my skin. I have used  Lotus Berry Scrub in the past but that was quite harsh on my dry skin and had granules scratchier than this. Jovees one smells heavenly of yummy strawberries and gently cleanses my dry skinOily skinned beauties might not like this but its an pocket friendly non-drying face wash for dry skin. . Thumbs up for Jovees for making such a nice face wash.s

My other favorites are Dove Beauty Moisture Face Wash and The Body Shop Vitamin E Face Wash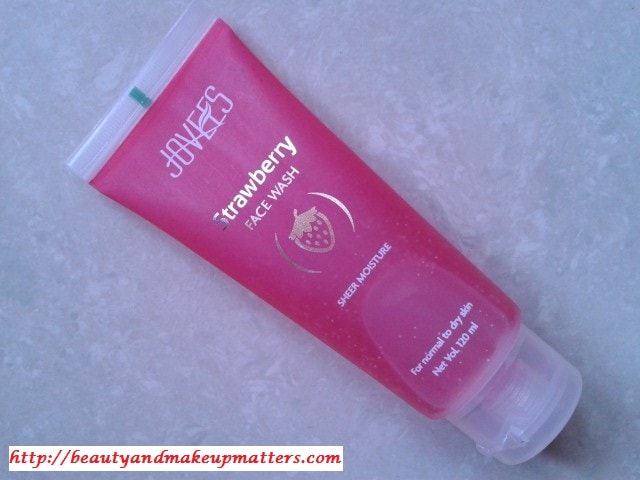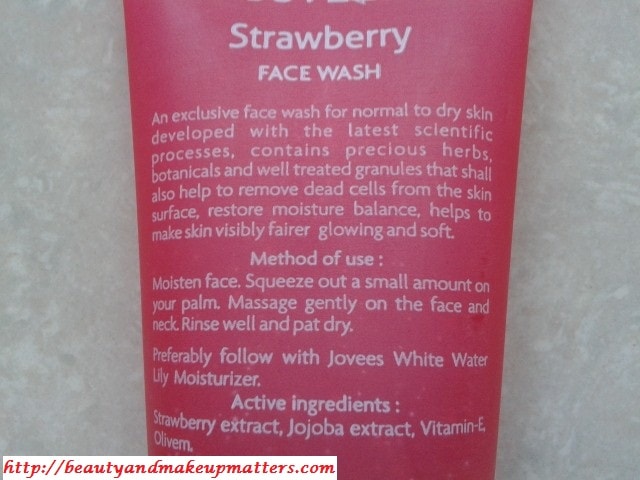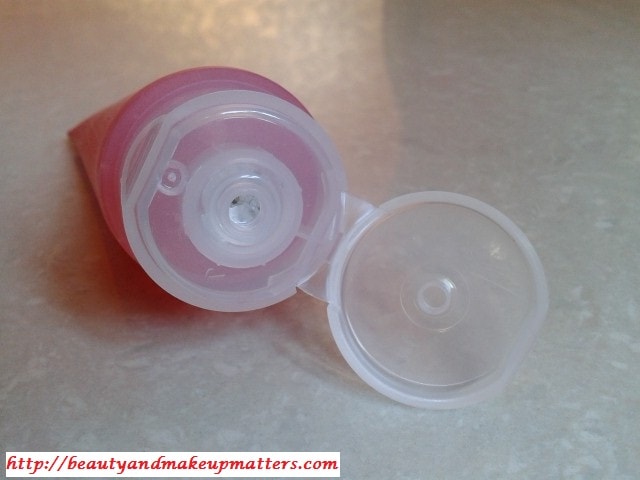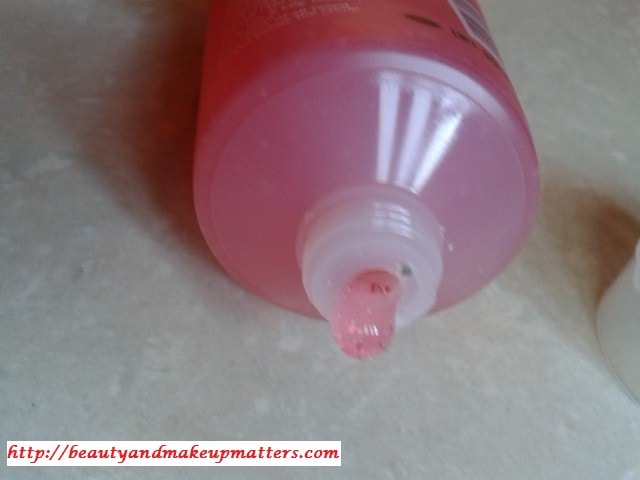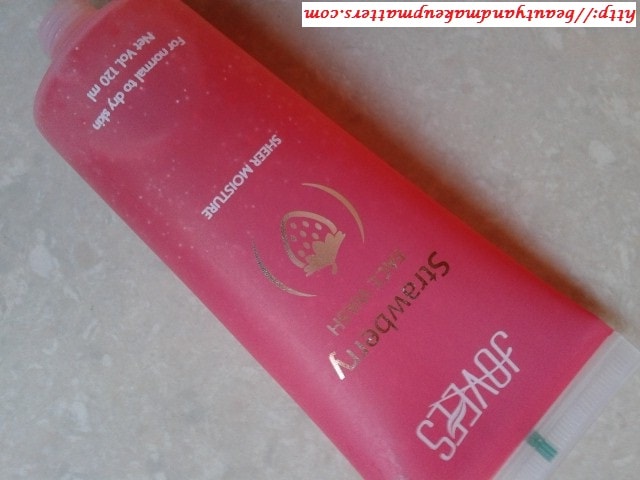 Rating:-4/5
Have you tried Jovees Strawberry Face Wash – Sheer Moisture?