Jergen's Skin Firming Daily Toning Moisturizer
Product Claims:- Experience all the way the Jergen's collection of moisturizers give skin a subtle allure that captivates.
Moisturize into visibly toned skin.
Jergen's Skin Firming Daily Toning Moisturizer rules with a firm hand to tone and tighten the look of cellulite –prone skin. With its effective blend of firming ingredients and essential moisturizers, this moisturizer instantly hydrates skin leaving it smooth, supple and healthier-looking. Clinically proven to improve skin's firmness, texture and elasticity when used daily for 2 weeks. After 8 weeks, skin is softer with increased moisture content and smoother with a visibly reduced dimpled appearance.
Made with natural Seaweed Extract & Centella Asiatica, known to help increase elasticity, plus Collagen & Elastin, known to improve skin's resiliency and firmness for a more toned look.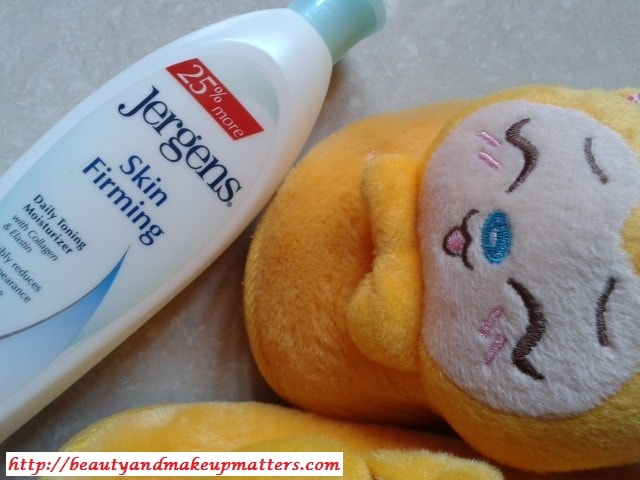 Directions for use:- Use daily to moisturize and tone. Massage over body. For best results concentrate on problem areas( thighs, hips, buttocks, stomach, upper arms).
Ingredients:-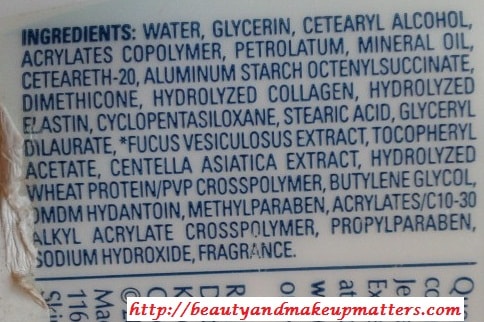 Price:- Rs. 210 for 295 ml
Shelf Life:- 3 years from the Mfg. date
Also available in :-
Jergens Skin Firming Daily Toning
Jergens Ultra Healing
Jergens Shea Butter
Jergen Aloe soothing
Jergens Original Scent Cherry Almond
Packaging:-The lotion comes in standard Jergen's body lotion packaging with opaque white bottle with a light blue flip cap. The bigger versions comes with a pump dispenser which is also very convenient to use.
My experience with Jergen's Skin Firming Daily Toning Moisturizer:-
Skin Firming Daily Toning has a medium thick texture which takes no time to get absorbed. It is a heavily moisturizing body lotion apt for my dry skin which goes really bad in winters. The lotion makes my skin appear soft and supple instantly and the effect lasts till next morning.
I really like it's comforting pleasant scent which doesn't linger on for long and fades away pretty quickly. The lotion spreads smoothly and soaks into the skin with the slightest effort without leaving unwanted slippery layer. When used excessively it takes some time to get absorbed but doesn't feel greasy at all. I love to slather it all over my body and indulge in its nourishing feel and the long lasting moisture.
Don't Miss to Checkout:
Swatch:-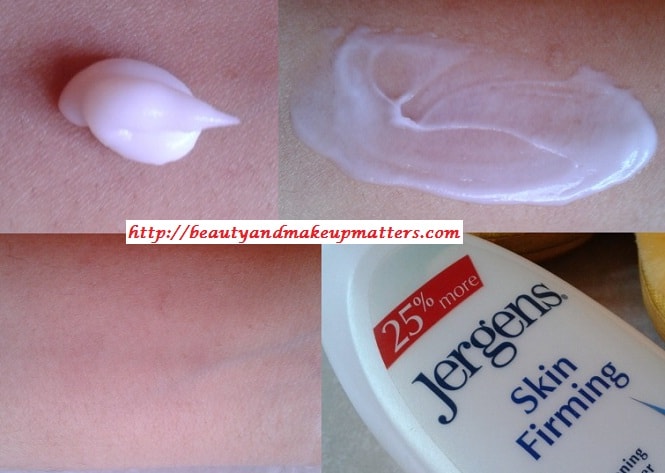 Pros of Jergen's Skin Firming Daily Toning Moisturizer:-
Texture is medium-thick which spreads easily.
Gets absorbed in no time
Nice fragrance
Moisturizes well
Makes my skin softer
Doesn't feel greasy or sticky
Decently priced
No fancy packaging
Cons of Jergen's Skin Firming Daily Toning Moisturizer:-
Not easily available in stores but available on most of the online websites.
Contains Parabens
Recommendation:- Jergen's Skin Firming Daily Toning Moisturizer is a nice creamy lotion with good consistency which goes on smooth and gets absorbed quickly. The lotion has fresh scent which I find very soothing. Also, I love how soft and smooth it leaves my skin soft without making it greasy at all, though I am still not sure of its skin firming claims as I switch Body lotion pretty frequently.

I have tried few of these Jergen's Body Lotions and love them for their long lasting moisturizing effect, would love to try the rest of the variants too. Highly recommend!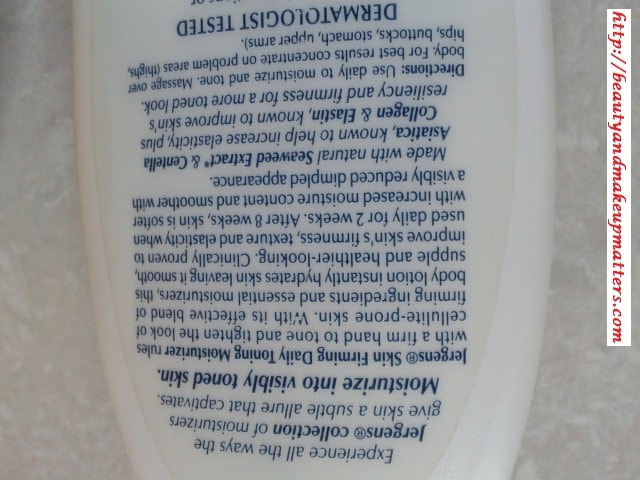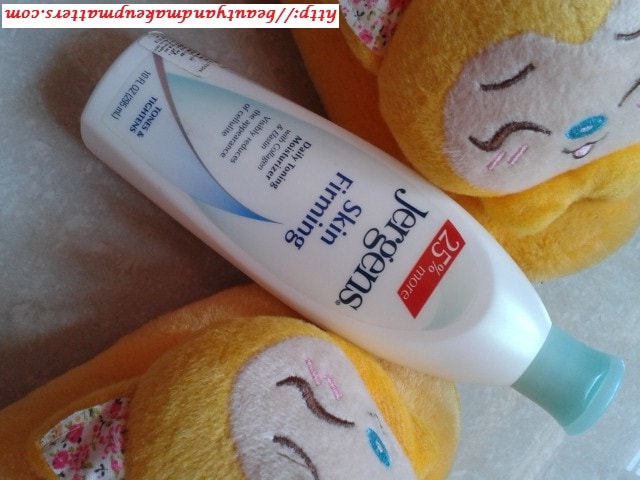 Rating:- 4/5
Have you tried Jergen's Skin Firming Daily Toning Moisturizer? Which your favorite body lotion in winters?