Jafra Brightening Toner Review
Hello everyone,
I have been skipping on toners since I finished my Votre Pore shrink Toner, though was waiting to get my hands on Forest Essentials Panchpushp but the one that I got to try next is this Jafra Skin brightening Toner, part of the Jafra Skin Brightening Range.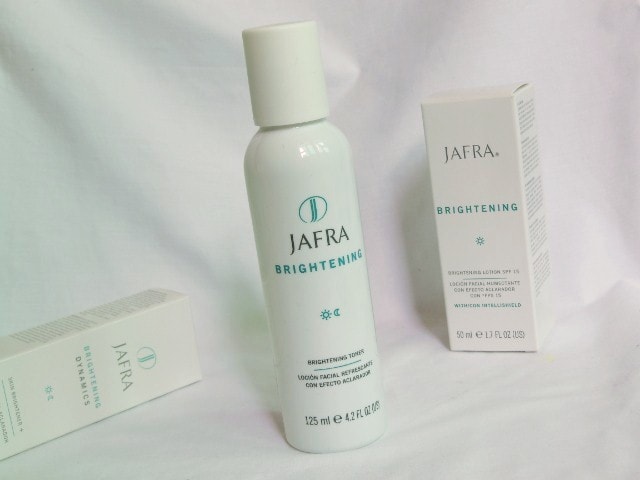 Product claims: Brightening toner freshens and replenishes skin leaving a radiant complexion. To be used morning and night after cleansing. Sweep on with cotton pad over face and throat. Allow it to dry naturally for a few moments; this step is essential to allow skin to absorb the brightening benefits. Clinical evaluations showed that over 70% of women who used the brightening toner in synergy with the other Brightening Dynamics products, experienced radiant and brighter skin. 100% experienced even, clear skin.
Price: Rs.590 for 125 ml
Packaging: The toner comes in a sturdy, opaque pure white colored bottle with a scew cap. There is a small hole at the mouth which dispenses the liquid. I prefer pump packagings for toner as I spray the liquid all over my face and let it dry but if you wipe face with a dabbed cotton swab then this packaging will be quite convenient to use.
My Experience with Jafra Brightening Toner:
I have tried quite a few of alcohol free toners but the main issue with toners is that they leave a slightly sticky feel on the skin which is not something I like. I am extra cautious while picking up a toner as the ones with alcohol dries my already dry skin, so I look for ones that are not drying and must not leave that uncomfortable sticky feel.
Jafra Brightening Toner has addressed all my above mentioned concerns. It is clear liquid infused with a mild Jasmine fragrance which smells pleasant. I usually pour few drops on the palm and pat it down on face and let it dry for a nice toning effect but I once used it with a cotton swab too and yes it does an amazing job at removing all the residual makeup and impurities from the cleansed skin as well.
I have using this toner religiously for a month twice a day and I can definitely say that it has worked on reducing the pores around my nose and cheek area and has also lessened the appearance of terrible blackheads on my nose. I cant say that it alone has worked on brightening my skin tone but it did make a difference to my skin with regular use by evening out my skin tone and making it smoother, brighter.
I didn't even knew this had alcohol until i went through the ingredients list for review purpose and I was happy to find out that it didn't made my skin dry, still i feel it would have been great if the formula had been alcohol-free. The only thing that i dislike about the product that it sting quite badly if gets into the eyes. Though it is advised to not use it around the eyes but at times it is unavoidable to spare eyes especially when you are in a hurry.
Don't Miss to Checkout:
Pros of Jafra Brightening Toner:
Mild Formula
Hydrating to my dry skin
Non-sticky texture
Has a lovely jasmine fragrance
Value for money
Works on reducing pore size with regular use
Suitable for both dry and combi skin
Cons of Jafra Brightening Toner:
Contain Alcohol
Stings eyes badly
Availability as it can be availed through Jafra Reps only
Recommendation: Jafra Brightening is a hydrating toner with a lovely jasmine floral fragrance which feels pleasant to my senses. Though it is not an alcohol-free toner but it doesn't feels harsh or drying on me rather quite nourishing. It takes a minute or two to soak into my skin leaving behind a smooth and supple skin. I am surprised but happy to see how well it is working for my skin. So, if you do not have anything specific about having alcohol in your toners, this is great option to try, It doesn't make my skin feel dry or stretchy nor does it make it sticky or oily. Recommended!
Rating: 3.8/5
Have you tried Jafra Brightening Toner? Which ones you prefer Alcoholic or Alcohol free toners?