Jafra Brightening Dynamic Skin Brightener Review
Hello Everyone,
As I have already shared my love for Jafra Brightening Dynamic range, which has been working really well on my dull and dry skin. This is for the first time I am using all the products in my skin care regine from same brand. So, I am sharing my most favorite product from the range, Jafra Brightening Dynamic Skin Brightener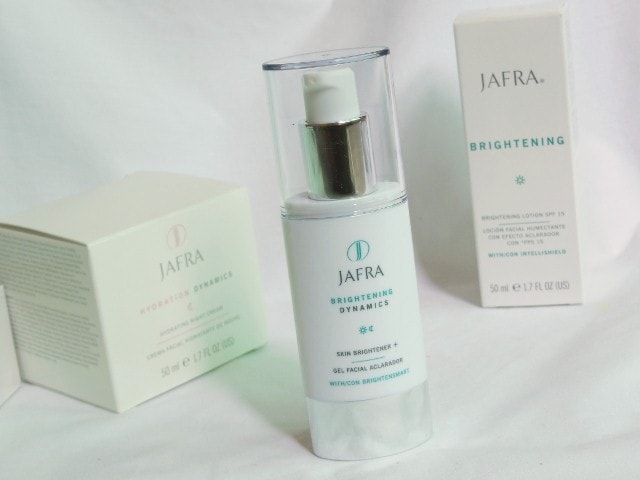 Product Claims:A highly effective creme/ gel that utilizes active botanicals to brighten complexion to reveal luminous and radiant complexion. Jafra Skin Brightener contains Jafra's exclusive brighten-smart complex, designed with an Ayurvedic blend of natural ingredients like winter cherry, emblica and licorice to reveal brighter, smoother complexion that radiant.
Price:- Rs.1090 for 30ml
Shelf Life:- 4 years from the Mfg date.
Packaging:- Jafra Skin Brightener comes in a sleek white colored pump packaging with a clear glass cap. I love pump dispensers over tubes and tubs as they are so convenient and hygienic to use. Pump dispenses just the right amount in a single press and hence no wastage. The cap shuts tightly and doesn't open on it own. The packaging is sturdy and travel friendly too.
My experience with Jafra Brightening Dynamics Skin Brightener:-
Jafra Skin Brightener is a muddy peach colored moisturizer with a light creamy texture that spreads out easily on skin just like any serum. Initially, it makes my face quite appear shiny which I doesn't like but after few more massage strokes it blends in completely into the skin leaving behind healthy glowing skin. Skin feels soft and moisturised whole day and it keep dry patches at bay.
The thing that I didn't enjoy is its strong sweet fragrance which is quite overwhelming and bothers my nose till it fades away. I had to have a good fragrance near me to avoid smelling it . 😛
I apply 2-3 pumps for single application for my super dry skin but I am sure 1-2 pumps will suffice oily to combi skin and as it doesn't leave any residue behind or makes skin greasy, it will be suited for all skin types.
It makes a great day time moisturiser as it nourishes skin well and doesn't makes it oily/shiny for long. I have not experienced any long term benefits like skin smoothening or brightening but I am happy that it is doing its job of moisturizing and adding radiance to the skin on application
Don't Miss to Checkout:
Pros of Jafra Skin Brightener:-
Light weight texture
Hygienic Pump packaging
Instantly brightens up the complexion
Didn't break out or irritate my skin
Moisturises skin without making it greasy or oily
Skin looks radiant
Will work for all skin types
Value for money
Cons of Jafra Skin Brightener:-
Little heavy on Pocket
Utterly Sweet fragrance
Needs to be blended well or it will roll out (peel ) of skin when rubbed
Recommendation:- Jafra Skin Brightener is a lovely light weight moisturizer which soaks completely into the skin without leaving any greasy or oily residue. It will suit all oily and combi skin as well as it doesn't feel heavy at all on skin. It brightens up the complexion immediate after application like you have a natural healthy facial glow. It is a slightly expensive but for the quality and results it does full justice to it. Recommended!
Rating:- 3.7/5
Have you tried Jafra Brightening Dynamics Skin Brightener? Which is your favorite Skin moisturizer or Serum?