It's Magic: Barever Natural Hair Inhibitor
Hello Everyone,
We discussed about hair growth few days back with Livon Hair Gain Tonic and today we doing the exact opposite "Hair reduction" for all the unwanted hair on our body. With winters approaching we can be a bit relieved as our arms and legs are going to be covered under layers of clothes and we don't worry about the hair over them but it is such a pain to go for hair removal every month or even more frequently depending on the hair growth! But here is a magical friend who will relieve us from this pain and stress. Barever Natural Hair Inhibitor.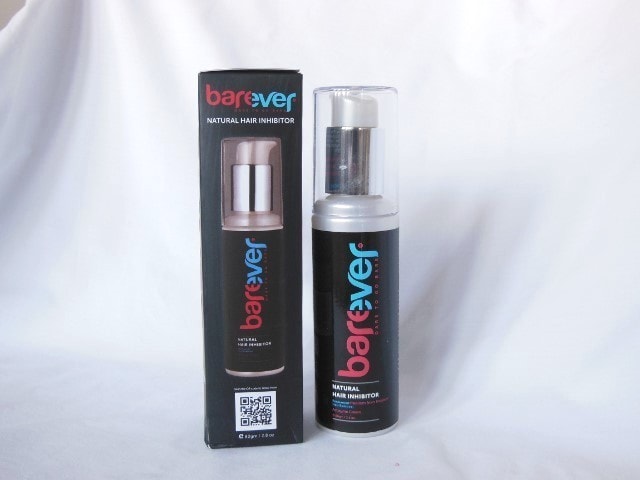 Product Claims: Barever Natural Hair Inhibitor is a scientifically designed formulation which gradually restricts the growth of body hair helping you achieve permanent reduction of unwanted hair growth. The potent formula of Barever inhibits the follicle cell activity at the root level of hair and slows down the growth of unwanted hair so that you enjoy soft, silky and smoother skin for longer duration.
Barever can be used both by man & woman and is safe for sensitive skin areas like bikini line, underarms, chin, lips & facial hair.
The continuous use of Barever shall help you achieve:
Permanent hair growth reduction
Minimize need for hair removal
Smoother skin for longer duration
Formulated with 100% natural actives derived from plants, Barever effectively works on all your body hair including arms, legs, face, back, breast, chest and other sensitive areas like lips, chin, arms pit and bikini lines. The natural ingredients of Barever make it the most safe and painless solution for restricting body hair growth and delaying your need of frequent hair removals.
Direction for Use: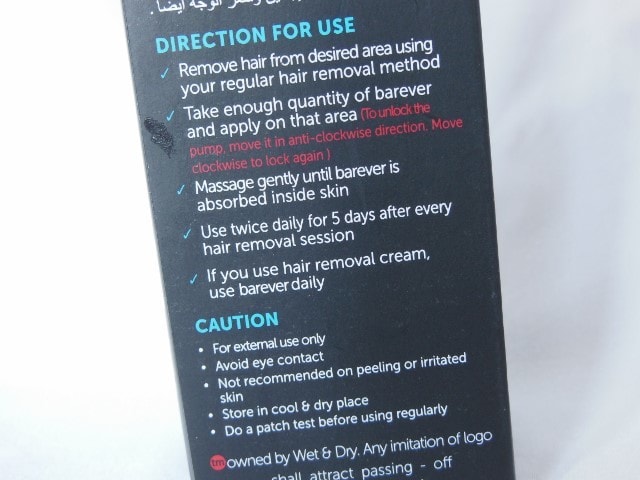 Ingredients: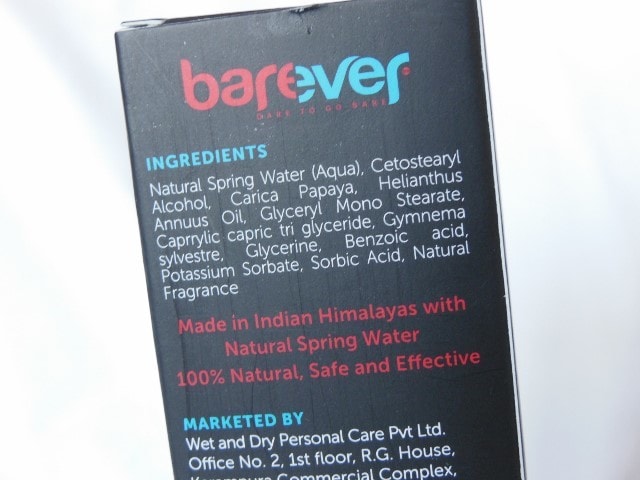 Price: Rs.1100 for 80gms
Shelf Life: 24 months from the Mfg date.
Packaging:- Barever Natural Hair Inhibitor comes in a sturdy pearly white plastic bottle packaging with a pump dispenser and  a clear cap on top. The cap shuts tightly which makes it easy to travel with. The details about the usage and all other things are printed on the paper wrapped around the bottle. I really liked the quality of the pump as it has a nozzle dispenser and works nicely to dispense just the required amount.
My experience with Barever Natural Hair Inhibitor:
Barever Natural Hair Inhibitor is formulated to reduce hair growth. I have seen and used hair removal creams but something that reduces hair growth.. its one of its kind!
Barever Natural Hair Inhibitor is a white colored medium thick cream which looks like a thick body lotion. I slather a good amount of it on my arms and legs and with a little massage and it gets absorbed completely into the skin. It is more or less like a body lotion with hair reducing properties because it nourishes my skin really well and I can actually skip on applying another body lotion for the purpose.
If you are skeptical about its fragrance or stinging sensation it may cause on sensitive areas then rest assured .. it does nothing like that! I have used it on my underarms and I haven't experienced even a bit discomfort. The cream does have a fragrance but not like you would notice in a hair removal creams rather a tangy herbal sorts which isn't OTT.
I use epilating as a hair removal method and I applied this hair reducing cream just after the session and it doesn't irritate or sting my skin at all but rather soothe it down by nourishing it. I use this Hair Inhibitor cream as directed; taking a good amount of it after epilating my skin and then applying twice for 5 consecutive days.
Results: I start seeing a difference in hair growth from 2 rounds of applications, though it starts working with 1st application but the difference couldn't be noticed if I don't look closely.I don't have super thick hair on arms and legs but I am really seeing a difference in my underarm hair growth and texture. They are becoming thinner and grow at a slow pace which relieves me from epilating them after every 3-4 weeks.
I love that this lotion is made with natural ingredients so I am not doing any harm to the skin by using tons of chemicals to lessen unwanted hair. It claims to be safe for usage on face as well and I have pretty gross upper lips and chin hair, so I am gonna test it there next and see how it works for me.
Recommendation: Barever Natural Hair Inhibitor is an awesome product to reduce hair growth by using nothing but natural stuff and it doubles up as a body lotion.. so yayy!! The lotion can be a bit heavy for summers.. so I am going to make the best of it in winters :). Unlike hair remover creams it doesn't have horrifying scent rather a pleasant herbal one. I don't think it can go as high as 100% hair reduction because even with laser treatments hair grows back but if you keep on using it, the need of hair removal is reduced to a great extent.

It may seem a bit pricey but this bottle is going to last me 5-6 months and comparing to other hair removal/reducing methods it is quite affordable and harmless. I am going to get one for my sis who has this thick hair problem :P. Highly Recommended!
Rating:- 4.5 /5
Have you tried Barever Natural Hair Inhibitor? Which hair removal method you use?
PS: Product sent by brand for consideration