IsaDora Cosmetics in India: Review, Price
More and more international makeup brands are coming to India and the latest to join this bandwagon is "Isadora Cosmetics". IsaDora Cosmetics is a beauty brand from Sweden and is now available in Delhi. The makeup brand has a huge range of products to offer with the beautiful color selection.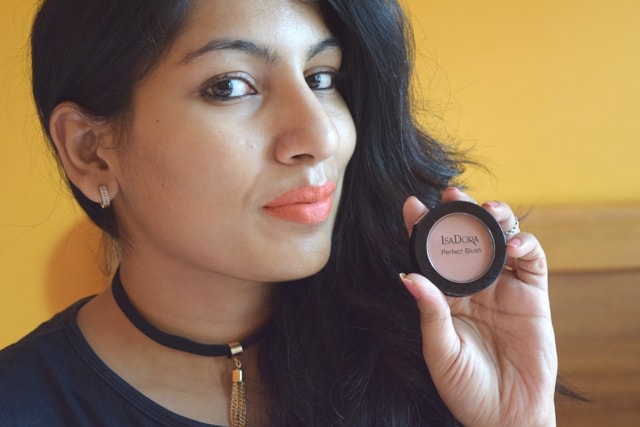 I got to try some of the makeup products from Isadora Cosmetics. So, here are my thoughts on the products quality and performance.
IsaDora Makeup Products:
IsaDora Perfect Blush – Frosty Rose: Rs 990
IsaDora Perfect Contour Kajal – Frosty Bamboo: Rs 990
My experience with IsaDora Makeup:
IsaDora Perfect Blush – Frosty Rose:
It is a beautiful Peachy pink blush in a matte finish. The see through packaging makes it easy to identify the shade. And the finely milled formula gives this blush a soft, smooth and satiny feel.  The blush is beautifully pigmented and I just need a little amount to get naturally flushed cheeks. The color is buildable so you can get the more intense blush. I love that blush never goes patchy on cheeks. Though, it contradicts its name as it doesn't have any frosted finish.
The blush is great for warm Indian skin tones for a subtle natural looking look. And it also can be paired with monochromatic dark vampy looks to balance out the face.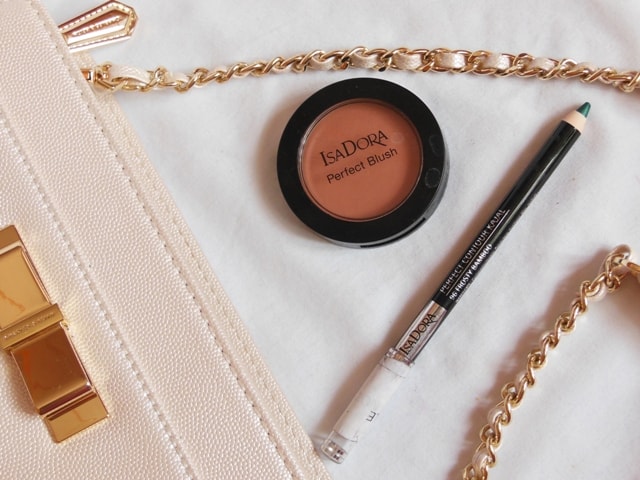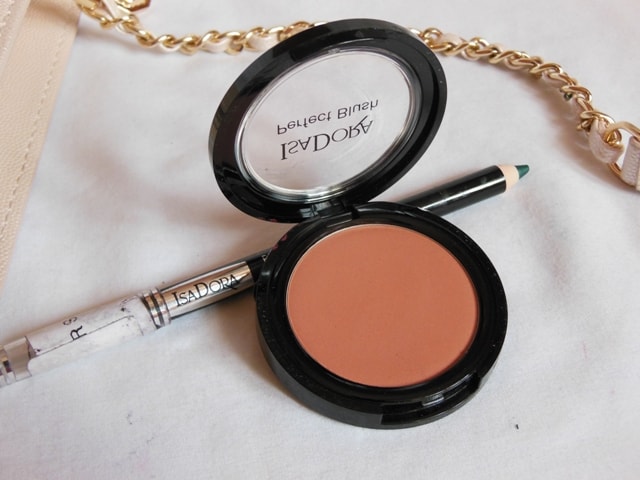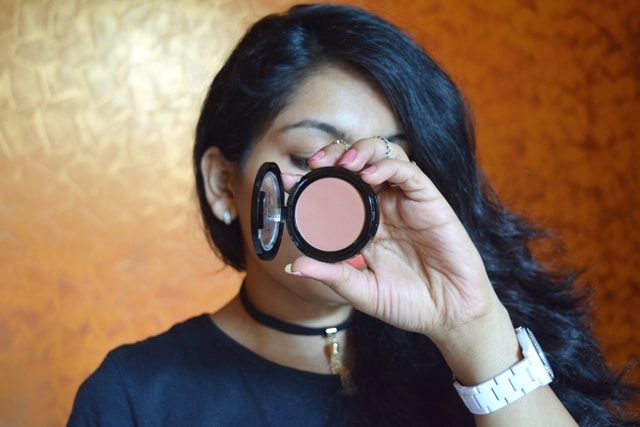 IsaDora Perfect Contour Kajal – Frosty Bamboo:
It comes in Sharpenable pencil form with a clear cap. There is a color band at the bottom which showcases the color of the pencil. It is a beautiful metallic green shade with shimmer sparkles for a glistening look on the lids. The formula is richly pigmented and glides on smoothly on lids. It sets to a smudge proof finish soon. It holds well on eyes and lasts around 7-8 hours with no signs of fading or moving. It also contains active ingredients like cottonseed oil, jojoba oil, vitamin C and E which are good for eyes.
The liner is suitable for lens wearers and sensitive eyes.
Here is the makeup look I created using IsaDora Cosmetics Products. Hope you like it!
Have you tried Isadora Cosmetics Makeup? Which one do you like the most?
PS: Product sent by the brand but honest review!