Is it the Best! – Pantene Total Damage Care Shampoo and Conditioner
I used to be a big fan of Pantene Shampoos during my college days but then I start experimenting with shampoos and never looked back. But today I am going to share my experience with the latest hair care range from Pantene. Pantene has come up with a newer version of their Total Damage Care Shampoo and Conditioner. So, let's see if the new Pantene Haircare works for me, Pantene Total Damage Care Shampoo and Conditioner.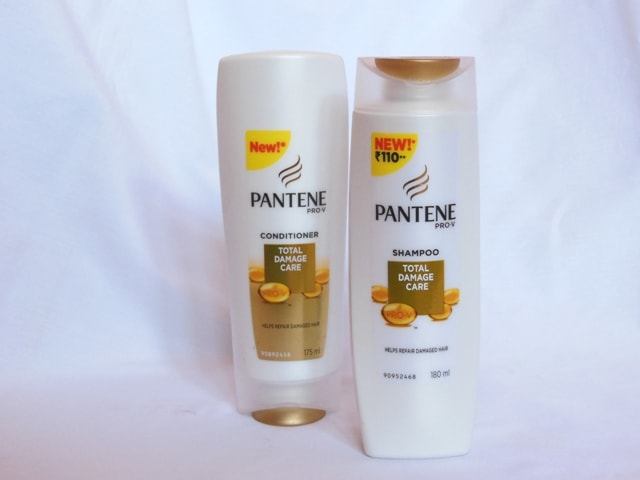 Product Claims:
Pantene Total Damage Care Shampoo
Repair 10 visible signs of damage.
Protects hair against future damage.
Leaves hair feeling smoother and shinier.
Shield your hair from day to day damage
Use daily to help prevent 10 signs of hair damage
Now with keratin damage blockers that provide up to 10x damage protection
10 signs of damage are tangled, dull, brittle, split ends, hairfall due to breakage, dry, rough, weak, frizzy, and unmanageable hair
Pantene Total Damage Care Conditioner
Repairs hair damaged by everyday activities.
Nourishes hair from root to tip.
Prevents further hair damage with 99% protection.
Replenishes the health of damaged hair by moisturizing and protecting its cuticles
Use at every wash for continuous protection against the day to day damage inflicted on your hair
Price:
Shampoo – Rs.110 for 180ml
Conditioner – Rs 120 for 175ml
Shelf Life: 3 years from the Mfg date.
Packaging: Pantene Total Damage Care Shampoo and Conditioner come in a white plastic bottle packaging with a golden flip cap which is pretty easy to use. The golden details on the packaging make it look pretty and the bottles are sturdy and travel-friendly too.
My experience with Pantene Total Damage Care Shampoo and Conditioner:-
Pantene Total Damage Care Shampoo is pearly white in color and has a medium thick texture. It gets applied easily and gives a good lather. I don't need to use much of it even on oiled hair. It has a very nice sweety-floral scent which lingers on for few hours post hair wash too. The fragrance is quite different from the previous versions I have tried and I actually quite like it
Results: I have oily scalp and dry hair and it claims to repair hair and fight signs of damage. It cleanses my scalp well and removes all the traces of oil and dirt. I have been using it for almost 3 weeks now and I can say that it has helped me with improved hair texture which now feels much softer and smoother and there is definitely a reduction in hair fall too. As I haven't changed anything else in my haircare routine I am sure it is this shampoo only. It not only adds a nice volume but a gorgeous shine to my hair. I love that it isn't drying on my hair and conditioner is enough to counter the dry hair strands.
Pantene Total Damage Care Conditioner is a medium thick white colored cream, which isn't very heavy. It applies easily and rinses off quickly too. I really like that even after loading my hair with this conditioner it doesn't make my hair feel greasy or oily. It might not work for super dry, frizzy hair but it added enough nourishment to my normal-dry hair. Hair feels smoother and softer for days post hair wash with no traces of oil on the scalp. I am really happy with the way it has worked on my hair, reviving their softness and silky texture.
Recommendation: Pantene Total Damage Care Shampoo and Conditioner duo has actually blown me over with its impressive performance. The shampoo did a fabulous job on cleansing without making hair dry and taking care of the hair fall issue. Also, the conditioner did just what was expected from it by nourishing the dry hair strands and making them smoother and shinier with a healthy volume. My hair are bouncing with new life and energy and so is me. Highly Recommended!
Rating: 4.5/5
Have you tried Pantene Total Damage Care Shampoo and Conditioner? Which is your current favorite shampoo/ Conditioner Duo?
PS: Product sent by brand for consideration