Is it Matte Enough: Maybelline HyperMatte Liquid Eye Liner Black
Hello Dolls,
I have been more than excited to see this HyperMatte liquid liner form our very own Maybelline. I loved HyperGlossy liquid liner to the top and have hoarded almost all of them but was waiting for Maybelline to come with a Matte liquid liner because you know there are days when I want a matte finish over glossy. So, when I saw that Maybelline came up with this, I jumped out of excitement and ordered it instantly, Maybelline HyperMatte Liquid Eye Liner Black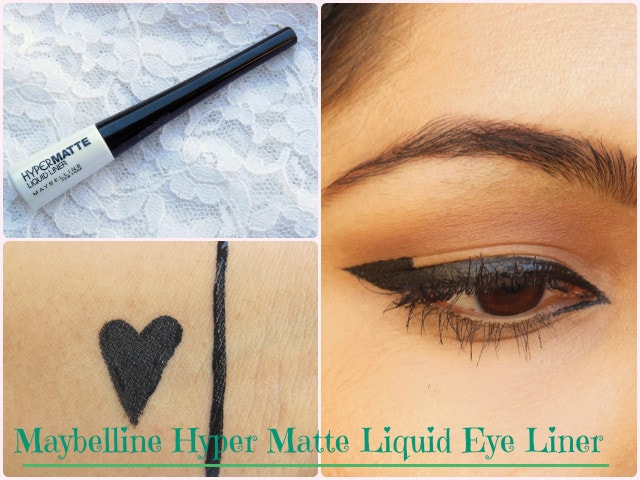 Product Claims: HYPERMATTE LIQUID LINER: Go hyper intense for 10X the matte impact in just one stroke. Liquid turns to matte in 10 seconds!
Why You'll Love It:
Liquid to matte effect
Stays on for 24hrs
Smudge proof
Heat proof
Waterproof
Easy application
Direction for Use: For Best Results: Line lash from the inner corner to the outer corner. Repeat for a thicker, more intense line.
Ingredients: Check Below 😀
Price: Rs.325 for 3 gms
Packaging: Maybelline HyperMatte Liquid Eye Liner packaging is similar to the Hyperglossy range but with a difference that the bottle in HyperMatte version is white than black. The packaging is nice and easy to use but I really wish it had an all black packaging in matte finish.
My experience with Maybelline HyperMatte Liquid Eye Liner Black:
Maybelline HyperMatte Liquid Eye Liner Black has a thin, runny consistency, similar to HyperGlossy one but again it is quite easy to use as it has a super fine applicator which does the application job perfectly.
Pigmentation: The liner is intensely pigmented and just swipe gives a rich black color and I really like that the pigmentation remains the same even when it dries up which is not the case with most of the liner which dry slightly lighter in color.
Formula: It doesn't sting eye or cause any irritation even if used on the inner eye corners for that Arabic effect which is a huge plus for me. The waterproof claims however are not completely true as the liner doesn't melt to give goopy black eyes but will flake away when rubbed after water splash.
Finish: This was the only reason I bought this liner because I was looking for a super-matte liquid liner to give me an effect that I get with the Lakme InstaLiquid Liner but with a better formula. The liner dries quickly like the HyperGlossy version and initially looks like it is going to give a glossy finish only but after some more time (2-3 minutes), it set to a more matte looking finish. In hand swatches, it still look pretty matte but on lids I feel it has subtle satin creamy shine which doesn't let it look as matte as I wanted.
Longevity:  The liner staying power is good and it won't move unless you touch or rub your eyes. I feel it lasts as good as the Hyper glossy version and doesn't fade or flake on its own. Also, I love that it doesn't give that crumbled finish even if I do a very thick liner with it.
Recommendation: Maybelline HyperMatte Liquid Eye Liner Black is an intense black liquid liner but isn't as matte as I had expected it to be. I see it as a toned down version of HyperGlossy liquid liner and not a super matte liquid liner. It comes with a skinny brush to help you draw eyes with precision. It doesn't take long to dry so it is fairly easy to use and work with but you have to wait for few minutes to let it look slightly matte. The staying power is pretty good as it lasts whole day on my lids. I won't recommend using it on inner eye corners if you have watery eyes and, if you tend to touch your eyes way too much then better skip it because it might just flake away during the day. Overall, I really like this liner but it left me craving for a better matte finish.
Rating: 4/5
Have you tried Maybelline HyperMatte Liquid Eye Liner Black? Which is your favorite Matte Black Liquid Liner?