Is it Good Enough: Rimmel Eye Brow Pencil Dark Brown
Hello Everyone,
I didn't understand the importance of filling in brows until I started doing Eye makeup tutorials. I had a misconception that I have fuller brows and hence don't need anything to make them look fuller or denser but after seeing how filling in brows makes a difference to the eye makeup look, it has become a must for me.
I feel people with thinner or lighter brows take it more seriously but as we Indians are usually blessed with dense and dark brows we generally don't give much weightage to them. You have to fill them once to see how beautifully they frame your face! The easiest way to do is to use a Eyebrow pencil, so let's see if Rimmel Eye Brow Pencil Dark Brown is good enough for that.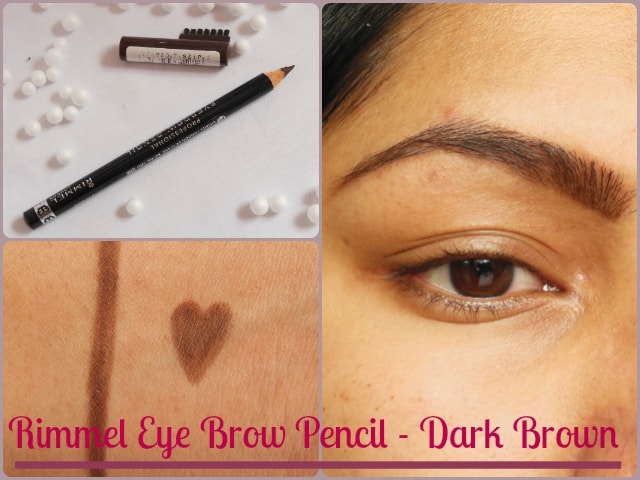 Price: Rs.205 for 1.4gms
Available in 3 shades:
Black Brown
Dark Brown
Hazel
My experience with Rimmel London Professional Eye Brow Pencil:-
Rimmel London Professional Eye Brow Pencil is a simple sharpenable wooden pencil with black body and shade indicating plastic cap. I quite like the fact that cap has a brush attached to it which comes very handy for grooming the brows before and after filling them out. The bristles are quite stiff and a bit scratchy too but they are perfect to put those nasty stray hairs in place.
Rimmel London Professional Eye Brow Pencil has a smooth texture not super creamy though as that would have made it difficult to deal with. Also, there is slight stickiness in the texture which is great to keep the brows in place for long without requiring me to use a clear gel for that purpose. The color  pay off is also good as with just few swipes I get that desired color on the brows after which I just blend it with the brush provided on the cap but I need to clean up the stray color on the sides of the brows with fingers for a cleaner look
The brows were as is for almost 7-8 hours and there was no smudging or fading even though I scratched a little bit with hands in between.
Don't Miss to Checkout:
Comparing to Sleek Eye Brow Kit, the color is almost similar and looks quite natural but the Rimmel Brow Pencil feels a bit heavier on brows than Sleek one owing t its stickier texture. I forget that I have done my brows with Sleek Brow Kit but with Rimmel I can feel it whenever I touch my brows.. hope that makes sense. RImmel brow pencil is good for a quick brow job but surely it can't replace the Sleek brow kit for me 😛
Recommendation:- Rimmel London Professional Eye Brow Pencil  makes a great brow pencil with easy to work with formula and the brush comes handy for grooming and shaping brows. The pencil fills in all the gaps with ease, enhancing the shape of the brows with few swipes and a little bit of blending. The pencil is affordably priced but has good quality with rich color payoff and long lasting formula. If you have non-existent brows and need to give them a shape it is not the best product but for the rest it is a good pick. Now, you can do your brows on the go with this Rimmel London Professional Eye Brow Pencil. Recommended!
Rating:- 3.5/5
Have you tried Rimmel London Professional Eye Brow Pencil? Which is your favorite Brow Product?