Is It Any Better than Maybelline Colossal or Lakme Eyeconic: Faces MagnetEyes Kajal
Hello Gorgeous,
Faces Cosmetics is improving their makeup range with new launches every now and then and I like that because I get to try new stuff. They have come up with this Kajal/Kohl last year but I didn't got a chance to try it then. So, let's check it out how well it performs compared to Maybelline Colossal Kohl and Lakme Eyeconic Pencils, Faces Magnet Eyes Kohl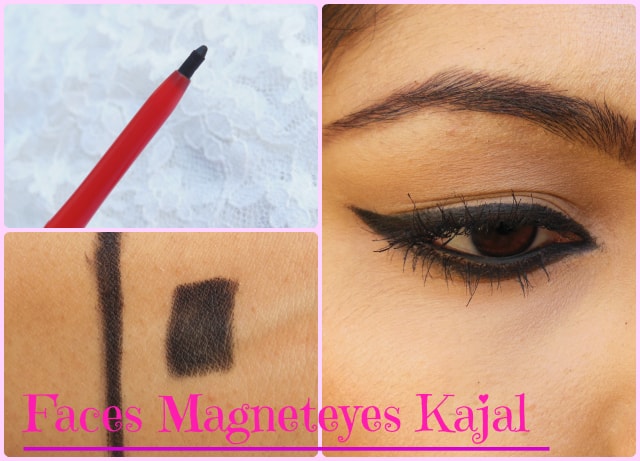 Product Claims: This new age kohl is made with a unique smudge and fade proof formula is transfer resistant and keeps you stunning all day.Super soft and easy to apply this alluring kohl is loaded with antioxidants and minerals and is completely free of paraben. Water proof, Smudge proof and dermatologically tested.
Ingredients: Pictures below 🙂
Price: Rs.175 for 3.5gms
Packaging: Faces MagnetEyes Kajal comes in a bright red retractable tube type packaging. It reminds me of the bright Yellow packaging of Maybelline Colossal kajals. I like that now brands are ditching classic blacks and coming up with fun colored packaging's.
My experience with Faces MagnetEyes Kajal:
Formula: Faces MagnetEyes Kajal is super creamy which applies easily on eyes without any tugging or pulling but at the same time this buttery smooth and soft texture caused the tip  to broke off while swatching on hands which was quite annoying and disappointing
Pigmentation: The color payoff is amazing and in few swipes it gives an intense black look. I won't say it is the darkest black kajal I have ever seen but for the price and quality it does an excellent job.
Staying: I was really surprised to hw pigmented this kajal goes on my waterline and stays even after 4 hours of wear. While most of the kohl/kajals almost disappear on my waterline this one was going strong till 5-6 hours of application after which it started fading but it didn't go off completely. I also loved the fact that while fading it doesn't give me Panda eye s and make my eye area look gross. It claims to be waterproof but I don't feel it is, because it does fade on watery eyes and comes off easily when rubbed with a wet fingers
Recommendation:- Faces MagnetEyes Kajal is a multi-purose Kajal which can be used as an Kajal, Eye Liner, base for the glamorous smokey eye look or for a smudged liner look. The texture is creamy smooth and really soft (which also causes the tip to break off). It goes pretty intense in a single swipe but I layer it slightly for a richer color. It doesn't last whole day on me but for the price point, which is very affordable I am really happy with the quality and performance of this Kajal.

Compared to Lakme Eyeconic Pencils and Maybelline Colossal Kohl I feel this one is a tad bit creamier, less waxy and more pigmented .. so Yayyyy!!
Rating: 4/5
Have you tried Faces MagnetEyes Kajal? Which is your favorite Drugstore Kohl/Kajal ?