Is it a Dupe of Z Palette: PAC Cosmetics Empty Magnet Palette Small
Hey Gorgeous,
PAC Cosmetics is the hottest brand nowadays in the Indian market and everyone around is going crazy about their products. I bought some of their products from Amazon.in last month which includes this Empty Palette too. I have a first impressions on the PAC Cosmetics products in the previous post and today I will be sharing my detailed review and experience with this PAC Cosmetics Empty Magnet Palette.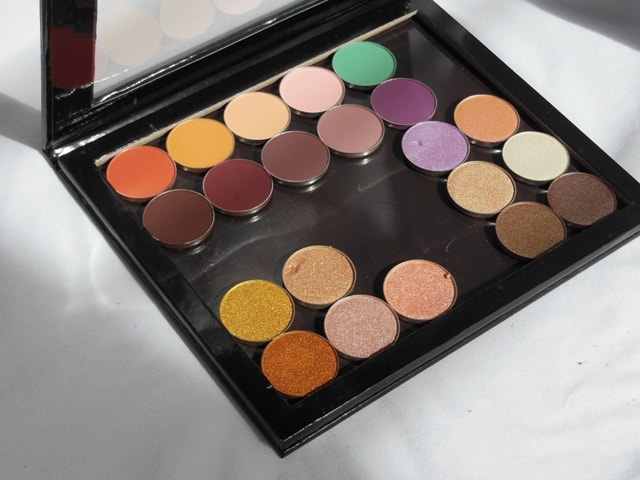 Product Description: The only configurable makeup palette with a clear window you can fill 25 standered size eye shadows, blushers, lipsticks and compacts. A systematic way of keeping your makeup products. Customizable Magnetic Palette – Consolidate all of your favorite products into one palette! Sleek Design with Magnetic Closure Open size with frame – 7″x6.40″ Inside Size – 6.04×5.04
Price: Rs. 850 for Small size
My Experience with PAC Cosmetics Empty Magnet Palette:
I have a lot of Luxie Beauty Eye Shadows and Makeup Geek Eye shadows.. ( well now I am feeling guilty of not sharing my latest haul pictures of the Makeup Geek Eye Shadows) which comes in a refill format and needs some sort of empty palette to store them.
Currently I store them in my DIY Empty Magnet Palette Geometry case but definitely the number of eye shadows is much more to fit in that palette. I have been looking to get a Z-palette but the price have been holding me back so when I spotted this empty palette by PAC cosmetics I instantly added it to my cart and got hold of it.
Truly speaking, I wasn't sure what to expect as I have never tried such empty palettes before, I have one Empty Magnetic Eye Shadow Palette from INGLOT which can store 10 eye shadows.
PAC Cosmetics Empty Magnet Palette is a plain black colored palette in glossy finish and made with a thin cardboard.
It has a magnetic bottom on the inside and a magnetic closure with a clear lid so you can see the shadows inside.
The magnetic bottom and closure in the palette is very strong so the pans on the inside won't move around and the palettes stay closed very well so the pans won't fall out.
It is a single sided palette ( we can get double sided palettes in Z-palettes)
It has a very thin and sleek design which makes it perfect for travels but you need to be careful while packaging this palette so that it doesn't break under pressure
I got this Small size which is made to hold upto 5 eye shadows in a row and a total of 28 standard sized eye shadows on the whole.
But, there is a problem with the quality of the PAC Cosmetics Empty Magnet Palette. The palette doesn't hold the single row of Makeup Geek eye shadows perfectly, as you can see in the picture below. I haven't tried the PAC Cosmetics Eye shadows but I wish the individual shadows would have fit perfectly in it.
Though, if I push in a little bit it can fit the eye shadows but it usually causes the other singles to pop out and might damage the eye shadows during travel. If you are a perfectionist than it could be a little irritating and frustrating to get a straight row of eye shadows resting perfectly in the palette.
Recommendation: PAC Cosmetics Empty Magnet Palette is a great option to store individual eye shadows together. It makes travelling so much easy especially when we don't get the Z-palettes here. Also, if you don't feel like spending so much on a Z palette it could be a great alternative. It is available in 2 sizes small and large so you can choose according to your requirements but I wish the eye shadows would have fit perfectly in it. Other than that I have no complaints as such especially at this price.
Rating: 4/5
Have you tried PAC Cosmetics Empty Magnet Palette? How do you store your individual Pans/Eye Shadows?