Iraya White Lotus Soothing Body Wash Review
Hello Everyone,
Today, I will be introducing another herbal brand on the blog "Iraya", which makes all natural products and have wide range of bath & body and skincare products. I am a big fan of herbal skincare products and always on the lookout for newer brands and products that can find a space in my skincare shelf. So, let's start with this body wash from Iraya, Iraya White Lotus Soothing Body Wash.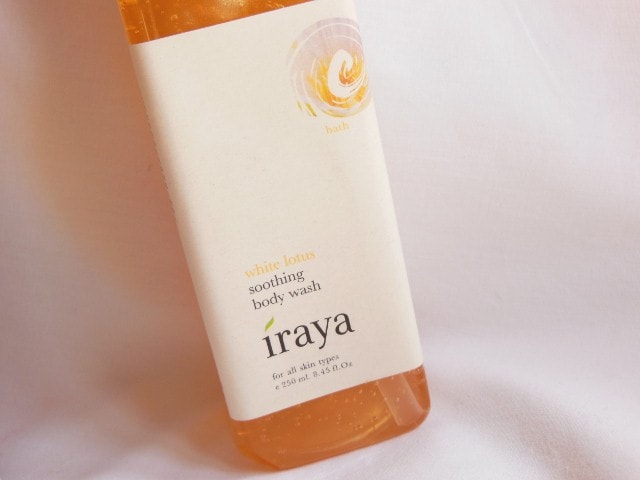 Product Claims: An exotic blend of floral extracts like the white lotus flower, water lily, tulsi, ketaki flower and saffron flower that cleanses the skin and calms and relaxes the senses. This gentle formulation balances the skin's acid mantle and promotes toned and healthy skin.
Direction for Use:- Apply to wet body. Gently massage and lather. Wash off thoroughly.
Ingredients:- Lotus Seed (Nelumbo Nucifera), Basil (Ocimum Sanctum), Ketaki Flower(Pandanus Odoratissimus), Lotus Flower (Nymphaea Lotus Alba), Saffron(Crocus Sativus), Brahmi (Bacopa Monnieri), Turmeric (Curcuma Longa), Mimosa (Mimosa Pudica), Sarsaparilla (Hemidesmus Indicus), Neem (Azadirachta Indica), Arjuna (Terminalia Arjuna), Sodium Laureth Sulphate, Vegetable Glycerine, Cocobutaine, Cocdiethanolamine, Cellulose Gum, Citric Acid, Grapefruit Seed Extract (Citrus Grandis), Phenoxyethanol, Fragrance.
Price:- Rs.295 for 250ml
Shelf Life:- 2 years from the Mfg date.
Packaging:- Iraya White Lotus Soothing Body Wash comes in a see through rectangular shaped plastic bottle with a pump dispenser which makes it easy to see the amount left in the bottle and the dispenser helps in controlling the amount to be dispensed. I like the packaging as it is easy to use though not so travel-friendly
My experience with Iraya White Lotus Soothing Body Wash:-
Iraya White Lotus Soothing Body Wash is an orange colored liquid with soft creamy gel like consistency. The texture isn't too thick or thin and spreads effortlessly.
It has a mild formula which gently cleanses the skin without ripping off the natural oils from the skin. The formula lathers a bit with a loofah but doesn't give that rich lather that I used to get with The Body Shop Shower Gels.
I like my Body washes to have a lovely, long lasting scent that calms downs my senses and give a pleasing bathing experience. The Body wash scores really well in the fragrance department as it has a soothing fruity floral scent which I enjoyed a lot. The scent however lasts only a few minutes while you are in shower because once rinsed you can/t even smell the slightest notes of the beautiful fragrance which was kind of disappointing.
The formula contains the goodness of Lotus Seeds, Basil, Saffron and many more which cleanses skin efficiently, removing oil, dirt without being harsh. It rinses quickly without leaving any slippery layer behind. My skin feels silky, smooth owing to its lightly hydrating formula.
Don't Miss to Checkout:
Pros of Iraya White Lotus Soothing Body Wash:-
Spreads easily
Mild formula
Cleanses well
Free from harmful chemicals and Parabens
Lightly hydrating
Lovely fruity floral scent
Reasonably priced
Convenient to use packaging
Cons of Iraya White Lotus Soothing Body Wash:-
Doesn't lather much
Fragrance fades away quickly
Recommendation:- Iraya White Lotus Soothing Body Wash has a light creamy gel like consistency which spreads easily and gently cleanses away the impurities without ripping off the natural moisture from the skin. The formula doesn't give rich lather but it cleanses effectively leaving behind silky smooth skin. I enjoy its soft fruity floral fragrance but wish it had lasted longer on me. Overall, I am very happy with this body wash and can see myself repurchasing it (or the other variants) once finished with this one. Recommended!
Rating:- 4/5
Have you tried Iraya White Lotus Soothing Body Wash? Which is your favorite Herbal Body Wash?
PS: Product sent by Brand for Consideration